Readers React: L.A. teachers stay on message: The upcoming strike is not just about better pay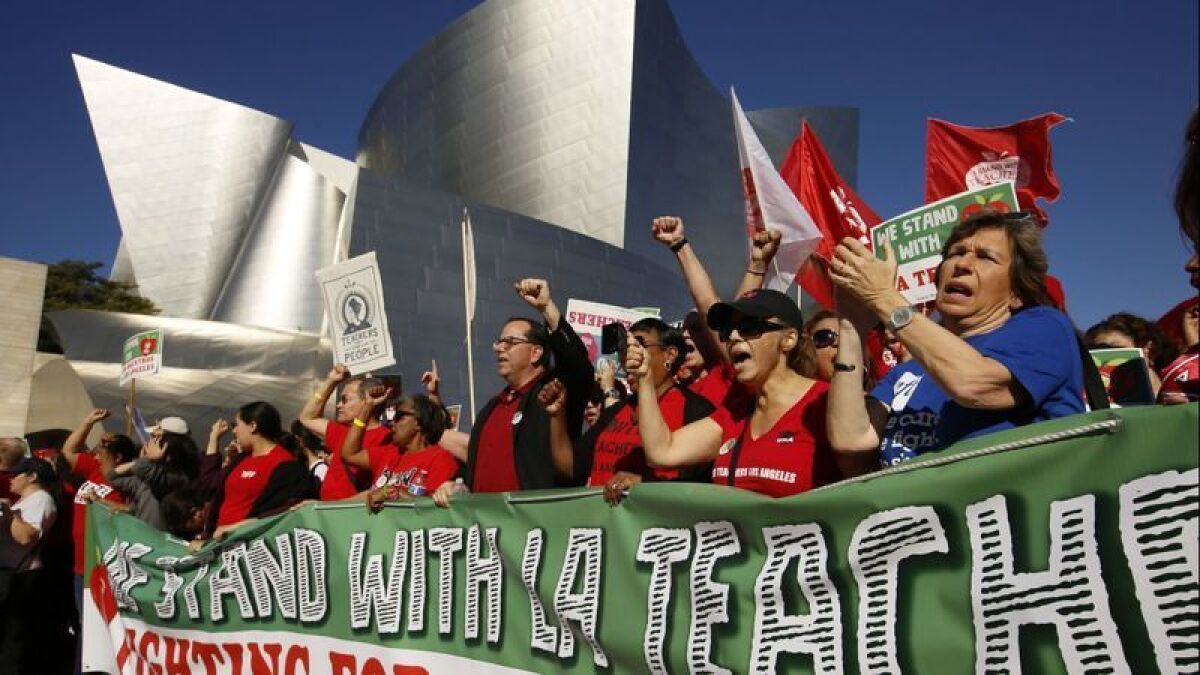 Regularly reading the L.A. Times' letters page produces a grim realization: Los Angeles public school teachers will almost certainly strike on Jan. 10 and there's almost nothing that can be done about it short of district officials meeting union demands.
This isn't to say United Teachers Los Angeles is being recklessly intransigent or negotiating in bad faith; rather, judging by teachers' letter to the editor that have been published over the months of the contract talks, it is clear they are convinced of the righteousness of their cause. At the very least, they are staying on message.
That much was made clear by the reaction to Gustavo Arellano's column on Wednesday, which teachers said unfairly blamed them for the impasse. In response, teachers reiterated what they have written over the last several months on The Times' letters page: This is not just about better pay.
Mar Vista resident Jerie Morrison, a retired LAUSD teacher, says teachers are not babysitters:
With the insinuation that UTLA should pay for childcare during a strike, Arellano implies that teachers are babysitters.
That mindset is exactly what's driving the teachers to take drastic measures. They are responsible on so many levels for the major social and educational development of our children. The idea that they should be paid and respected as true professionals is absent from Arellano's column.
Teachers are not merely large children who should sit still, be quiet and respect our elders (the district) even when they do not respect us. Like the disruptor in the classroom, it's time to give the teachers the attention they need.
Sari Rynew of Studio City says this is about overall classroom conditions:
What is painfully missing from Arellano's column is the clear message from UTLA that salary is not at the center of its demands, which include addressing horrific class conditions due to severe overcrowding and lack of support staff.
In fact, when you hear claims of teachers being greedy for apparently turning down the 6% raise, it's exactly the opposite. Instead, they are saying that a salary increase alone will do nothing to address the classroom conditions, and that's where the teachers draw the line.
This is what putting students first is really about.
James C. O'Gabhann of Los Angeles mentions charter schools:
Arellano seems to place teachers in a "damned if you do, damned if you don't" situation. This is a familiar position for teachers.
If teachers settle for the short-term gain of a salary increase, they will lose over the long run through the continued hollowing out of education. Or, teachers could strike in the hope of gaining a long-term system that better funds education.
LAUSD is not focusing on the long term, and unless teachers speak up for the future, public education in Los Angeles will be a shadow of itself. The current model for public education is not sustainable when one in five LAUSD students is in a privately operated charter. You cannot have your cake and eat it too.
Follow the Opinion section on Twitter @latimesopinion and Facebook
---
Life is stressful. Our weekly mental wellness newsletter can help.
You may occasionally receive promotional content from the Los Angeles Times.