Readers React: These ideas for ending the shutdown are totally impractical but fun to read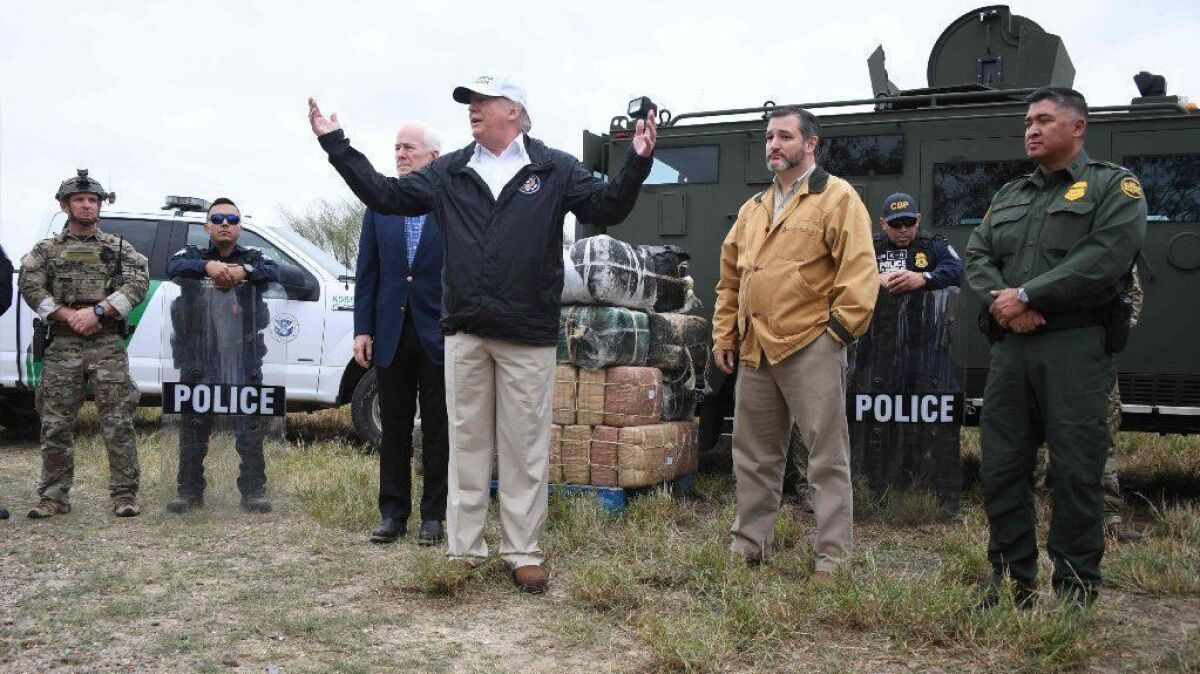 Activists and politicians are fond of the saying, "Never let a crisis go to waste." So too, perhaps, are humorists who read newspapers.
Among the few hundred letters we've received over the last several weeks on the partial federal government shutdown is a handful from writers who offer tongue-in-cheek solutions for building President Trump's border wall and ending the budget impasse. The suggestions range from the satirical-but-not-impossible, to the obviously implausible (such as the oft-repeated proposition that the president liquidate his personal fortune to help pay for the wall). And don't even get me started on all the variants of "Humpty Dumpty" I've read since early December.
Below are several letters that make light of longest partial government shutdown in U.S. history.
Harry F. Henson of Westlake Village mentions one of Trump's fellow billionaires:
Amazon founder Jeff Bezos and his wife are divorcing and must divide a personal fortune of more than $130 billion. I don't know whether they are Democrats or Republicans, but what a service they could do for us if they donated $5 billion or more for the wall.
They could name the wall after Amazon or Bezos or any name of their choice — and what a legacy that would be. All the fuss would be done and the government would reopen — and the two parties could start fighting over other things.
A public-private partnership would work for Santa Monica resident Hank Baylis:
Trump could use Peter Ueberroth's success with corporate sponsorship for the 1984 Summer Olympics in Los Angeles as a model for a wall. Maybe Disney could sponsor five miles that would become a tourist attraction and create a profit.
Mel MacKaron of Albuquerque believes that Trump can get his biggest tax deduction yet:
Considering that Trump is fabulously rich and wants a wall that he initially promised would be paid for by Mexico, here is the solution: Pay for the wall yourself, Mr. President. Apparently, you have the money.
Plus, Trump could deduct it on his taxes, which he will not disclose to the American people unless the Democrats force the issue.
Simple. Elegant. Trump gets his wall, the House of Representatives can allocate the money they want to for smarter border security, and the American people get off the hook for a huge government boondoggle.
John Garofano of Los Angeles proposes grounding billionaires:
A thought on quickly reopening the government: inconvenience the donor class by grounding all corporate and private jets due to Federal Aviation Administration staffing issues. How long would it take to pass a veto-proof funding bill if the Koch brothers, Sheldon Adelson, Jamie Dimon and others couldn't fly their jets?
Rodney Hoffman of Montecito Heights favors deception:
Recently seen on Facebook: "Trump should just lie and say the wall is already built. His supporters will believe him, and the rest of us will save billions of dollars."
Follow the Opinion section on Twitter @latimesopinion and Facebook
---
Life is stressful. Our weekly mental wellness newsletter can help.
You may occasionally receive promotional content from the Los Angeles Times.