Who are the Democratic debate candidates?
As of this week, there are about two dozen Democratic presidential candidates running — that is, if we're counting just the prominent ones.
Here are the 20 Democratic candidates who will be participating in the first pair of debates for the 2020 presidential nomination, held over two nights, Wednesday and Thursday, in Miami.
Michael Bennet, Colorado senator
The decade Michael Bennet has spent in the Senate has given him a reputation as a straight-talker. The moderate has said he was compelled to run because of the "toxicity" of partisan politics. The descendant of Holocaust survivors, he grew up in Washington, where his father was an aide to Vice President Hubert Humphrey.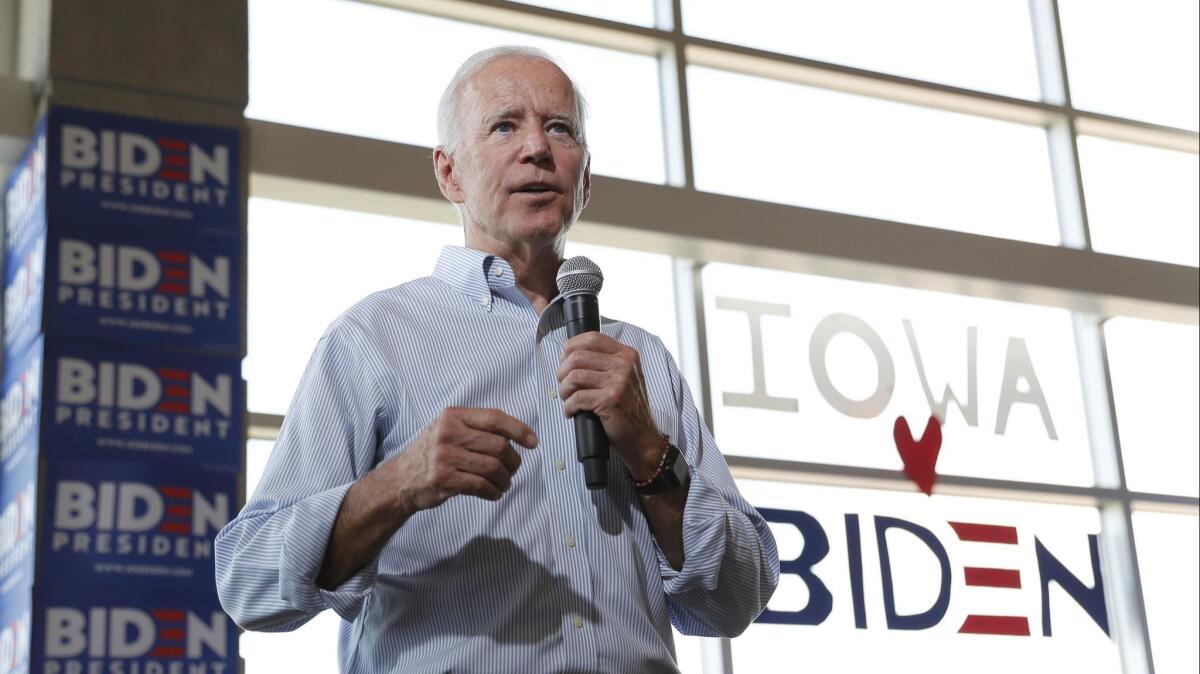 Joe Biden, former vice president
From the moment he announced, and perhaps even before it became official, Joe Biden was considered a front-runner in a crowded field. He has decades of political experience — 36 years in the Senate and eight as Barack Obama's vice president — and he has easily led in the polls, but not without faltering. Women have complained about his tendency to touch and hug people, prompting him to issue a statement acknowledging but not apologizing for his behavior. Last week, his nostalgic remarks about working with segregationist senators drew reproach, including from rival candidate Sen. Cory Booker.
Bill de Blasio, New York City mayor
Bill de Blasio has been the underdog in the most important races he's won, including the New York mayoral election. Maybe that's why he's still running for president, even when polls indicate he is hardly anyone's first choice. De Blasio has been a prominent voice among Democrats pushing back against the Trump White House, publicly criticizing the president and his policies.
Cory Booker, New Jersey senator
Sen. Cory Booker of New Jersey has proposed a national license for gun owners as part of a sweeping gun control agenda. He recently announced a plan for clemency reviews of federal prisoners, which could shorten federal prison sentences for as many as 20,000 nonviolent offenders. The Rhodes scholar, who is a vegan, began his political career when he was elected mayor of Newark in 2006.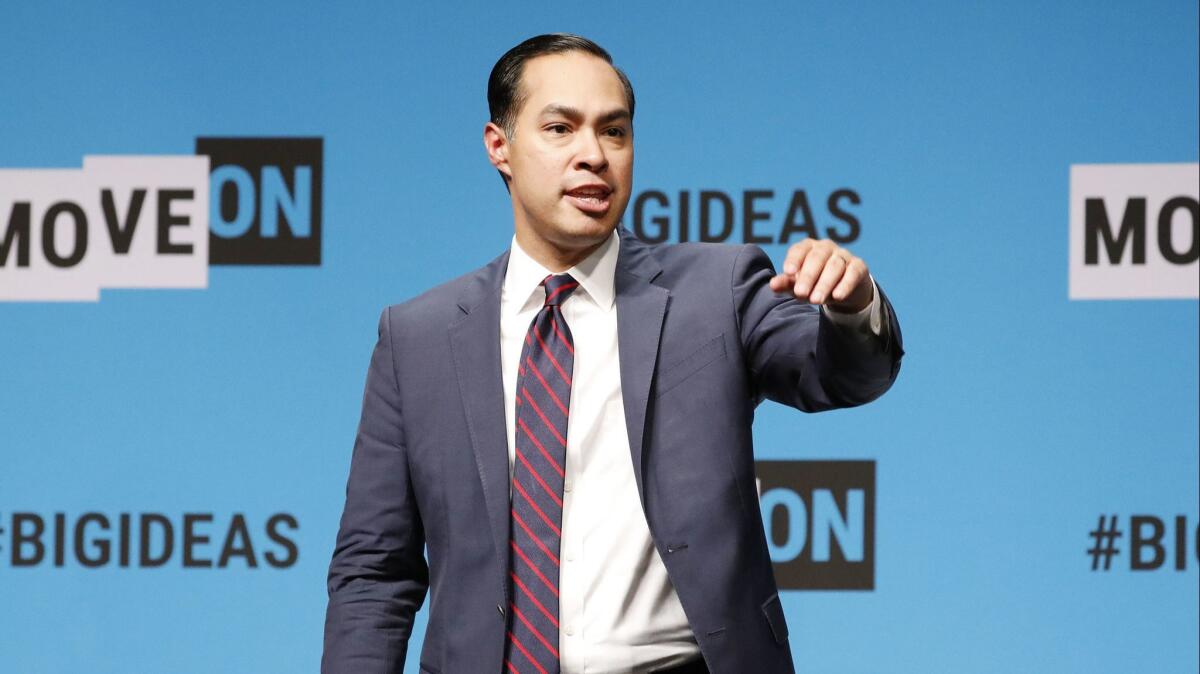 Julián Castro, former HUD secretary
Julián Castro has described himself as the "antithesis of Donald Trump." Castro, who served as Housing and Urban Development secretary under President Obama, has called for a sharp increase in federal spending to address homelessness, saying he views housing "as a human right." The former San Antonio mayor is the only Latino vying for the Democratic nomination. His grandmother immigrated to the U.S. from Mexico, and his identical twin is Joaquin Castro, a Democratic congressman from Texas.
Pete Buttigieg, mayor of South Bend, Ind.
Pete Buttigieg faced unexpected early success when he launched his bid. The son of two Notre Dame professors, Buttigieg (pronounced BUDDHA-judge) is a Rhodes scholar and Afghanistan war veteran. As two-term mayor of his Indiana town, he has fended off accusations of racial insensitivity. On Sunday, his constituents lashed out at him over a white police officer's killing of a black man, highlighting resentment among the city's African American residents.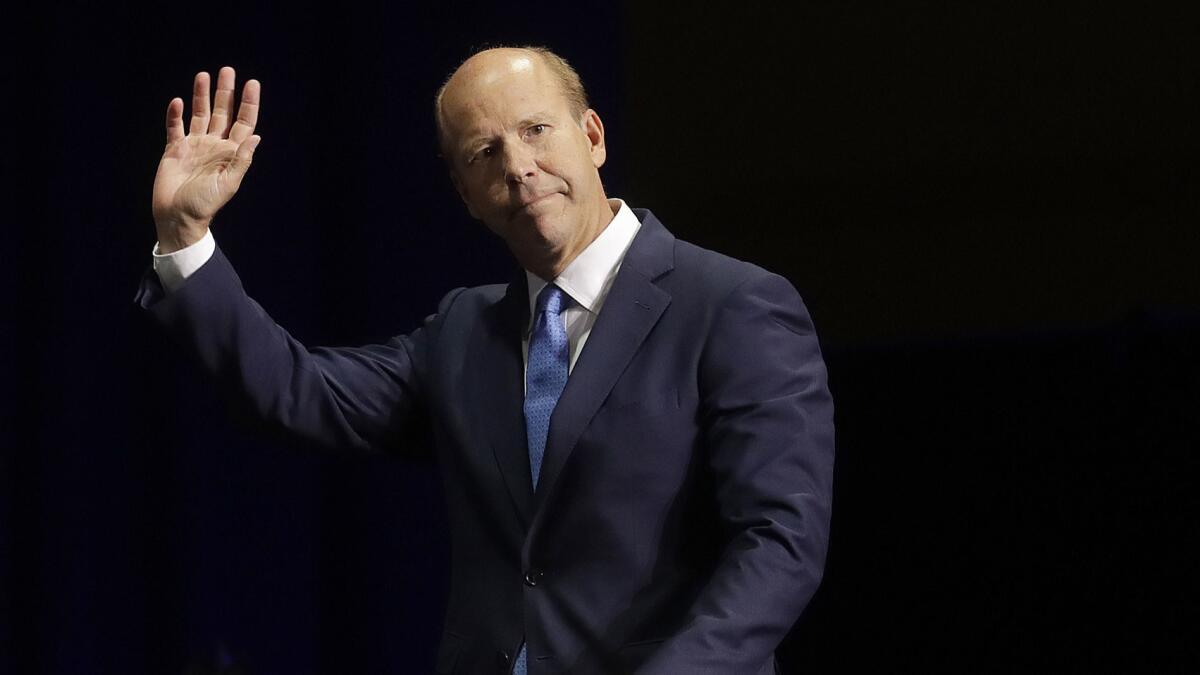 John Delaney, former Maryland congressman
Instead of running for reelection, former Rep. John Delaney of Maryland announced in 2017 that he would run for president. With his early campaign kickoff, the political moderate has made more than a dozen trips to New Hampshire and at least 24 to Iowa — yet has hardly registered in polls in either state.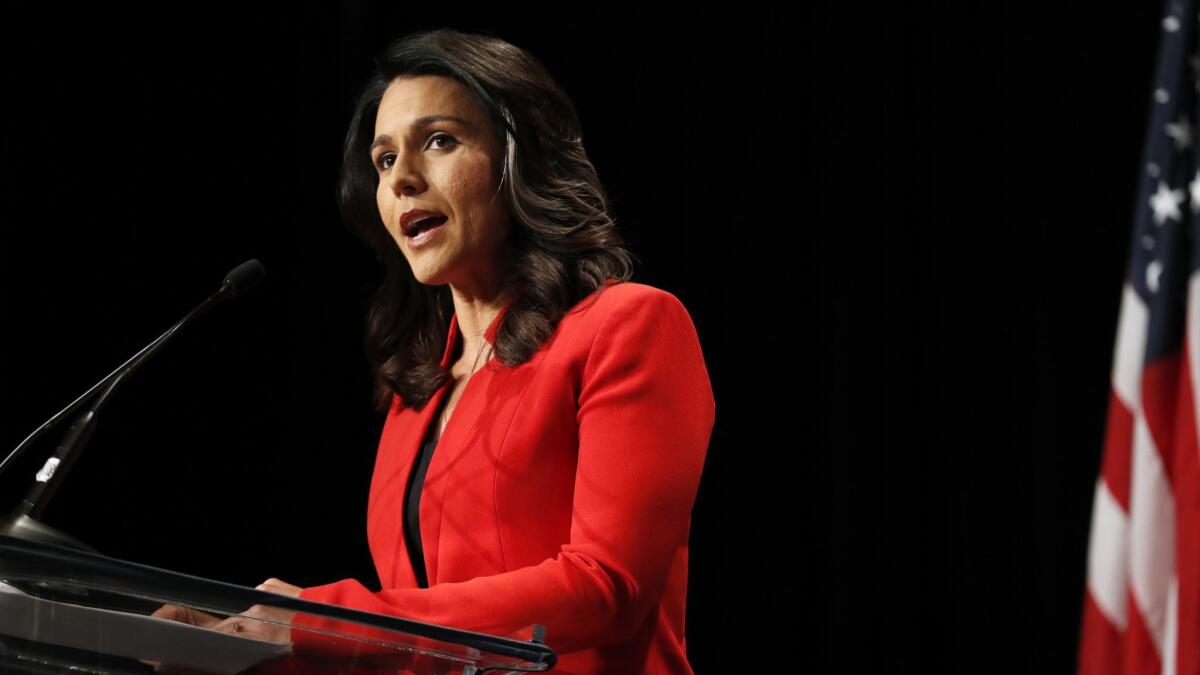 Tulsi Gabbard, congresswoman from Hawaii
At 21, Tulsi Gabbard became the youngest person elected to the Hawaii Legislature. Gabbard, who served in the National Guard in the Middle East, made history again when she became the first Hindu elected to Congress in 2012. The frequent critic of U.S. foreign policy was criticized for a 2016 Syria trip during which she met with President Bashar Assad, who has been accused of war crimes.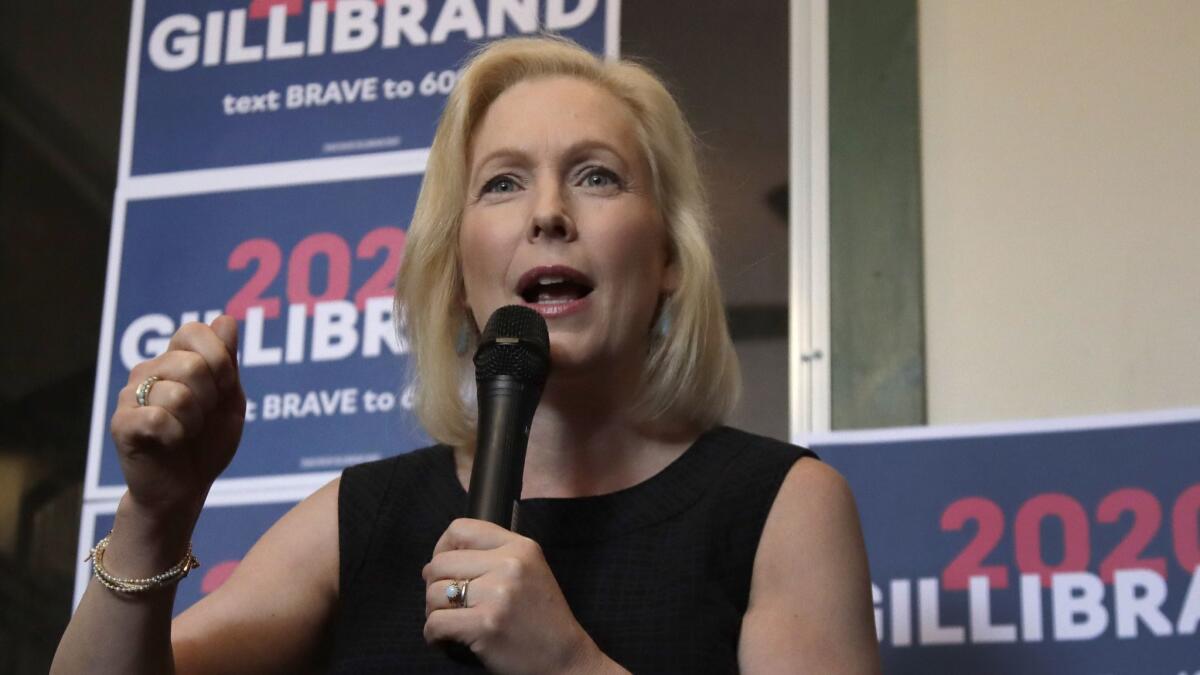 Kirsten Gillibrand, New York senator
Sen. Kirsten Gillibrand of New York has emphasized her potential appeal to independents and her work championing the reversal of President Trump's agenda. She has called for universal healthcare, paid family leave for all and passage of a Green New Deal that proposes to end the country's reliance on fossil fuel. Gillibrand made headlines in 2017 after taking on Trump in a Twitter war. Her image as an ardent advocate of the #MeToo movement was shaken after Politico reported allegations of sexual harassment in her Senate office.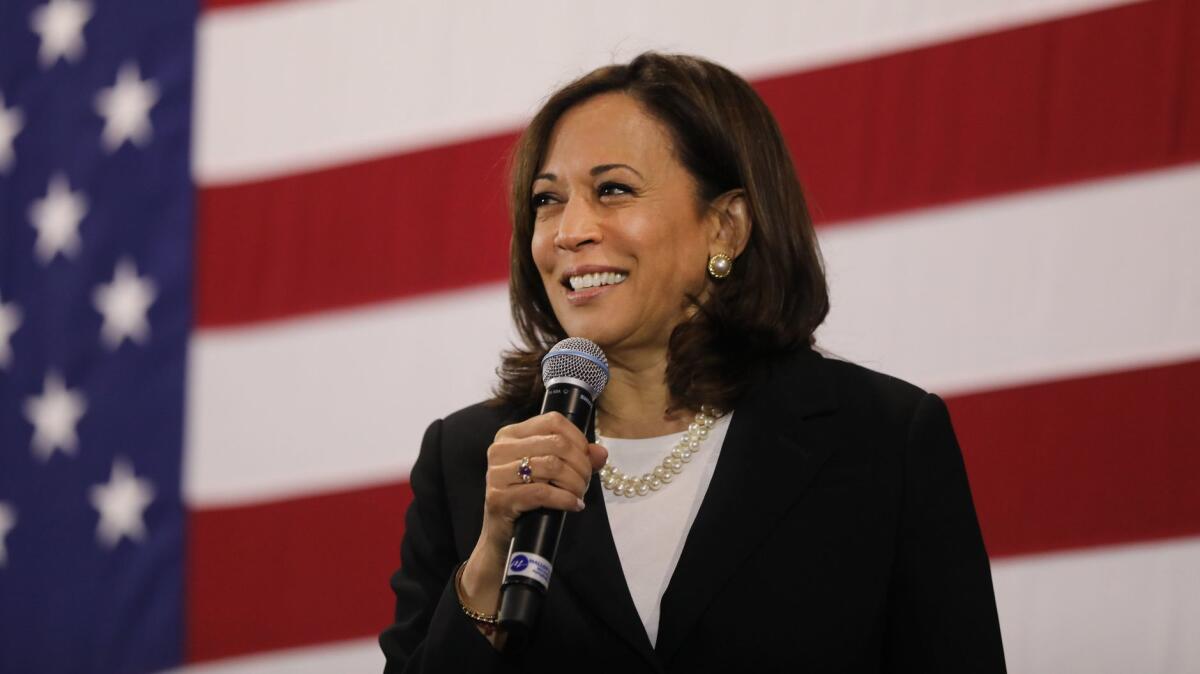 Kamala Harris, California senator
Kamala Harris, a former San Francisco district attorney and California attorney general, is campaigning on her record as a prosecutor. The charismatic first-term senator has gained a reputation for tough questioning of President Trump's appointees and Cabinet members. Democrats, she says, need a nominee who can "prosecute the case" against Trump in the general election. But at a time when many in the party are denouncing the mass incarceration of African Americans, her criminal justice background is not entirely an asset.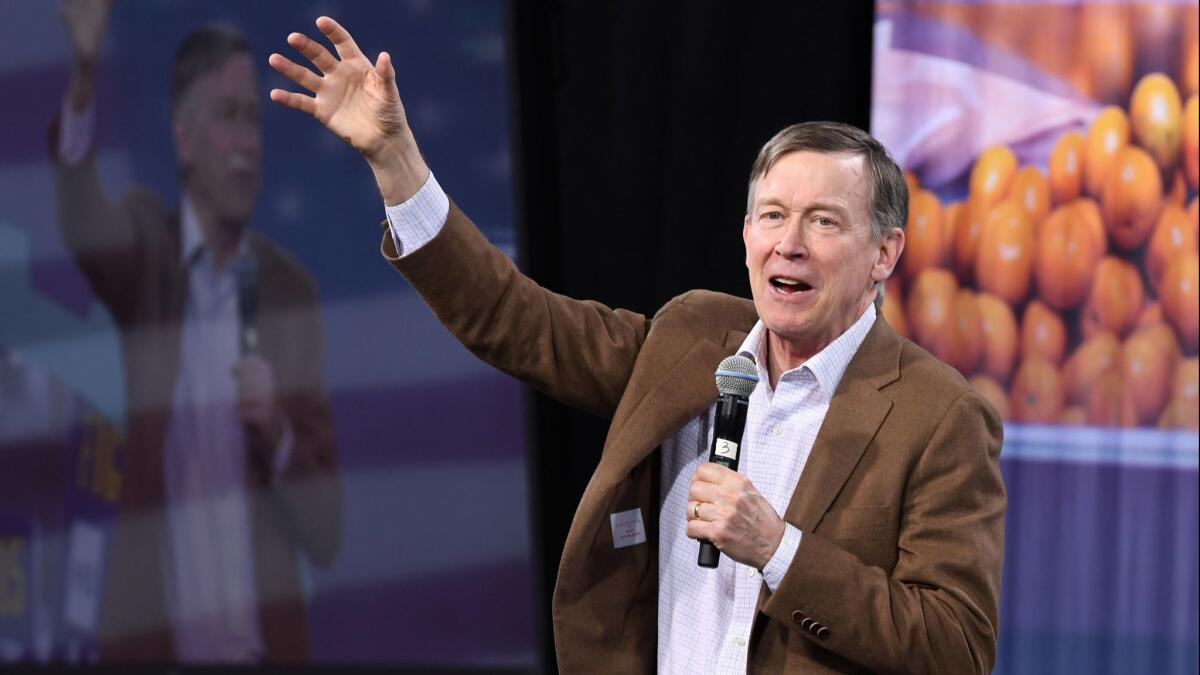 John Hickenlooper, former Colorado governor
John Hickenlooper, a two-term former Democratic governor of Colorado, has emphasized his leadership experience to make his case for a presidential bid. In a field filled with progressive Democrats, Hickenlooper, a finalist as Hillary Clinton's running mate in 2016, is viewed as more moderate; he expressed doubt before signing a gun control measure into law and once drank fracking fluid in a congressional hearing to prove it was safe. He was born in Pennsylvania and worked briefly as a geologist before opening a brewpub in Denver.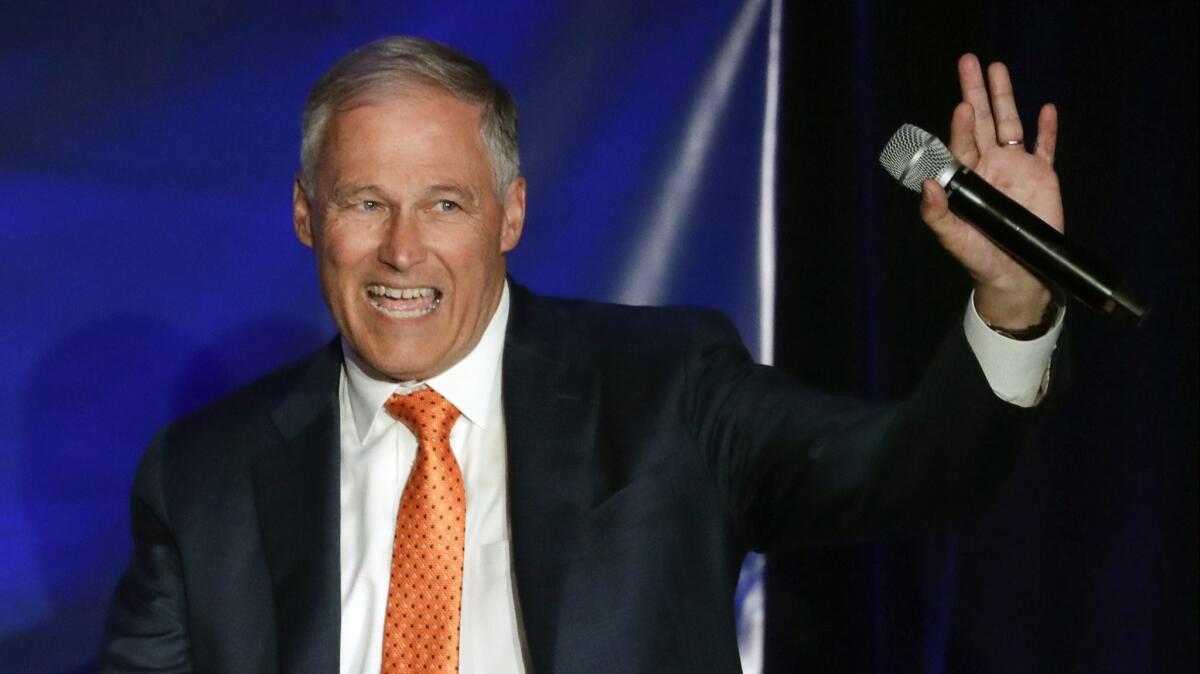 Jay Inslee, Washington governor
Jay Inslee's platform focuses on one issue: climate change. "I am the only candidate who will make defeating climate change our nation's No. 1 priority," the two-term governor said in his announcement video. Inslee — who has warned about "insidious" greenhouse gases since 1999 — has a sweeping proposal to convert the country to 100% renewable energy by 2035, which would require an immediate transformation of the American economy. He has called for a presidential debate focused on climate change. The son of amateur conservationists, Inslee grew up hiking, skiing and kayaking in the Pacific Northwest.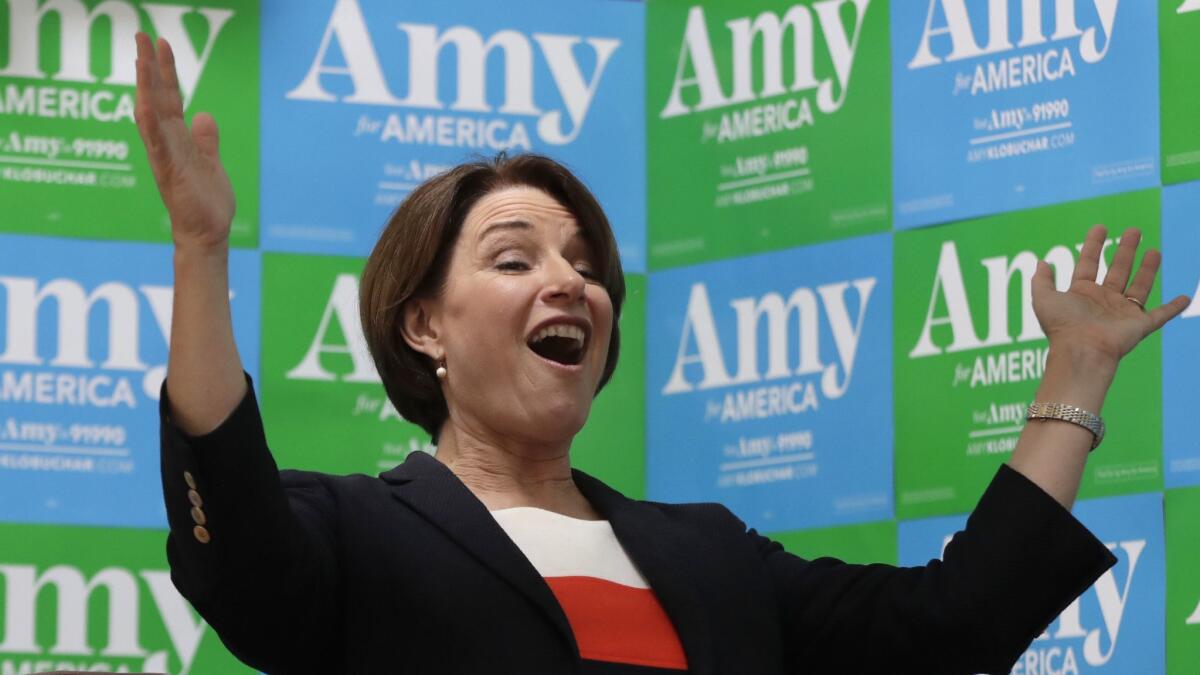 Amy Klobuchar, Minnesota senator
Amy Klobuchar is using her Minnesotan background to appeal to a Midwestern audience. The senator, who overwhelmingly won her third term and captured rural counties Trump carried in 2016, entered the race mostly unknown to those outside her home state. She drew national attention last year during the confirmation hearings for Supreme Court Justice Brett M. Kavanaugh when she asked whether he had ever blacked out from drinking alcohol. The candidate hits many of the same points as other Democrats but has avoided using language that appeals to the party's left.
Beto O' Rourke, former Texas congressman
Beto O'Rourke entered the race with high expectations after he nearly unseated Republican Sen. Ted Cruz in GOP-leaning Texas in the marquee congressional contest of 2018. O'Rourke raised more than $6.1 million in 24 hours, but his star quickly faded as he avoided the kind of national television interviews that raised the profile of such rivals as Pete Buttigieg. O'Rourke, a former El Paso mayor who now accepts TV invitations almost daily, has tried to distinguish himself with far-reaching policy proposals on immigration and climate change.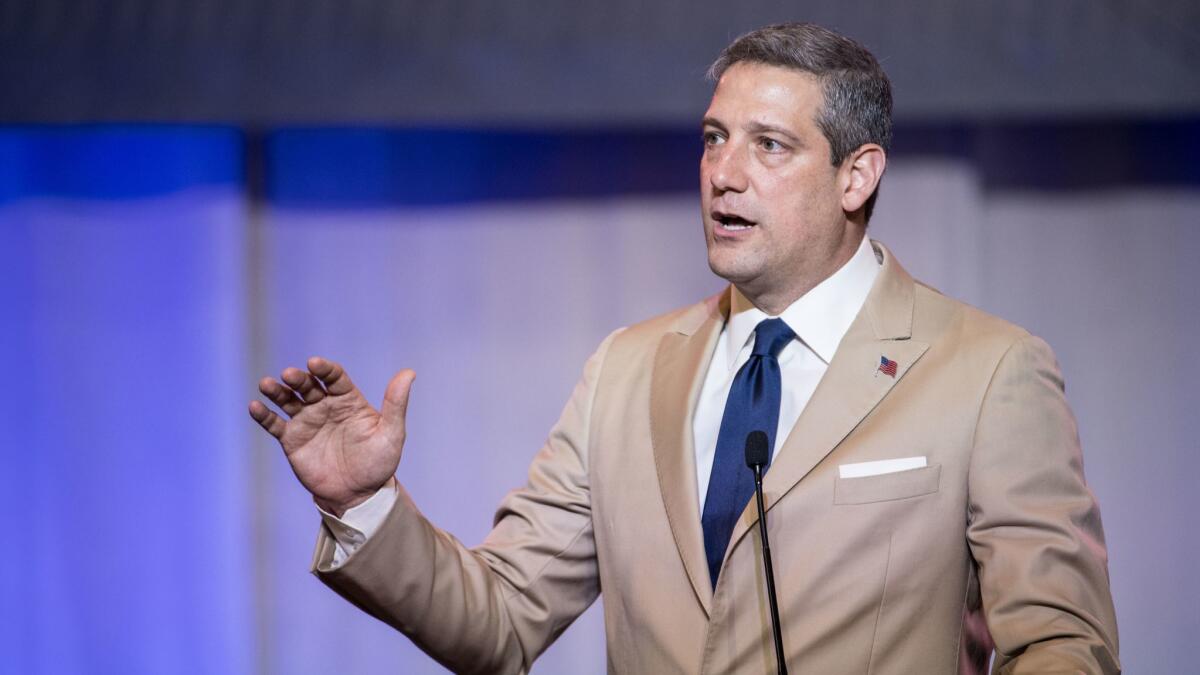 Tim Ryan, Ohio congressman
Rep. Tim Ryan of Ohio, a political moderate, has said that he wants Democrats to focus on engaging with the business community instead of attacking it over income inequality. Ryan, considered a long-shot candidate, ran unsuccessfully to replace Nancy Pelosi as House minority leader in 2016. One of Ryan's policy ideas includes promoting yoga and meditation as a suicide prevention strategy for veterans.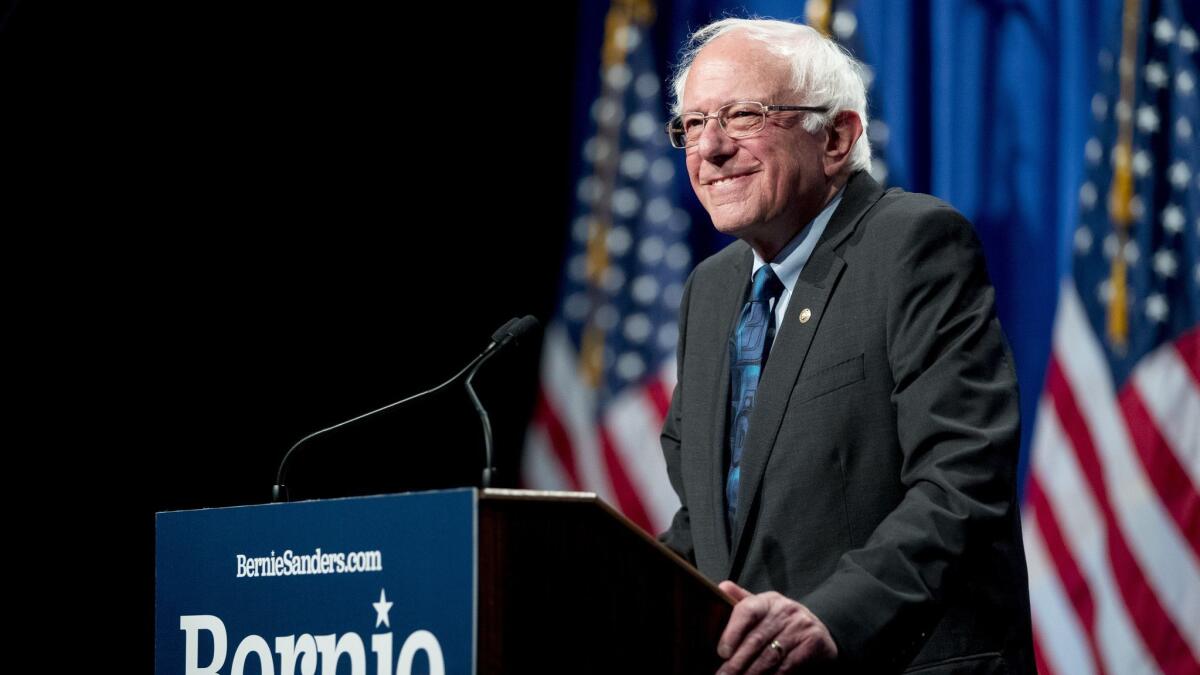 Bernie Sanders, Vermont senator
Bernie Sanders, the lone democratic socialist in the race, emerged as an improbable campaign rock star by mounting a surprisingly strong challenge to Hillary Clinton in the 2016 race for the Democratic presidential nomination. He amassed $228 million, mainly from small donors, but ultimately lost despite a groundswell of support from younger voters. Sanders is back in the race for 2020, staking ground as an avatar of the party's left with his calls for free college tuition and Medicare for all. But he's no longer in a one-on-one fight against a Clinton who embodied the party establishment, now competing with nearly two dozen rivals.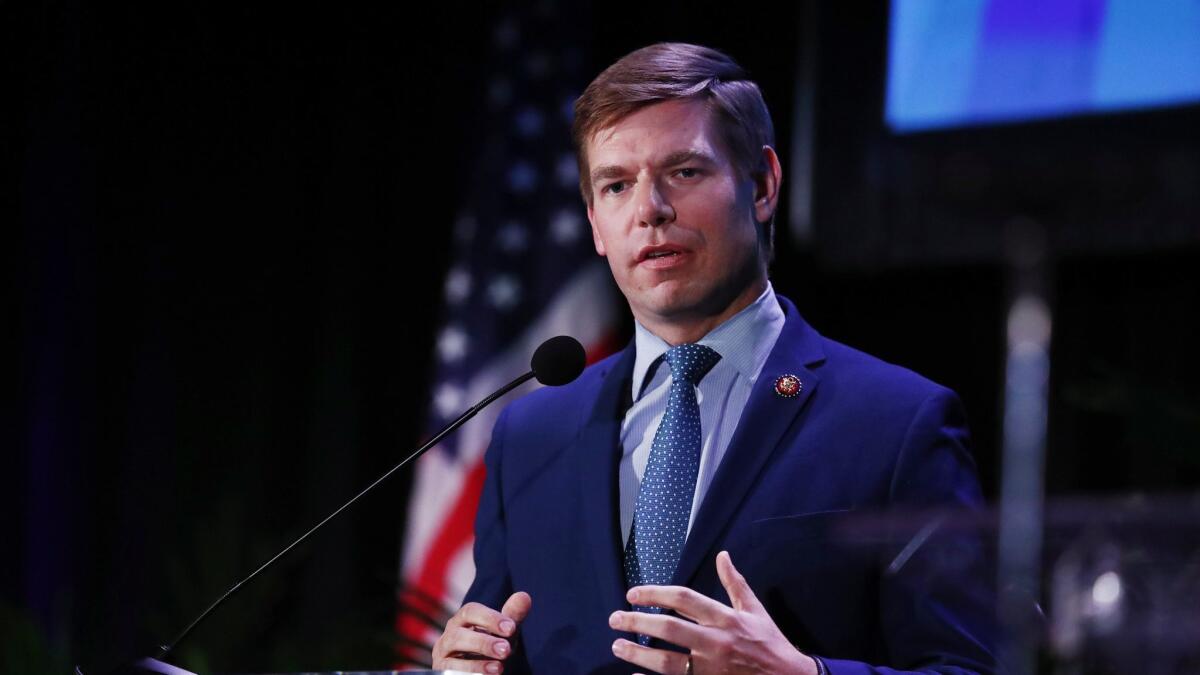 Eric Swalwell, California congressman
In 2016, Rep. Eric Swalwell half-jokingly said he would run for president if Trump ran for reelection. The Californian has said that his background — one of a paycheck-to-paycheck upbringing and thousands of dollars in student debt — is one that American voters can relate to. The four-term Bay Area congressman and former prosecutor supports universal healthcare, stricter gun control, stronger efforts to battle climate change, and higher taxes on the rich.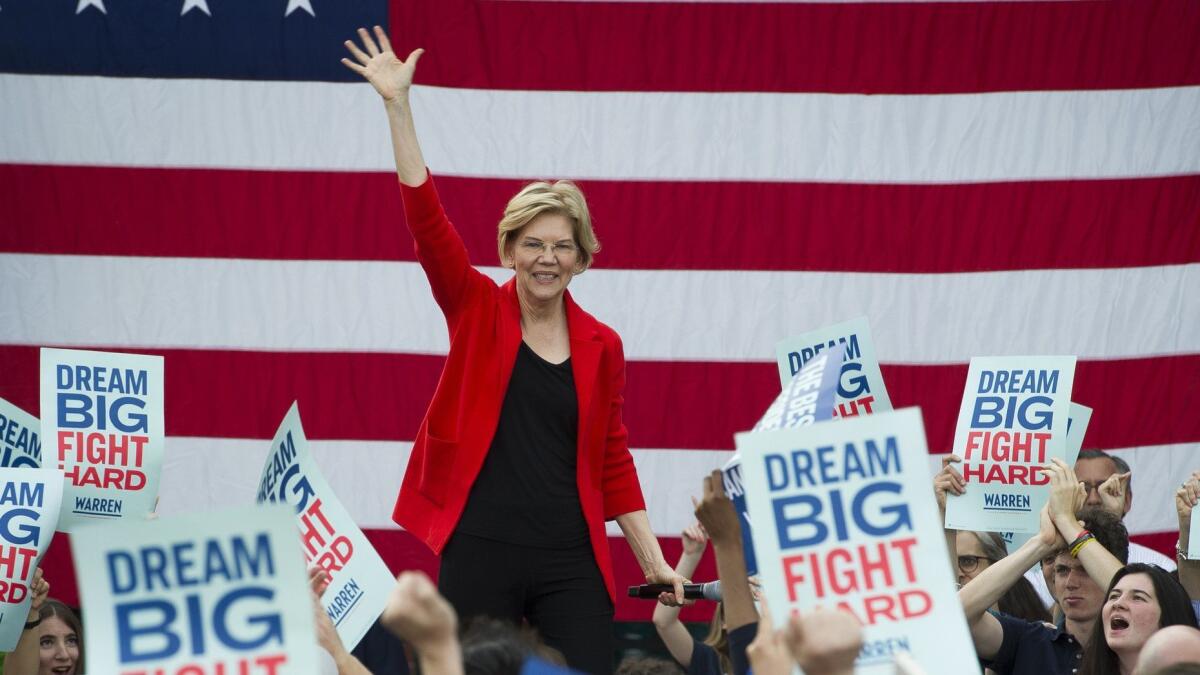 Elizabeth Warren, Massachusetts senator
Elizabeth Warren has offered, bit by bit, the most sweeping array of policy proposals, including universal child-care, student debt relief, opioid addiction relief, abortion rights protections and more. Her campaign mantra is, "I've got a plan for that!" The former Harvard law professor has steadily gained momentum in well-received town halls and candidate forums, fending off skeptics who question her electability. A self-proclaimed capitalist, she calls for stricter market regulation and is known for her sharp criticism of big banks.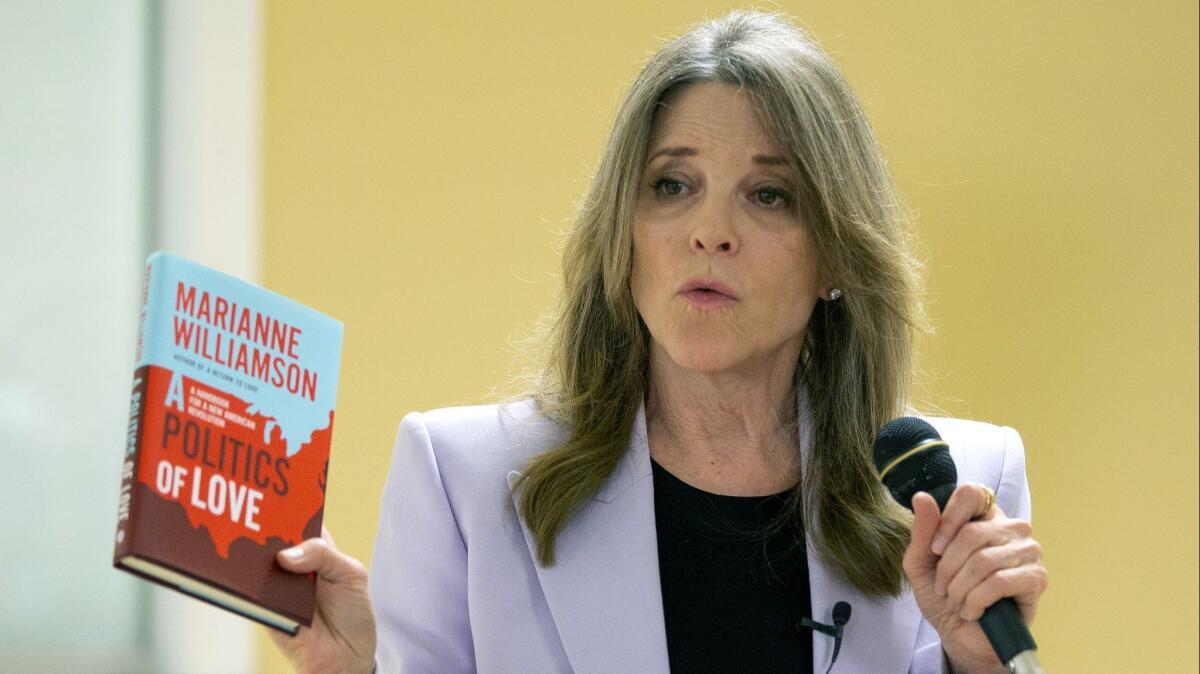 Marianne Williamson, author
Marianne Williamson, the author of "Tears to Triumph: The Spiritual Journey from Suffering to Enlightenment," ran unsuccessfully for a U.S. House seat representing the California coast from Malibu to Palos Verdes in 2014. Now the self-help writer says her presidential campaign offers Americans a "genuine pattern disruption," not just the "same-old, same-old politics." Williamson apologized last week for calling mandated vaccinations "draconian" and "Orwellian" at an event in New Hampshire.
Andrew Yang, businessman
Former tech executive Andrew Yang has a small but enthusiastic following. His loyalists, known as the "YangGang," were out in full force at a recent gathering of Democratic candidates in South Carolina. His signature proposal would provide a universal basic income for every American. He hardly registers in the polls, yet after an appearance on stand-up comedian Joe Rogan's podcast, Yang quickly racked up the needed donations to qualify for the first debate. One of his big concerns is job losses prompted by automation.
Get our Essential Politics newsletter
The latest news, analysis and insights from our politics team.
You may occasionally receive promotional content from the Los Angeles Times.