Julián Castro seizes on the border crisis in a bid to leapfrog Beto O'Rourke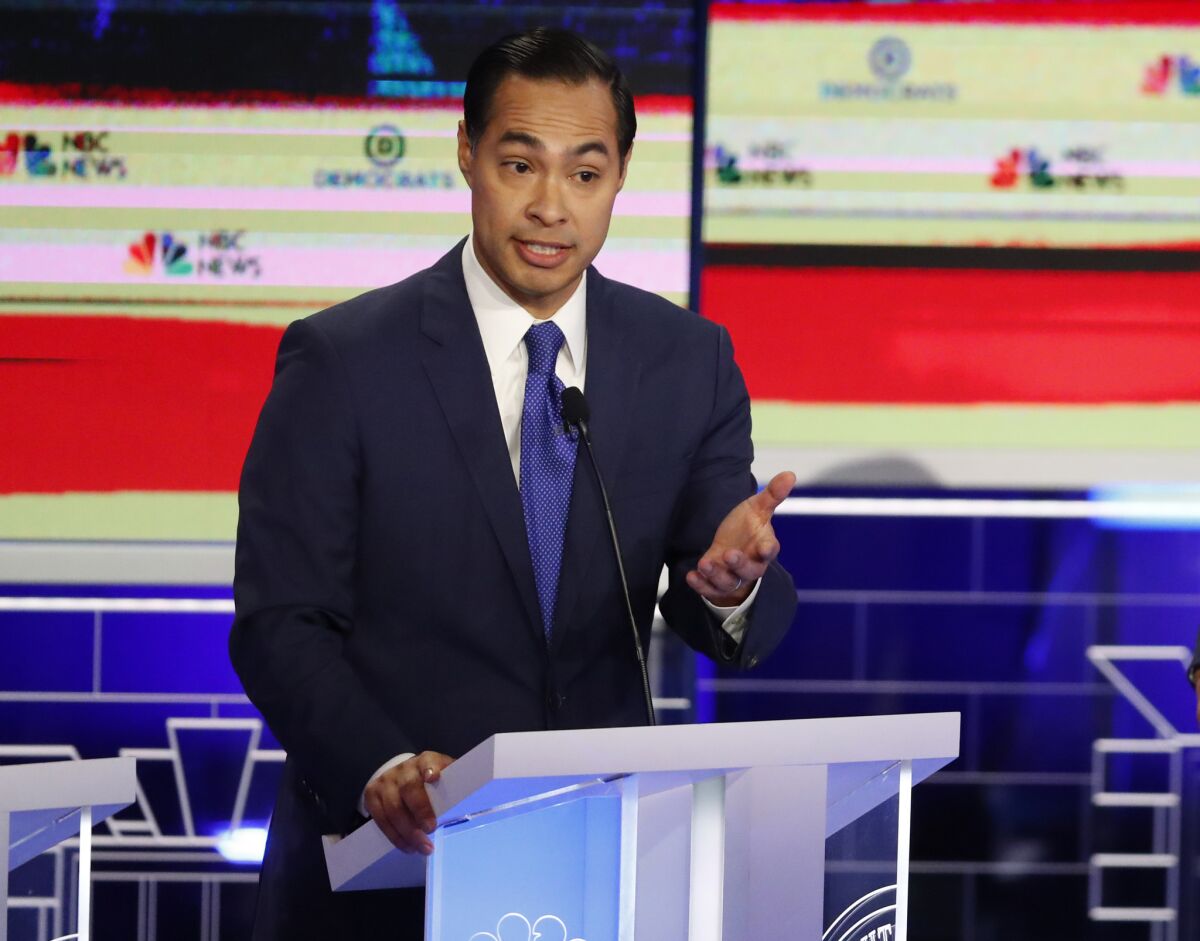 Reporting from Miami —
After six months of languishing in the lower tier of 2020 presidential hopefuls, Julián Castro managed to make his mark in the first Democratic debate with his scathing attack on fellow Texan Beto O'Rourke over the humanitarian crisis at the U.S.-Mexico border.
It was more than just a spat over immigration policy between two border-state rivals.
Castro's rhetorical assault was also an apparent attempt to strengthen his campaign's financial and political standing in his home state at the expense of O'Rourke, the former congressman whose initially highflying candidacy has been floundering in recent weeks.
Castro, who was secretary of Housing and Urban Development under President Obama, decided "that he needed to jump-start his campaign by going after Beto O'Rourke to try to secure a Texas base," said Cal Jillson, a political science professor at Southern Methodist University in Dallas.
More broadly, Castro, the only Latino in the presidential race, was trying to build support in key states in the Democratic nominating contest and, at the same time, show his potential in states that will be crucial to the party's drive to unseat President Trump.
"I believe I am the party's best shot at getting the 29 electoral votes in Florida, the 11 votes in Arizona and the 38 votes in the state of Texas," Castro told reporters Thursday in Miami, "and that if I'm the nominee, that we will see unprecedented gains in the Latino vote. It'll go through the roof."
Julian Castro's run for president banks on Latinos, but it's a steep climb to White House »
Both Castro and O'Rourke, whose district included El Paso, have proposed far-reaching immigration overhauls. During Wednesday's 10-candidate debate in Miami, Castro zeroed in on a key contrast in the plans: His own would decriminalize border crossings by migrants who lack permission to enter the U.S.; O'Rourke's would not.
"Let's be very clear: The reason that they're separating these little children from their families is that they're using Section 1325 of that act, which criminalizes coming across the border to incarcerate the parents and then separate them," Castro told the audience.
"Some of us on this stage have called to end that section, to terminate it. Some, like Congressman O'Rourke, have not. And I want to challenge all of the candidates to do that."
The two wound up talking over each other, with Castro staying on offense.
"I just think it's a mistake, Beto," he said.
Advocates for immigrants were delighted to see the two rivals clash over the substance of their proposals at a time when Trump is facing a public uproar over his administration's separation of families at the border and the lack of soap, toothbrushes and other necessities for some of the children being held.
Jess Morales Rocketto, who chairs Families Belong Together, a nonpartisan group working to end the separations, was especially pleased that Castro highlighted the contrast between his plan and O'Rourke's.
"I thought it was really smart of him to make that distinction, and he did it really well," she said.
Democratic debate: Candidates tackle immigration, taxes, climate change and guns »
With some two dozen Democrats vying to challenge Trump, Castro still faces an uphill fight to compete effectively with better-known and better-funded candidates, including former Vice President Joe Biden and Sens. Bernie Sanders of Vermont, Elizabeth Warren of Massachusetts and Kamala Harris of California.
But Castro succeeded in securing for himself a "stay-alive moment" in the first debate, said Julian Zelizer, a professor of history and public affairs at Princeton University.
"That was important for him to just get on the map," Zelizer said.
On Friday, Castro and several other presidential candidates plan to visit a detention center holding migrant children in Homestead, Fla. About half a dozen contenders, including O'Rourke, have already visited there. From Homestead, Castro was scheduled to leave for a weekend campaign swing across Texas.
The former Housing secretary and his twin brother, Democratic Rep. Joaquin Castro of Texas, were rising stars in Texas Democratic politics for more than a decade but were eclipsed last year by O'Rourke.
The Castros each declined to challenge Republican Sen. Ted Cruz, but O'Rourke, until then an obscure border-district congressman, jumped in the race.
O'Rourke fell just short of unseating Cruz in what would have been a major comeback for Democrats in a solid Republican state. But he managed to raise a staggering $79 million and won more votes than Hillary Clinton did in Texas in the 2016 presidential race.
Debate Night 2: Biden's bull's-eye, Sanders' attitude and other things to watch for »
In Miami on Thursday, Castro was basking in the sudden profusion of news crews that showed up to interview him about the debate.
"I think you should be yourself, and then be effective whenever a situation like a debate requires you to make your point and win over support," he said. "And that's what I did last night."
At least one fellow candidate noticed: "Sen. Warren sent me a text saying congratulations, you did a good job."
---
Life is stressful. Our weekly mental wellness newsletter can help.
You may occasionally receive promotional content from the Los Angeles Times.