Mueller report to be released by Justice Department on Thursday
Reporting from Washington —
The Justice Department plans to release on Thursday its redacted version of the final report from special counsel Robert S. Mueller III, providing Congress and the public with an expanded narrative of a historic investigation into Russian interference in the 2016 election and other crimes.
Mueller filed the nearly 400-page confidential report on March 22 after nearly two years of work, and Atty. Gen. William Barr and his aides have been working with the special counsel's office to strip out classified or other protected information.
House Democrats have pledged to fight for access to an unredacted version and have vowed to subpoena the Justice Department if necessary.
Details from the report could prove damaging to President Trump even though Barr wrote in a four-page letter to Congress on March 24 that Mueller did not establish the existence of a criminal conspiracy between the president's campaign and the Russian government.
Equally explosive is the question of whether Trump obstructed justice by trying to interfere with the probe.
Mueller did not reach a decision on the issue, Barr wrote. Instead, the special counsel outlined the evidence and wrote "while this report does not conclude that the President committed a crime, it also does not exonerate him," according to Barr's letter.
Barr and Deputy Atty. Gen. Rod Rosenstein, who appointed Mueller in May 2017 and supervised his work, instead determined that the evidence "was not sufficient to determine that the president committed an obstruction-of-justice offense."
It's unclear how much will be redacted, but officials have said they are looking at four categories of information in the report, which is officially titled "Report on the Investigation Into Russian Interference in the 2016 Presidential Election."
Justice Department officials plan to conceal grand jury testimony, classified intelligence, information about ongoing investigations, and details that could damage the reputations of "peripheral third parties."
Barr testified to a Senate panel on Wednesday that he would not use that fourth category to hide unflattering information involving the president.
"I'm talking about people in private life," he said, "not public officeholders."
Barr's letter suggested the report could contain reams of previously unknown material. He wrote that Mueller's prosecutors issued more than 2,800 subpoenas, executed nearly 500 search warrants, obtained more than 230 orders for communication records and interviewed about 500 witnesses.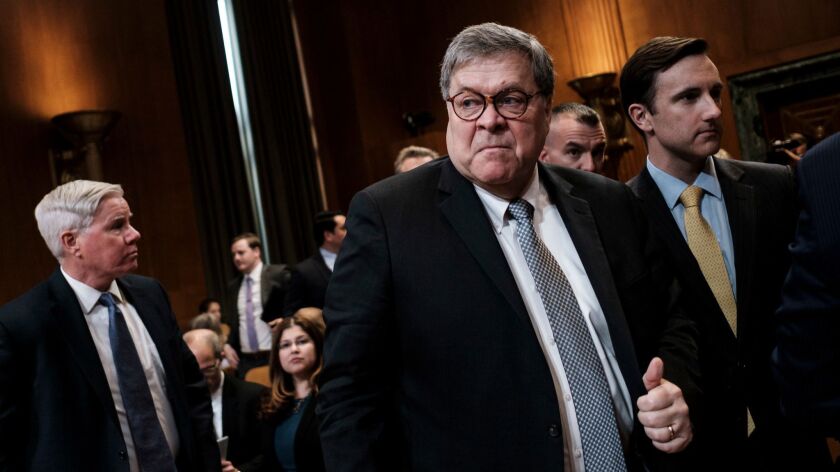 Release of the report could spark a legal battle if House Democrats decide to issue a subpoena for the redacted material, as some have vowed.
"We will go to court. We will do whatever is necessary," said Rep. Jerrold Nadler, the New York Democrat who chairs the House Judiciary Committee.
Republicans opposed the subpoena.
"This is reckless, it's irresponsible, and it's disingenuous," said Rep. Doug Collins of Georgia, the top Republican on the Judiciary Committee.
Trump initially seized on Barr's March 24 letter to claim he was fully exonerated. In recent days, however, he's resumed denouncing the investigation and those who conducted it.
"This is dirty politics. This is actually treason," Trump told reporters at the White House on Thursday.
He also claimed he wasn't worried about the report's pending release.
"I'm not concerned about anything because, frankly, there was no collusion and there was no obstruction," Trump said. "And we never did anything wrong."
Mueller's investigation resulted in criminal charges against 34 people, including several of Trump's former top associates. No Americans were charged with conspiring with the Russian election operations.
Michael Flynn, the president's first national security advisor, pleaded guilty to lying to investigators about conversations with the Russian ambassador. He is awaiting sentencing and is cooperating in a separate investigation into a Turkish lobbying effort involving his former business associates.
Paul Manafort, Trump's former campaign chairman, was sentenced to 7½ years in prison for financial crimes and conspiracy charges related to his work in Ukraine.
Michael Cohen, Trump's longtime personal lawyer, admitted to lying to Congress about negotiations to build a Trump Tower in Moscow. The conversations continued until mid-2016, even as Trump was proposing closer ties to Russia and the Kremlin was pursuing a covert effort to tip the election in his favor.
Mueller also indicted 25 Russians. They include a dozen military intelligence officers who allegedly hacked Democratic Party computers and released tens of thousands of emails through WikiLeaks during key moments in the campaign.
Also indicted was Yevgeny Prigozhin, an oligarch with close ties to Russian President Vladimir Putin, who allegedly funds the Internet Research Agency in St. Petersburg. A dozen employees of the organization were accused of spreading divisive and false content on social media.
---
Get our Essential Politics newsletter
The latest news, analysis and insights from our politics teams from Sacramento to D.C.
You may occasionally receive promotional content from the Los Angeles Times.