Trump doesn't let environmental laws stand in the way of border barrier construction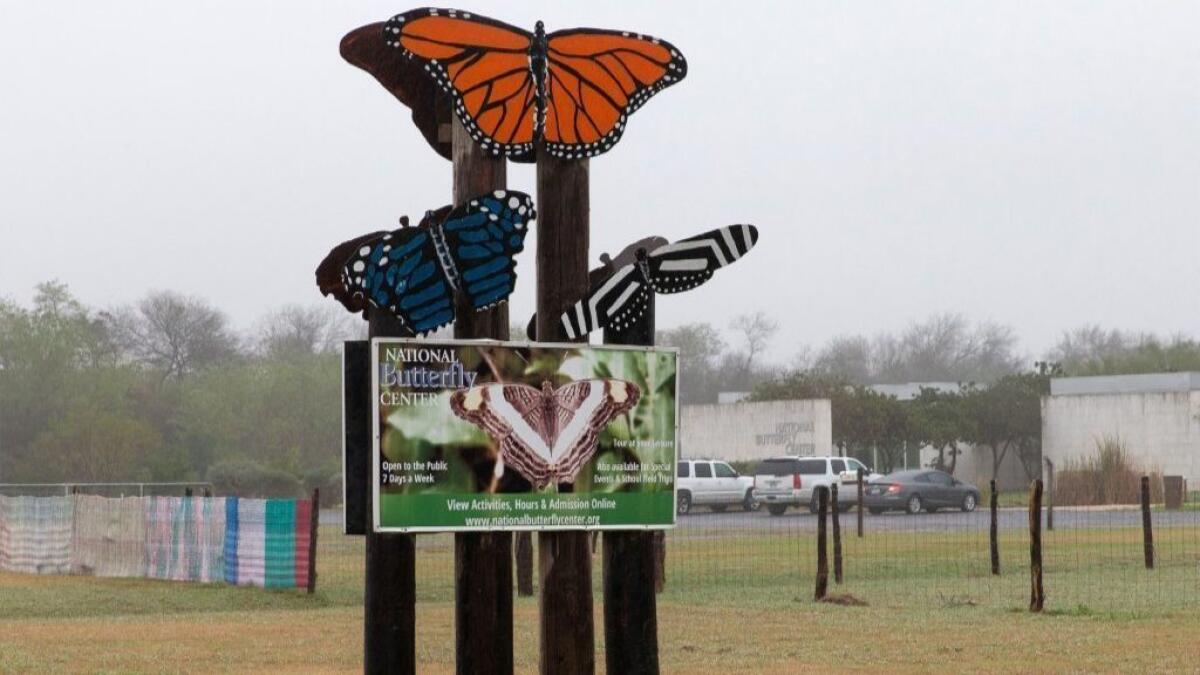 Reporting from Washington —
Over the last week, Marianna Treviño Wright has watched work crews drive through her butterfly sanctuary in Texas to a nearby site where brush is being cleared for a planned six-mile stretch of border wall.
Homeland Security has planned to build an 18-foot-tall steel and concrete barrier across the National Butterfly Center, cutting it in half. Those plans were blocked, at least for now, in the spending bill that Congress passed and President Trump signed Friday, which specifically bars construction at the 100-acre site.
It wasn't immediately clear if Trump's declaration of a national emergency on the border would upend that ban.
Federal authorities have provided no environmental impact study for erecting a barrier in the middle of a wildlife refuge. Nor has the government analyzed how much damage the spotlights, heavy machinery and foot traffic would do to endangered species in the area.
Under Trump, the secretary of Homeland Security has repeatedly invoked a little-known waiver to cast aside federal environmental and public notice laws that could block or slow border barrier construction — more than under any other administration.
Citing national security, the Trump administration has issued six such waivers for replacement fencing and barrier projects in the last two years, bypassing the Endangered Species Act, the Clean Air Act, the National Environmental Policy Act and other regulations that the department would be forced to consider for any other public works project.
That compares to five such waivers issued during President George W. Bush's eight years in office, and none under Presidents Obama and Clinton. Congress created the waiver authority in 1996.
"It is breathtaking just how easy it is for them to waive these laws," said Laiken Jordahl, an environmental advocate with the Center for Biological Diversity. "As environmental litigators, that's our entire toolkit, and we can't use any of them here."
At a time when federal courts have delayed or struck down many of the administration's efforts to roll back environmental regulations, the waiver has become a reliable way to ensure the president's long-promised border wall is not derailed by environmental lawsuits.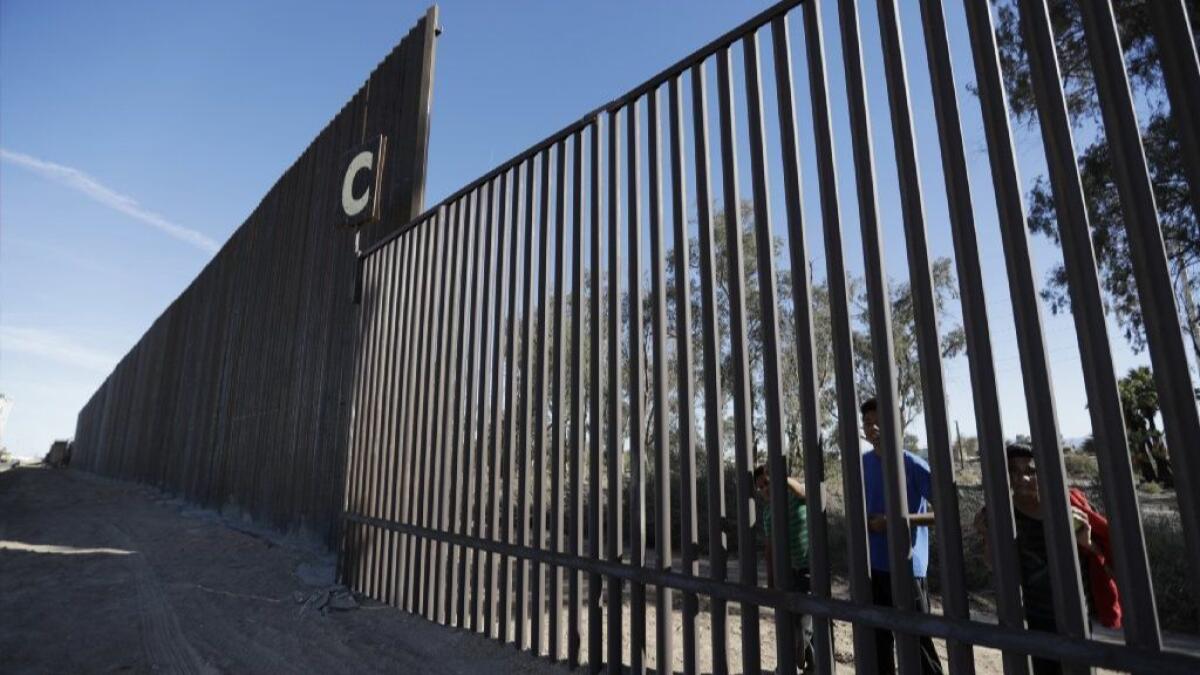 Waivers almost certainly will be used after Trump declared a national emergency from the White House Rose Garden on Friday, then signed a bill to keep the government open.
The bill includes $1.375 billion for about 55 miles of fencing in the Rio Grande Valley, as well as specific protections for the butterfly refuge and several other areas.
Mick Mulvaney, Trump's acting chief of staff, told reporters Trump would use the national emergency declaration to tap $6.6 billion in other federal accounts to build his border wall, likely setting up a court battle over the proposed new construction.
On Thursday, House Democrats introduced several other measures that would remove the government's ability to unilaterally waive environmental laws for border wall construction.
Kirstjen Nielsen, secretary of Homeland Security, most recently issued a waiver on Feb. 8 to speed construction of 14 miles of replacement fence in San Diego, bypassing 36 separate federal environmental and historic preservation laws.
In a statement accompanying the waiver, Nielsen said she had authority "to waive all legal requirements that I, in my sole discretion, determine necessary to ensure the expeditious construction of barriers and roads" to prevent unlawful entries.
In October, Nielsen waived 28 environmental laws and authorized construction — which has yet to begin — of a steel and concrete barrier across 18 miles of Hidalgo County, Texas.
The waiver has survived multiple legal challenges from environmental advocates since Congress included it in the 1996 Illegal Immigration Reform and Immigrant Responsibility Act and in subsequent border security laws.
The 9th Circuit Court of Appeals — the California-based federal appellate court that has blocked the president's asylum policies and latest travel ban — has backed the administration in its use of waivers.
In a ruling this month, the court upheld the government's broad authority to construct border wall "prototypes" and replace fencing in San Diego and Calexico, Calif., without studying the environmental impacts.
Sen. Dianne Feinstein (D-Calif.), who helped draft the 1996 law, said in an interview that the president was abusing the waivers to build a border wall.
"No, he shouldn't be doing this," Feinstein said, adding that she and other lawmakers will reexamine the legislation. "It's a different day and a different age."
Sen. Charles E. Grassley (R-Iowa), another drafter of the 1996 legislation, said he hadn't "thought about it" since then but said national security was the government's primary responsibility. Still, he added, "any bill or any law, it's legitimate to say, yeah, there ought to be an update or a review."
The first modern border barriers were built outside San Diego in the 1990s, and fencing on the border extends 654 miles today.
Michael Chertoff, then secretary of Homeland Security, began using the waivers in 2005 in a push to extend the wall before Bush left office. From 119 miles in 2007 it grew to more than 330 miles by the time the Supreme Court upheld the Bush administration's power to use the waivers in June 2008.
Obama ultimately built roughly twice as many miles of border barrier as Bush, without using any waivers.
The Trump administration has yet to add a single mile. The brush clearing in the Rio Grande Valley is in preparation for the first new barrier construction, set to begin this month.
David Lapan, who was Homeland Security spokesman when it issued its first waivers under Trump, said the administration had manufactured a crisis on the border and was using the waivers to achieve its political aims.
"I would argue there's not a national security incentive here," said Lapan, now vice president of the Bipartisan Policy Center, a Washington-based think tank. "It is a way to expedite action and be able to move more quickly on fulfilling the president's campaign promise."
Last year, nearly 3,000 scientists signed an article in the journal BioScience that said the Trump administration's border plans threatened "some of the continent's most biologically diverse regions" by pushing endangered species and other wildlife into shrinking pockets of land.
Species that follow migration routes would find themselves blocked, as would other animals that could not get over or around an 18-foot-high barrier.
The threat in the Rio Grande Valley is that Homeland Security contractors could cut down trees to make way for the wall, wreaking havoc on butterflies and other wildlife, Treviño Wright said.
"Every nesting baby bird, every snake, everything along the ground, any tortoises," she said, "anything in its path is going to be put in a Cuisinart."
Get our Essential Politics newsletter
The latest news, analysis and insights from our politics team.
You may occasionally receive promotional content from the Los Angeles Times.