Analysis: Newsom tackles the bullet train with a new leadership team but no friends in the White House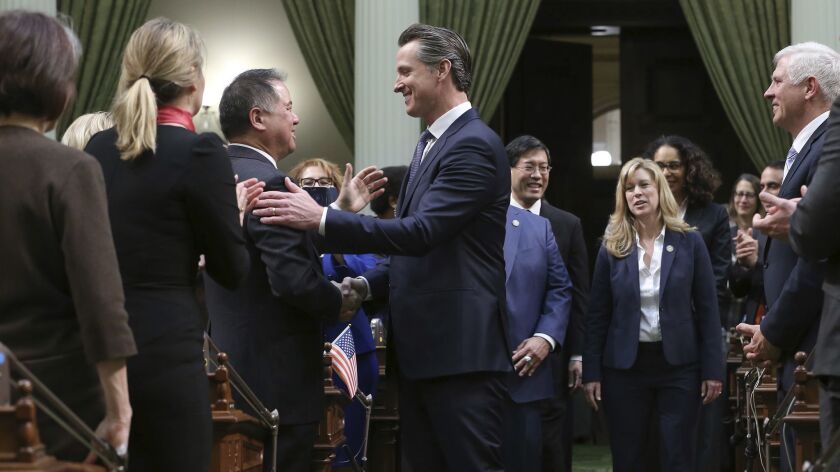 Reporting from Sacramento —
Three times in California's modern era, a governor has found himself stuck trying to rework the plans of a predecessor who hoped to make high-speed rail a reality.
Twice, that predecessor was named Jerry Brown.
But the $77-billion train project — facing new hurdles and potentially longer odds of success — is much further along than when earlier governors had to make key decisions. And for Gov. Gavin Newsom, the decisions are unlikely to be his alone.
"I think the Legislature and the governor have to come together to conceive a common plan and design," said state Sen. Tom Umberg (D-Santa Ana).
A shared responsibility could help bridge the divide over the project among majority Democrats, many of whom have raised doubts about high-speed rail similar to those expressed by Republicans. Conversely, demands from his new partners could make the road more difficult for Newsom if lawmakers insist on approaches to the train's path and purpose that must be balanced with state and federal government mandates.
An 'unprecedented' effort by Trump to recoup bullet train's $2.5 billion »
Newsom was not the first governor to use his inaugural State of the State speech to cast doubt on Brown's bullet train dreams. In 1983, Brown left his first successor, Gov. George Deukmejian, with a project to build a high-speed system between Los Angeles and San Diego.
Deukmejian, however, had other interests.
"My budget establishes priorities which shift the emphasis from exotic alternative transportation schemes over to the proven priorities of safe, well-maintained and efficient highways," the Republican governor said in his State of the State speech.
Those who heard the speech thought he was killing plans for high-speed rail. Deukmejian's top transportation advisor was dispatched to insist the new governor was not saying that, a moment not altogether different from the blowback Newsom faced — which he insisted was the fault of the news media — when he said in his own speech that "there simply isn't a path" for the project.
But Deukmejian only needed to distance himself from an effort that would likely have stalled on its own. Newsom's task is more akin to the challenge Brown himself faced in 2011 — inheriting a project from former Gov. Arnold Schwarzenegger that came with a staggering $98-billion price tag. Brown quickly installed new leaders to the California High-Speed Rail Authority and tasked them with finding ways to shrink the cost to something more palatable.
Newsom has appointed his own new leadership for the train agency, who are tasked — at least at the outset — with reframing the mission of high-speed rail.
"High-speed rail is much more than a train project," the governor said in his State of the State speech on Feb. 12. "It's about economic transformation, and it's about unlocking the enormous potential of the [Central] Valley."
Newsom blames the media, not his own words, for confusion over high-speed rail's future »
One potential effect of that shift could be to disrupt the existing battle lines and give legislators skin in the game.
"I think it was a reset," said Senate President Pro Tem Toni Atkins (D-San Diego). "And it was one that was politically brilliant."
Still, the new approach — messaging that the train project is off-track, so to speak — comes with risks.
Newsom, unlike Brown and Schwarzenegger, faces stiff opposition from the White House. Former President Obama, whose administration championed the $2.5 billion in recession stimulus funds, held off the project's Republican critics in Congress. But President Trump has emerged as the train's most powerful adversary, launching a Twitter attack last week that was a prelude to Tuesday's announcement by federal officials that an expected $929-million grant and the original stimulus money were now in jeopardy.
That could increase the project's reliance on the one steady stream of cash it's had the last few years, proceeds from the sale of carbon emission allowances under California's landmark cap-and-trade climate program. To date, that's provided commitments of almost $1.3 billion.
But empowering the Legislature could change the conversation. Some lawmakers have insisted the proceeds are better spent on more immediate air quality needs, especially in low-income communities of color.
Others may see just the opposite, believing that efforts such as high-speed rail are the right low-pollution approach to lowering a reliance on traditional emissions-heavy vehicles.
"I think we need to be realistic about cap-and-trade money: I think more of it should go toward public transportation," said Assemblywoman Lorena Gonzalez (D-San Diego).
Even then, the bullet train could be a tough sell. A December poll by the nonpartisan Public Policy Institute of California found 58% of likely voters said they saw the bullet train as a low, or very low, priority. Even the survey's self-described liberal voters were more likely to be lukewarm to the idea of making the train a high priority of the state's elected leaders.
And although Newsom faces a familiar dilemma, he does so under a unique set of circumstances. Many of the key players are new. Only a handful of legislators were in office in 2012 for the last big vote on the project — a formal approval of Brown's plan to use $8 billion in state and federal funds to break ground in the Central Valley while blending high-speed rail with more traditional commuter train service in urban areas.
Umberg, who himself stepped aside as chair of the high-speed rail agency in 2012 when Brown's new team came aboard, said all of the changes presented Newsom and the state with a chance to seize the moment.
"I think this is a good opportunity to restart the conversation," he said.
Follow @johnmyers on Twitter, sign up for our daily Essential Politics newsletter and listen to the weekly California Politics Podcast
---
Get our Essential Politics newsletter
The latest news, analysis and insights from our politics teams from Sacramento to D.C.
You may occasionally receive promotional content from the Los Angeles Times.