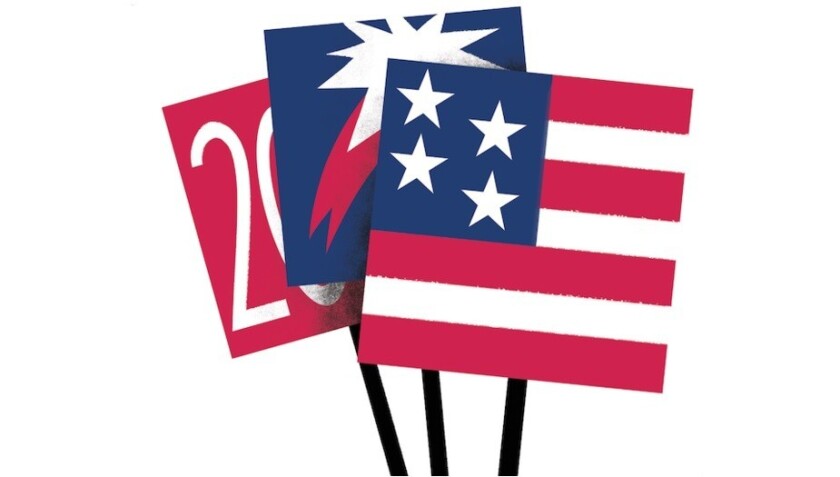 Can Congress come up with a solution by next March for the 800,000 immigrants who were brought into the country illegally as children?
That's effectively the question President Trump may pose by leaving the Deferred Action for Childhood Arrivals program intact for six months to give Congress time to find a legislative solution for the so-called Dreamers. Of course, that's what aides were telling us Monday, stressing it was a tentative decision.
Either way, the issue puts even more pressure on Congress, with a deadline in a midterm election year to boot.
Lawmakers return to Washington with one of the fullest agendas of the modern era, and little time to accomplish the necessities such as funding the government and increasing the debt ceiling.
This all comes amid the specter of a conflict over nuclear weapons. Sunday's drama in North Korea represented a new reality for Trump, Cathy Decker writes, with a huge foreign policy test and a Texas-sized crisis at home.
'DREAMERS' WAITING
As we reported Monday, it was unclear whether Trump will firmly commit to ending the DACA program after six months, begin allowing existing work permits to expire or simply revisit the matter at that time.
In anticipation of the president's announcement, two California Republicans reached out to House Speaker Paul Ryan last week to ask he get started with a congressional fix. It's no accident they are being aggressive on the issue, since their districts have high minority populations.
We'll have more on the vulnerable California Republicans in the coming weeks, and subscribers to this newsletter will get our new midterms project before anyone else.
Sarah Wire revealed in a piece this weekend how some lawmakers in the California delegation have relatives who could face deportation, making Trump's move even more personal.
We're tracking it all as it happens, so join us on our Essential Washington news feed.
LIGHTNING ROUND
On Wednesday, Democratic Sen. Bob Menendez of New Jersey will sit in a courtroom facing bribery charges, the first case against a sitting U.S. senator in nearly a decade.
Read President Obama's letter to Trump as he left the White House.
Trump went back to Texas and also surveyed Harvey damage in Louisiana.
More staff have left the White House. Can't keep the musical chairs straight? We've got a detailed graphic so you don't have to.
As the federal government has its Obamacare standoff, some states are making it work.
Smoke was spotted coming from the Russian consulate in San Francisco last week.
SCRAMBLE IN SACRAMENTO
Sacramento's biannual "suspense file" drama, where hundreds of bills that were kept in limbo for months are either passed or killed in a matter of minutes, has reshaped the political debates to come as the Legislature winds toward adjournment on Sept. 15. Here are some of the highlights.
-- Lawmakers shelved a proposal that would have studied police shootings across California.
-- A proposal to clamp down on offshore drilling in California stalled on Friday. The legislation, Senate Bill 188, would have prevented new infrastructure, such as pipelines or piers, from being built along the coast. It was opposed by the oil industry and labor groups.
-- Last call will stay at 2 a.m. across California, as lawmakers squashed a bill to allow bars to stay open an additional two hours.
-- Senate leader Kevin de León's push to phase out fossil fuels for electricity took another step forward. The legislation, Senate Bill 100, is heading for a vote on the Assembly floor. It also received a nod from actor and environmentalist Leonardo DiCaprio.
-- For years, a Los Angeles-based company has wanted to pump groundwater from under the Mojave Desert and sell it to the Southern California communities. The Trump administration helped clear the way for the project earlier this year, but state lawmakers began debating a new proposal, Assembly Bill 1000, to stop it. However, the proposal was halted by the Senate Appropriations Committee, despite support from Gov. Jerry Brown and Sen. Dianne Feinstein.
-- A bill requiring California police to disclose surveillance equipment stalled amid cost concerns.
--- Fake news? Who knows? Lawmakers killed a bill that would bring media literacy classes to schools. The curriculum would have promoted critical thinking skills, digital citizenship and responsible technology use.
And as lawmakers return to Sacramento this week for the final few days of the 2017 legislative session, they are rushing to collect as much campaign cash as they can from powerful interest groups.
In his Political Road Map column, John Myers writes that you could think of it as a nightly political pub crawl on the streets of the capital city. And critics say it's a system ripe for reform.
DIVVYING UP THE CAP-AND-TRADE CASH
Now that the debate over extending the cap-and-trade program is finished, Gov. Jerry Brown and lawmakers are turning their attention to spending the cash. There's $1.5 billion on the table. The governor unveiled his idea last week, including $350 million to improve air quality in polluted communities and $607.5 million for low-carbon transportation. That's less than the $1 billion sought by some Democratic lawmakers to phase out diesel engines in trucks, buses and farm vehicles, so expect some give and take before the legislative session ends.
A CLASH OVER 'PATIENCE'
At a time when the Democratic base is more restive than it has been in decades, Feinstein ignited a firestorm earlier this week when she refused to back Trump's impeachment and instead called for "patience" with his presidency. The statements reflected a moderation and pragmatism that have been hallmarks of Feinstein's career. But these qualities, after proving politically advantageous for decades, could become an albatross as the 84-year-old decides whether to seek a sixth term, Seema Mehta reports.
George Skelton argues in his Monday column that the backlash from De León and others on the left is unwarranted.
On the other side of the spectrum, Skelton calls Republicans who ousted their leader a "grouchy bunch."
A reminder you can keep up with California politics via our Essential Politics news feed.
WOMEN AT THE CENTER OF FIGHT OVER BAIL
As a public defender in New York City, Gina Clayton realized the U.S. bail system was putting a heavy and invisible burden on women. Now, she is the founder of the Essie Justice Group, a support network for women with incarcerated loved ones, which this year has been one of the main drivers behind legislation to overhaul the way offenders receive bail in California.
The group, with cohorts in Los Angeles and the Bay Area, offers spaces for women to share experiences they often don't talk about at home. In healing and building bonds, Clayton says, their mission is to launch female leaders who can lobby their district representatives, organize their own events and speak at public forums against a punitive criminal justice system that disproportionately affects black and Latino communities.
TODAY'S ESSENTIALS
-- The latest California Politics Podcast takes a look at some of the most notable bills killed at the state Capitol last week and the political buzz that's now making the rounds about the 2018 U.S. Senate race.
-- Lt. Gov. Gavin Newsom said California's next governor must do more than continue Brown's legacy, Mehta reports.
-- L.A. Mayor Eric Garcetti was in Sacramento Wednesday with other big city mayors to pitch action on housing legislation. Legislative leaders had hoped to vote on housing bills last week, but it didn't happen.
-- Garcetti also didn't rule out entering a crowded field to run for governor next year.
-- California already has some of the world's toughest policies for fighting global warming, but now lawmakers are considering a new one. If approved at the end of the legislative session, the state would completely phase out the use of fossil fuels for generating electricity by 2045. Here's how the measure would work.
-- Brown is staying on the international circuit. He's attending an economic summit in Vladivostok, Russia, this week, and he's planning to call for more action to tackle global warming. His travel plans include a stop in Alaska to meet with climate scientists.
-- Top lawmakers are zeroing in on a measure to fund water and parks improvements for the 2018 statewide ballot.
-- Former U.S. Atty. Gen. Eric Holder filed a brief on behalf of the California Senate in Chicago's "sanctuary city" lawsuit.
-- Corrections officials heard thoughts and complaints about revamping California's parole system.
-- A proposed California ballot initiative would give consumers more control over their personal information online.
-- Brown signed a bill to extend protections for immigrant witnesses in California.
-- Driving into a group of protesters could be considered domestic terrorism in California. The bill considers the act an infringement on free speech and assembly.
-- State Assemblywoman Cristina Garcia shelved her legislation to make "stealthing" punishable as rape in California.
-- A proposal would allow eight California counties to pilot supervised drug injection sites by 2022.
-- San Fernando Valley will soon boast signs for portions of I-5 named the Ritchie Valens Memorial Highway.
-- No, a shark was not swimming in Houston's floodwaters (and other ways to spot fake news).
LOGISTICS
Essential Politics is published Monday, Wednesday and Friday.
You can keep up with breaking news on our politics page throughout the day for the latest and greatest. And are you following us on Twitter at @latimespolitics?
Miss Friday's newsletter? Here you go.
Please send thoughts, concerns and news tips to politics@latimes.com.
Did someone forward you this? Sign up here to get Essential Politics in your inbox.
---