Trump's immigration plan quickly hits a wall. Here's why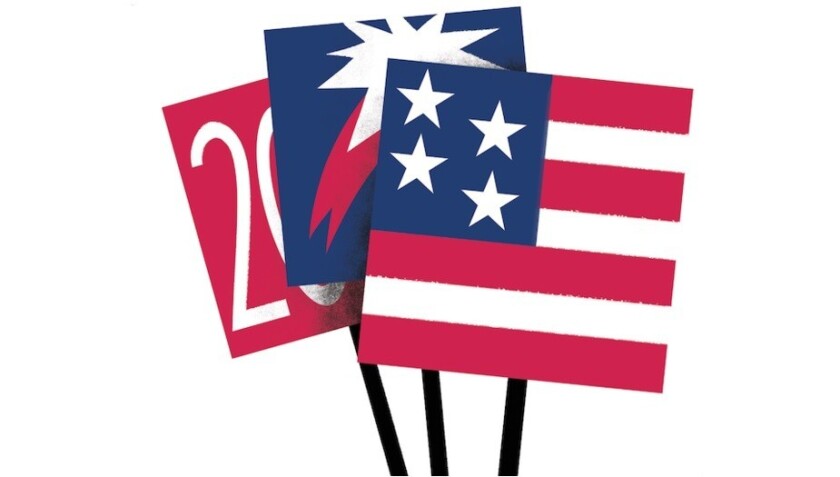 Reporting from Washington —
Sen. Lindsey Graham of South Carolina offered a lesson in legislative horsetrading earlier this month to Homeland Security Secretary Kirstjen Nielsen.
President Trump and members of Congress have talked about two phases of immigration legislation, Graham noted — first, a deal on the status of so-called Dreamers, then a more comprehensive solution to the problem of the 11 million people living in the U.S. without legal status.
"Do you expect that the Democrats will give the president everything he wants for border security in Phase 1?" he asked. "It's not going to happen." Demand too much, and you'll never get a deal, he warned.
In offering an immigration plan this week, the White House appears to have brushed aside Graham's advice.
I'm David Lauter, Washington bureau chief. Welcome to the Friday edition of our Essential Politics newsletter, in which we look at the events of the week in Washington and elsewhere in national politics and highlight some particularly insightful stories.
AN IMMIGRATION HARD LINE
Sometimes the simplest way to analyze a legislative plan is just to look at who lines up in favor: Within hours of the White House release of a one-page summary of its new immigration proposal on Thursday evening, the biggest congressional names on the immigration-restriction side of the debate, led by Sens. Tom Cotton of Arkansas and David Perdue of Georgia, had signed on.
Across the broad middle of the Senate's ideological spectrum, the reaction was mostly silence. On the left, the anger was fierce.
True, the plan also drew howls from groups that have campaigned against any form of leniency for those who have violated immigration laws.
"Amnesty Don," screamed a headline on Breitbart.com.
That's a significant potential political issue for Trump, since anti-immigration sentiment provided a lot of the energy for his presidential campaign.
But the White House has clearly calculated that Trump can win over most of the opposition on his side once attention shifts from the headline number — 1.8 million Dreamers would be given legal status and a pathway to citizenship — to the huge new restrictions in legal immigration that the proposal demands in exchange.
As Graham warned Nielsen, those changes in the existing system almost certainly go far beyond the price Democrats would pay to gain legalization for the Dreamers, immigrants who came to the U.S. illegally as children.
"Ransom note," was the catchphrase that Democrats immediately started to use.
On Twitter on Friday, Senate Democratic Leader Charles E. Schumer of New York panned the proposal.
Trump "finally acknowledged that the Dreamers should be allowed to stay here and become citizens, [but] he uses them as a tool to tear apart our legal immigration system and adopt the wish list that anti-immigration hardliners have advocated for for years," Schumer wrote.
The biggest objection from Democrats — and some Republicans — was that the White House plan would dramatically restrict the current immigration law's focus on family unification.
Future citizens and legal permanent residents would be able to sponsor only their spouses and minor children for immigrant visas. They no longer would be able to petition for their adult children, siblings or parents. Immigration advocates say those changes could cut legal immigration to the U.S. in half.
THE PATH AHEAD
The White House plan appears far short of passing the Senate, where significant legislation requires 60 votes to overcome a filibuster. But that doesn't mean it will have no effect.
A bipartisan group of senators, meeting mostly in the office of Sen. Susan Collins (R-Maine), have been trying to reach a compromise that they could bring to the Senate floor by early February. By staking its position now, White House officials hope to shift that debate in their direction.
And if the bipartisan group does come up with a plan that could get support from 60 senators or more, the White House position will have even more influence in the House, where the immigration-restriction faction of the GOP has greater sway.
If the Senate won't go for Trump's plan, and House Republicans won't pass a more liberal one, the outcome could be a much less ambitious bill — something that in essence just codifies President Obama's Deferred Action of Childhood Arrivals program, DACA, which currently gives about 700,000 Dreamers the right to live and work in the U.S. legally, but leaves their long-term status unresolved.
Legal status for the Dreamers wins support from overwhelming majorities of the public, and most Republicans have no appetite for deporting hundreds of thousands of young people who have grown up knowing no home other than the U.S.
That gives many Republican an incentive to pass something.
Another possibility, however, would be a prolonged stalemate. For now, DACA, which Trump had ordered ended on March 5, has been extended by court order. That's likely to continue at least until June and perhaps much longer, depending on whether and when the Supreme Court acts on the administration's appeal of a lower court ruling that kept the program alive.
If history repeats itself, Republicans will become less and less interested in voting on immigration legislation, which divides their party, as the midterm elections get closer. And if Democrats continue to think they have a strong shot at winning back the House majority in November, they will also have a powerful incentive to stall in hopes that the election will give them more leverage.
That would leave the Dreamers at risk, but many may prefer that to a deal that they think would sell out their parents and other immigrants.
A different kind of White House proposal might have made the decision harder for Democrats, by making an offer that Dreamers would find hard to reject. Instead, as he's done throughout the first year of his presidency, Trump hewed close to the position of his most conservative advisors and outraged his opponents.
Once again, the debate seems likely to polarize.
WAR OF WORDS WITH THE MAYORS
One of the administration's favorite rhetorical targets are so-called sanctuary city policies that limit the cooperation that local officials provide to federal immigration agents.
On Wednesday, as Joe Tanfani and Evan Halper reported, the Justice Department sent a letter to several city and county governments demanding information about their policies and vaguely threatening retribution. That led the mayors of the nation's biggest cities to boycott a meeting with Trump on his administration's plans for improving the nation's roads, bridges and other infrastructure.
TRUMP AMONG THE GLOBALISTS
Democratic mayors may not want to meet with him, but some of the world's wealthiest corporate executives lined up for hours to get a chance to hear Trump speak at the World Economic Forum in Davos, Switzerland.
As Noah Bierman reported from Davos, the contrast between the anti-globalist Trump and his globalist audience provided much of the interest for the event.
Trump drew some boos from his crowd when he called the media "vicious" and "fake" during a question and answer period.
While in Davos, Trump had meetings with several world leaders, including Israeli Prime Minister Benjamin Netanyahu and British leader Theresa May. The meetings were a study in contrasts, Bierman reported, frosty with the British, broad smiles with the Israelis.
Speaking of contrasts, the administration wants to weaken the value of the dollar because that could help shrink the U.S. trade deficit by making American exports cheaper and imports more expensive, as Don Lee reported.
But Trump hates the idea of anything associated with him being called "weak." The resulting tension was on display after Treasury Secretary Steven T. Mnuchin declared that a "weaker dollar is good for trade," pushing the currency's value to a three-year low. Trump quickly chastised him in an interview.
SLAPPING ON TARIFFS, HURTING JOBS?
Trump has said for months that he wanted to start imposing retaliatory tariffs on the United States' trading partners for what he sees as unfair competition.
Monday, he got his chance, announcing steep tariffs on imported solar panels and washing machines.
As Evan Halper and Lee wrote, the solar panel tariffs, in particular, could end up costing the U.S. tens of thousands of jobs because they will slow the growth of solar installations here.
TENSION IN THE MIDEAST
Vice President Mike Pence headed to Egypt, Jordan and Israel this past week. Brian Bennett was along for the trip. Pence got earfuls of complaints from Arab leaders and saw lots of evidence that the administration's much ballyhooed efforts to find a peace deal between the Israelis and Palestinians are going nowhere. As Bennett wrote, the trip demonstrated Pence's strategy for success in the administration: Praise Trump constantly and be willing to act as a heat shield.
Meanwhile, relations between the U.S. and Turkey have grown so tense, amid Turkish attacks on Kurdish forces allied with the U.S. in Syria, that the two countries can't even agree on a phone call, Tracy Wilkinson reported with Umar Farooq and Nabih Bulos.
WON'T ANYONE TAKE THIS JOB?
The administration has been trying for a year to find someone to head the Environmental Protection Agency's regional headquarters for California and neighboring states. One by one, a series of oil industry executives have been approached and have bowed out, Halper reports. No one seems to want to run Trump's EPA in California.
TRUMP'S LAWYER, TALK SHOW HOST
Jay Sekulow, one of Trump's lawyers, for years has hosted a conservative radio program. Being on the president's legal team hasn't mellowed him, as Chris Megerian reported.
"If it's in the news, I've got to cover it," Sekulow told Megerian, explaining his frequent diatribes against the Justice Department and the investigation led by special counsel Robert S. Mueller III into Russian interference with the 2016 presidential race and possible obstruction of justice in the Oval Office.
And that was even before the New York Times broke the story on Thursday night that Trump had tried to fire Mueller in June, backing down only after White House counsel Don McGahn threatened to quit.
YELLEN'S LEGACY
Janet L. Yellen's tenure at the Federal Reserve ends this month. Lee and Jim Puzzanghera assess her legacy of virtually full employment, but unfinished business after being given just one term.
JERRY BROWN BEGINS THE LONG GOODBYE
In his final state of the state speech, California Gov. Jerry Brown looks back and pushes forward, John Myers writes.
Meanwhile, two of the Democrats vying to replace him — Gavin Newsom and Antonio Villaraigosa — jabbed at each other over personal wealth in a testy governor's debate, Seema Mehta and Phil Willon reported.
Elsewhere in California politics, my colleagues are tracking the most competitive congressional races in California. It's a great tool for keeping up on the races that could determine which party ends up with the majority in the House after this year's midterm elections
And what about future elections? After years of growth, there's an outside chance that California's congressional delegation could shrink by one seat after the next census. George Skelton looks at the possibility and the incentives for the Trump administration to try to ensure things turn out that way.
A reminder that subscribers to this newsletter are the first to know when we update our rankings. Tell your friends to sign up!
ALL THE PRESIDENT'S TWEETS
Twitter has long been Trump's favored means of pushing his message. We're compiling all of Trump's tweets. It's a great resource. Take a look.
LOGISTICS
That wraps up this week. My colleague Christina Bellantoni will be back Monday with the weekday edition of Essential Politics. Until then, keep track of all the developments in national politics and the Trump administration with our Essential Washington blog, at our Politics page and on Twitter @latimespolitics.
Send your comments, suggestions and news tips to politics@latimes.com.
If you like this newsletter, tell your friends to sign up.
---
Get our Essential Politics newsletter
The latest news, analysis and insights from our politics teams from Sacramento to D.C.
You may occasionally receive promotional content from the Los Angeles Times.