Analysis: The 2022 midterm was a tale of two elections — what that means for 2024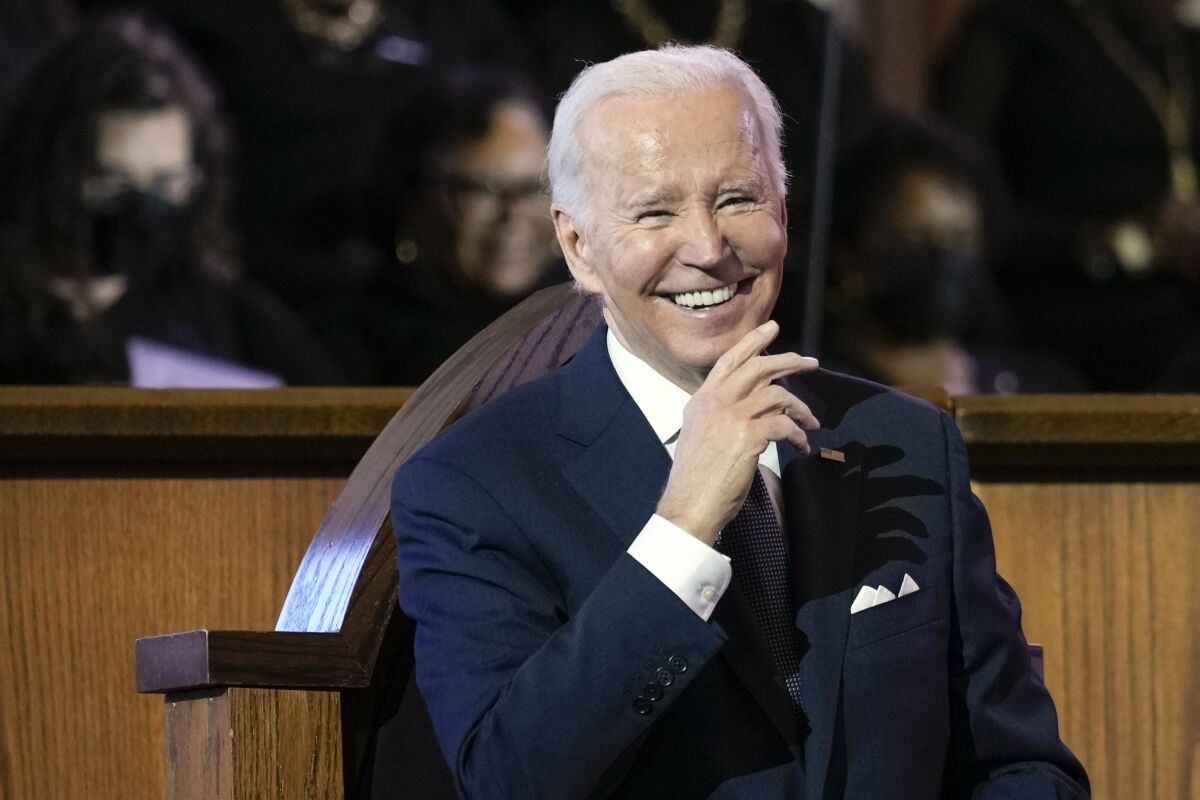 WASHINGTON —
As states have started to release their detailed voter files, we're beginning to learn a lot more about how Democrats pulled off an upset in November, beating back the historical pattern of the president's party suffering major losses in midterm elections.
A lot of the story involves how different turnout was in the contested battlegrounds compared with less competitive areas.
In the immediate aftermath of the election, the main explanation appeared to be that Democrats in key races won over swing voters who were repelled by candidates affiliated with former President Trump's MAGA wing of the GOP.
A key piece of evidence for that explanation: Republican voters turned out nationwide at a higher level than Democrats. In order to win, Democrats must have wooed some of those Republicans to their side, analysts concluded.
Get our Essential Politics newsletter
The latest news, analysis and insights from our politics team in D.C.
You may occasionally receive promotional content from the Los Angeles Times.
That clearly did happen. But it wasn't the entire picture, as the voter files have begun to show.
The new evidence provides clarity about how Democrats won in battleground states. It also points toward important factors that will shape the 2024 presidential contest.
One election, two contrasting waves
State voter files, which are public records, show who voted in an election — although not how they voted. Typically, the files include information on each voter's gender, age and, in some states, race or ethnicity. That provides much more reliable information about the electorate than the exit polls that news organizations conduct. The downside is that the voter files don't become available until months after election day.
About one-third of states have released their voter files so far. The main takeaway is how different the battleground states look than those that were less hotly contested, said Tom Bonier, the head of TargetSmart, a Democratic vote-targeting firm.
In elections over the last couple of decades, turnout usually has gone up and down fairly uniformly across states — a result of the nationalization of elections.
In 2010, for example, Democratic turnout fell sharply, leading to that year's tea party wave of conservative Republican victories. Four years later, Democratic turnout was also low, causing President Obama to lament that his party had a consistent midterm turnout problem.
He turned out to be wrong about that. In 2018, turnout from both parties rose to historic highs as Democrats scored major victories and regained control of the House.
In all three of those elections, the ups and downs of turnout were uniform across the country. "If Democratic turnout was depressed in one state, it would be depressed in all states," Bonier said.
The 2022 midterm played out very differently. Overall, fewer people voted in 2022 than in 2018 — roughly 107 million people cast ballots in House races, down from 114 million four years earlier. But the turnout drop was extremely uneven.
In Florida, for example, Democratic turnout cratered.
Among voters younger than 30, the number of Democrats voting in 2022 fell 38% compared with the 2018 midterm, the state's voter file shows. Latino turnout in Florida in 2022 roughly equaled the 2018 level, but Latino Republican turnout was up by 18%, while Latino Democratic turnout dropped by 28%, Bonier noted.
Democratic turnout in the state was "abysmal," Bonier said.
New York, where Democrats lost six congressional districts that President Biden had carried in 2020, was another state where the party had a serious turnout problem while Republican turnout rose. In the Long Island district won by the now-notorious fabulist Rep. George Santos, Republican turnout ran 10% ahead of 2018; Democratic turnout was nearly 10% lower.
Those are the sorts of numbers that had been predicted by analysts who forecast that high inflation plus the usual discontent with the party in power would generate a red wave in November.
But that's only half the story.
In Nevada, voters younger than 30 made up 13% of the electorate, up from a record-setting 11% in 2018 and more than double the 6% level of 2014. Because those young voters lean heavily Democratic, they were crucial to Sen. Catherine Cortez Masto's 1-percentage-point victory over her Republican opponent.
In Michigan, the same pattern appeared — young voters broke their 2018 turnout record and voted at nearly twice the level of 2014. Those voters helped generate a blue wave in Michigan — Democrats won full control of the state government for the first time since President Reagan was in the White House.
In both of those states, as well as other battlegrounds that have released their voter files, Democratic turnout was up overall, Bonier said.
All of that is consistent with a theory put forward by Democratic strategist Simon Rosenberg — that 2022 played out as two very different elections happening at the same time, one in battleground states where Democrats did very well, the other in the rest of the country.
And it fits with analysis by another veteran Democrat, Michael Podhorzer, the retired former political director of the AFL-CIO. He argued in a recent newsletter that the 2018, 2020 and 2022 elections show that the country has an "anti-MAGA majority," but one that relies heavily on people who turn out to vote only when they see something major at stake.
Podhorzer compares election turnout to football: The NFL knows that fans who routinely watch games during the season will almost always tune in for the Super Bowl. They also know that millions of other people who don't regularly pay attention may watch the Super Bowl, but they can't be routinely relied on.
Similarly, with elections: The country has about 87 million regular voters, who routinely cast ballots in both presidential and midterm years. That group is older than the national average and leans slightly Republican.
The country also has about 40 million of what Podhorzer labels "new midterm voters" — people who cast ballots in 2018 and 2020 but had not voted in the 2014 midterm, plus young voters who first became eligible in 2020. That group is younger than the national average and leans heavily toward Democrats, according to data from Catalist, a Democratic firm.
Those new midterm voters were crucial to the Democratic victories in 2018 and to Biden's win over Trump in 2020. In 2022, where those "voters understood the stakes, they voted as they had in 2018 and 2020; where they did not, they met the pundits' expectations about a Red Wave," Podhorzer wrote.
The issue that most consistently activated those voters in 2022 was abortion rights.
In states like Michigan, where the election featured a stark and competitive choice between Republicans campaigning to ban abortion and Democrats vowing to protect abortion rights, first-time and occasional voters turned out in large numbers and favored the Democrats.
By contrast, in heavily blue states like New York and California, where there was no credible threat to abortion rights, many voters stayed home. Republicans capitalized on the low Democratic turnout in those states to pick up enough congressional seats to form their House majority.
The same was true in Florida, where voters perceived that there wasn't a competitive contest for governor.
That pattern has several implications for 2024 and for the political battles between now and then: It highlights the importance of abortion rights as a mobilizing issue for Democrats and the peril for Republicans if their House majority actively tries to roll back abortion right nationally. The GOP's slender majority in the House could easily be washed away by larger turnout in the presidential election.
The outcomes also underscore the danger that a Trump candidacy poses to the GOP.
Trump on the ballot in 2024 almost surely would once again mobilize the voters Democrats need. If some other candidate gains the Republican nomination, Democrats will tell voters that the new person too poses a threat to their rights. They can't assume, however, that voters automatically will accept that — they'll need convincing.
Check out "The Times" podcast for essential news and more.
These days, waking up to current events can be, well, daunting. If you're seeking a more balanced news diet, "The Times" podcast is for you. Gustavo Arellano, along with a diverse set of reporters from the award-winning L.A. Times newsroom, delivers the most interesting stories from the Los Angeles Times every Monday, Wednesday and Friday. Listen and subscribe wherever you get your podcasts.
California vs. Florida
Florida Gov. Ron DeSantis has spent the weeks since his reelection warring with "woke" enemies: picking a $2-billion fight with the world's largest money manager over its environmental policies and vowing to go to court to defend a new law that blocks teaching about racial oppression and white privilege. California Gov. Gavin Newsom has spent time since his reelection attacking DeSantis — on Twitter and in an op-ed and spoken comments — while promising to make his own state a haven for many of the practices the Florida Republican opposes. As Noah Bierman wrote, the states are becoming two of the nation's biggest ideological rivals. Superman has Bizarro, a powerful antagonist who resembles him from afar but has the opposite instincts. Florida and California have each other.
Kevin and Karen — a buddy act
House Speaker Kevin McCarthy and L.A. Mayor Karen Bass differ on nearly every issue, but as Melanie Mason and Benjamin Oreskes wrote, the Republican from Bakersfield and the Democrat from Los Angeles have a friendship that spans two decades and both coasts. Now, Bass hopes that she can leverage their friendship to gain new support for her efforts to combat homelessness or, at a minimum, to block McCarthy's conservative colleagues from using the city as a punching bag. What happens next will test whether cross-party relationships still matter in this era of intense partisanship.
Enjoying this newsletter? Consider subscribing to the Los Angeles Times
Your support helps us deliver the news that matters most. Become a subscriber.
The latest from Washington
— The Supreme Court said Thursday it has failed to solve the mystery of who leaked its draft opinion last May in the abortion case that resulted in overturning Roe vs. Wade. The leak of the high-profile decision marked one of the biggest breaches in court history. As David Savage reported, a statement from the court said that Gail Curley, its marshal, interviewed 97 people who worked at the court and had access to draft opinions, and then reinterviewed several of them. But she could not determine who copied the draft opinion and gave it to Politico.
— Immigration and Customs Enforcement officials have released nearly 3,000 immigrants whose personal information — including birth dates, nationalities and detention locations — was inadvertently posted to the agency's website, officials said. As Hamed Aleaziz reported, officials in November accidentally posted the information on more than 6,000 people who said they were fleeing torture and persecution. Immigrant advocates criticized the disclosure, saying it could put people at risk.
— The United States is locked in a delicate dance with Turkey, one of its most problematic allies, that involves fighter jets, the North Atlantic Treaty Organization, Congress and, ultimately, the war in Ukraine. This week, Tracy Wilkinson wrote, Turkish Foreign Minister Mevlut Cavusoglu, was in Washington to meet with U.S. officials, and he wasted no time in putting front and center his nation's demand for U.S.-made F-16 warplanes.
The latest from California
— Biden arrived in California on Thursday and joined Newsom and U.S. Sen. Alex Padilla on a helicopter tour of areas along the Central Coast battered by winter storms that caused major flooding and landslides across the state, Taryn Luna and Susanne Rust reported. The president traveled to the state after issuing an emergency declaration for California that authorizes the Federal Emergency Management Agency to coordinate disaster relief and after expanding the order to include the counties of Monterey, San Luis Obispo, Santa Barbara, Merced, Sacramento and Santa Cruz.
— The impending campaign for Senate in California won't turn on many differences over issues — all the major candidates are moderately liberal Democrats, Mark Barabak writes in his column. So look for the competitors to quickly get personal. The most conspicuous differences between the two leading candidates in early betting, Reps. Adam Schiff of Burbank and Katie Porter of Irvine, are stylistic: the sober, buttoned-down mien of Schiff and the assertive, elbows-flying approach of Porter. It's those type of differences, not policy or a debate on issues, that will most likely decide the race.
— A new state law meant to create more duplexes has done little so far to encourage construction in some of the largest cities in the state, according to a report published Wednesday. As Hannah Wiley wrote, Senate Bill 9 was touted as a way to help solve California's severe housing crunch by allowing homeowners to convert their homes into duplexes on a single-family lot or divide the parcel in half to build another duplex for a total of four units. After fierce debate, the law passed and went into effect at the start of 2022. So far, however, neither the fears of opponents or the expectations of backers have been realized.
— Eight years ago, California voters approved a ballyhooed $7.5-billion bond issue to build dams and other vital water facilities. Republicans say nothing has been done, that the voters were taken, George Skelton writes in his column. There's some truth in the allegation, he says. But it's basically a bum rap.
— Even in progressive California, passing a new tax on ultra-rich residents is a long shot. But as Mackenzie Mays reports, a Democratic lawmaker is trying again, this time as part of a joint effort with lawmakers in other blue states. San Jose Assembly member Alex Lee plans to introduce a bill to impose a new wealth tax at a rate of 1.5% on those worth more than $1 billion starting next year, and 1% for those worth more than $50 million starting in 2026. The measure, modeled after a proposal that Sen. Elizabeth Warren (D-Mass.) championed in the 2020 Democratic primaries, is also being pushed in several other blue states.
Life is stressful. Our weekly mental wellness newsletter can help.
You may occasionally receive promotional content from the Los Angeles Times.