Kamala Harris sees immigration problems firsthand in visit to the U.S.-Mexico border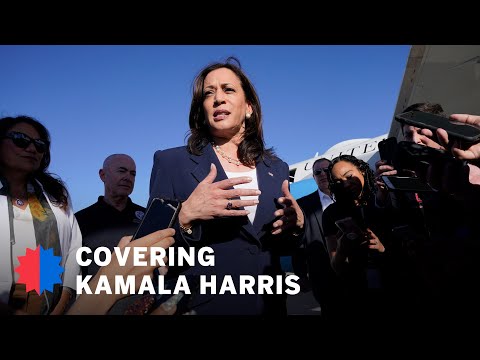 The vice president is in El Paso to visit the U.S.-Mexico border in perhaps her most politically charged trip since taking office.
HOUSTON —
Kamala Harris made her first trip as vice president to the U.S.-Mexico border Friday, meeting with border agents and migrant children as she toured a processing center in El Paso, and becoming more closely tied to one of the Biden administration's diciest political problems.
Her visit comes after months of Republicans' criticism that she and President Biden hadn't gone to see firsthand the effects of an immigration system overwhelmed by an increase of migrant families and unaccompanied children seeking entry into the United States.
Even as Harris traveled in the El Paso area, critics on both sides of the immigration debate lambasted her for avoiding some more problematic spots along the border, where children and families are experiencing long delays and often dangerous conditions as they wait to have their fates determined.
The migrant children she met "are filled with optimism," Harris said as she left Texas for a weekend at her Brentwood home. "But they are without their family — young children. They're being processed through the system.
"This issue cannot be reduced to a political issue," she added. "We're talking about children. We're talking about families. We're talking about suffering. Our approach has to be thoughtful and effective."
Harris was accompanied by Homeland Security Secretary Alejandro N. Mayorkas, who has been to the border previously. Xavier Becerra, Biden's Health and Human Service secretary, plans to visit another facility on Monday — a federal tent city for hundreds of children at the Fort Bliss Army Base, where there have been outbreaks of COVID-19 and lice, reports of sexual abuse and other unsafe conditions.
During her time on the ground, about four hours, Harris blamed the Trump administration for leaving her and Biden with "a tough situation," which she asserted was improving.
"We're not exactly where we want to be yet, but we've seen extreme progress," she said, noting that wait times for unaccompanied children in El Paso had been reduced.
Despite months of taunts from Republicans that she was avoiding the border, Harris told reporters that "it was always the plan to come here" as part of her work on diplomacy with Central America. She had been to the U.S.-Mexico line numerous times as a senator and as California's attorney general.
"We have to deal with causes and we have to deal with the effects," she said. Her recent trip to Mexico and Guatemala, she added, was about probing the causes of residents' decisions to migrate north, while her border visit is intended to allow her to see "the effects of what we have seen happening in Central America."
Harris said the border stop reinforced her belief that deterring people from leaving their home countries will require long-term, consistent investment in Central American countries to reduce poverty there.
In addition to touring the processing facility, Harris met privately with five migrant girls between the ages of 9 and 16. Aides said the girls drew pictures and told the vice president what they wanted to be when they grew up. She also went to a nearby inland-port entry, where asylum-seekers coming from Mexico, including unaccompanied children, are screened for the first time.
The Biden administration is facing a number of tough policy decisions as it continues to try to balance efforts to deter migrants and to develop a more humane system of processing those making the journey. Mayorkas told reporters traveling on Air Force Two that his office is still reviewing how quickly to rescind a Trump-era policy, initiated amid the pandemic, that allows agents to quickly turn away migrants by citing a public health law known as Title 42.
Mayorkas said the decision on whether to end the policy would be based on the assessment of the Centers for Disease Control and Prevention, based on public health data and the threat of spreading COVID-19.
Harris' role in immigration policy dates to March, when Biden asked her to examine ways to reduce migration through Mexico from Honduras, Guatemala and El Salvador by attacking its "root causes," including corruption, poverty and gang violence — problems that have been exacerbated by devastating hurricanes and the pandemic.
She visited the capitals of Guatemala and Mexico this month to confer with their leaders, seek to spur investment and discourage corruption in the region. However, those diplomatic activities were overshadowed by the questions raised back in the United States about her reluctance to visit the border.
On Friday, Sen. Ted Cruz, a Texas Republican, tweeted "93 days too late" about Harris' trip. "It only took more than half a million illegal immigrants entering the U.S., more than 400,000 pounds of drugs seized, dozens of U.S. Senators and House members traveling to the southern border for Border Czar Kamala Harris to finally visit the southern border."
White House officials said Harris did not go to Texas in response to the partisan pressure, including former President Trump's recent announcement that he would visit a border site with Republican members of Congress next week.
Republicans say the administration is looking at the wrong causes. They say the reason migrants are coming is because Biden has relaxed some — though not all — of Trump's hard-line policies.
Republicans have decried Biden's early order to halt border wall construction while his administration reviewed the legality of how Trump funded his signature project.
More than 200 miles of barrier were in some stage of construction in Texas, which is the least-fenced border state, when Trump left office, according to the U.S. Customs and Border Patrol.
Texas Gov. Greg Abbott, a Republican who plans to host Trump next week, has vowed that his state will continue to build the wall, though it's far from clear he has the authority to see that it's done.
Liberal groups and immigrant advocates have their own issues with the administration, complaining that officials have been too slow to roll back Trump's policies, including that involving Title 42, and to fix conditions for the children at the Fort Bliss facility.
"There is a long way to go," said Shaw Drake of the ACLU of Texas in El Paso, a staff attorney and policy counsel for border and immigrants' rights.
From the administration's vantage, El Paso was an appealing destination for Harris. The largest city on the long Texas border, it's a military outpost but also a Democratic college town and a bastion of liberal activism for immigrant rights. It is also home to Democratic U.S. Rep. Veronica Escobar, who was traveling with the vice president.
El Paso also was the first place where the Trump administration began separating children and parents who crossed the border, one of the former president's most reviled policies.
Texas Rep. Henry Cuellar, a Democrat who has been urging Harris to go to the border, said El Paso is "politically safer to go to than the Rio Grande Valley, where you can see unaccompanied kids, family units, and where you get most of the single adults that are coming in."
Migrant numbers dropped off sharply in 2020 amid the pandemic, when the United States, like many other countries, restricted entry. In 2021, the numbers began to increase.
Some progressive activists in the Rio Grande Valley also expressed disappointment that Harris and Mayorkas were visiting El Paso, where far fewer asylum-seeking families have been forced by U.S. policies to wait just over the border.
Karla Vargas, an attorney with the Valley-based Texas Civil Rights Project that is far east of El Paso, said: "We would have hoped they would have tried to also visit this area to see how difficult it is for the families waiting here. We welcome them trying to address this. We hope it is not just showmanship."
Staff writer Molly O'Toole contributed to this report.
Get our Essential Politics newsletter
The latest news, analysis and insights from our politics team.
You may occasionally receive promotional content from the Los Angeles Times.