Albert Pujols gets day off on eve of Angels' series against Athletics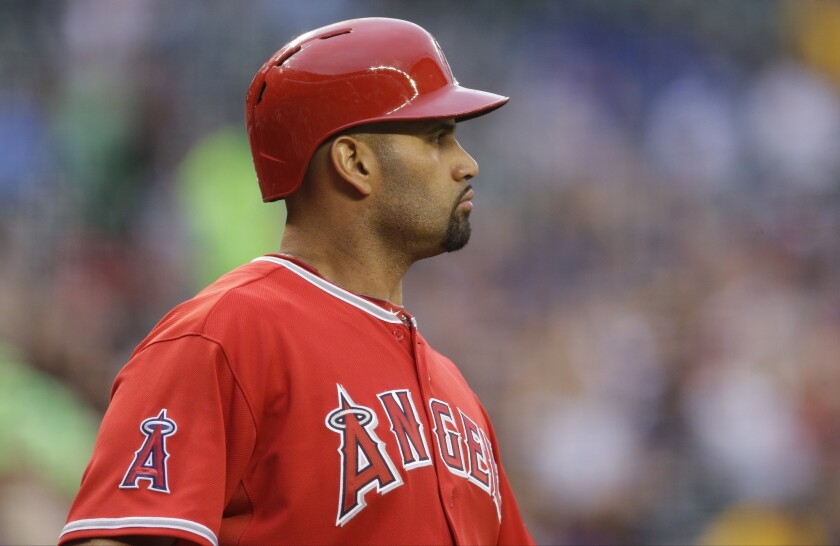 REPORTING FROM SEATTLE —
Thursday night's game between the Angels and Seattle Mariners was played with almost a half-billion dollars' worth of player contracts on the bench.
Mariners second baseman Robinson Cano, who signed a 10-year, $240-million deal last winter, was scratched because of illness, and Angels first baseman Albert Pujols, who signed a 10-year, $240-million deal before 2012, did not start for the first time this season.
But it was a scheduled day off Pujols, who said he is physically sound. The Angels didn't need his bat — they banged out 15 hits in a 7-5 win in Safeco Field, with the top three players in the lineup — Kole Calhoun, Erick Aybar and Mike Trout — combining for eight hits, five runs batted in and four runs.
And Pujols got a much-needed break.
"They told me [Wednesday] that no matter what, it was going to be a day off," Pujols said before the game. "They don't even want me to take batting practice."
Pujols is hitting .262 with 14 homers, 14 doubles and 32 runs batted in, but he hit .236 with five homers and 19 strikeouts in his last 28 games and was in a one-for-13 slump before his run-scoring double in the ninth inning Wednesday.
INTERACTIVE: Compare MLB team payrolls
Pujols, 34, admitted to being "pretty beat up" by four games on Toronto's artificial turf earlier this month. He has been running gingerly at times but said his lower half is "good, better than it was on the last road trip."
Manager Mike Scioscia didn't see anything in Pujols' recent swings that prompted the day off.
"With Albert, he's been in every game, and to just give him a chance to recharge is important," Scioscia said. "Albert would play until the cows came home, but it's time for him to take a day. He definitely benefits from exhaling and resting."
Pujols missed the final two months of 2013 because of a partial tear of the plantar fascia in his left foot, and Scioscia has tried to pace him by using him at designated hitter 11 times.
But with Josh Hamilton out since April 9 because of a torn left-thumb ligament and David Freese and Calhoun missing chunks of April and May, it has been almost impossible to give Pujols — and fellow core players Trout, Aybar and Howie Kendrick — full days off.
Pujols prides himself on playing every day and said he "tried to fight" Scioscia's decision, but not too much. The Angels are 11/2 games behind the American League West-leading Athletics entering Friday night's game at Oakland, the first of a three-game series, and it wouldn't hurt to have a well-rested No. 3 hitter.
"It stinks, but at the same time, you can't be selfish," Pujols said. "We have a big series coming up, and it's a long road trip."
With Freese (.213) and Raul Ibanez (.153) struggling, it has been difficult to find consistent lineup protection for Pujols, but that could change soon.
Hamilton, who opened the season as the cleanup batter, hit in the cage and took batting practice on the field Thursday. The left fielder, slowed last week by a bone bruise in his left thumb, is expected to resume his rehabilitation stint with triple-A Salt Lake on Friday, and Scioscia said he could be activated on this road trip.
When Hamilton is ready, the Angels will have to decide whether to send first baseman/DH C.J. Cron, who is hitting .323 with three homers and nine RBIs in 21 games, or utility player Grant Green, who is batting .377 in 19 games, back to Salt Lake.
Cron tripled off the center-field wall in the fourth inning Thursday night and scored on Green's two-out single to center. Cron also singled in the seventh and doubled in the ninth.
"There are some tough decisions," Scioscia said. "That's good for us."
---
Get the latest on L.A.'s teams in the daily Sports Report newsletter.
You may occasionally receive promotional content from the Los Angeles Times.