Dylan Bundy throws complete game, strikes out 10 in Angels' win over Mariners
The quick hook that Angels manager Joe Maddon has wielded with his starting pitchers in the first two weeks of the season — usually to the detriment of his team — was nowhere to be found in T-Mobile Park Thursday afternoon in Seattle.
Dylan Bundy got into an early rhythm and was so effective and efficient with his four-pitch mix that Maddon rode the burly right-hander down the backstretch and to the finish line of a 6-1 victory over the Seattle Mariners.
Bundy, acquired in a December trade with Baltimore, became the first Angels pitcher to throw a complete game in more than two years, giving up one run and four hits, striking out 10 and walking none, to help the Angels to their first series win of the season.
Mixing his 91-mph fastball with pinpoint control of an 80-mph slider, 82-mph changeup and 73-mph curve, Bundy needed only 107 pitches — 76 of them strikes — to go the distance, the first Angel to do so since Andrew Heaney's one-hit shutout of the Kansas City Royals on June 5, 2018.
"He had it written all over him, all day," Maddon said, when asked what drove his decision to let Bundy finish. "Everything was working for him. The curve was so good. The changeup was so good. The fastball held steady at 91 [mph] with good carry to it. His pitchability is so high.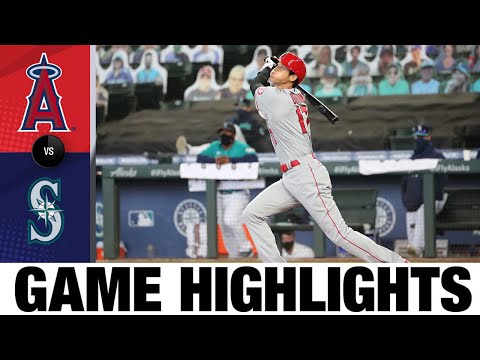 Angels vs. Seattle Mariners highlights.
"That's a perfect example of how a starting pitcher can go deeper into games, when he can do different things to the lineup as they come through for different at-bats. He has that kind of repertoire. It's not just brute force. It was a beautiful display of pitching."
It was the third complete game for Bundy, who threw a one-hit shutout with 12 strikeouts for the Orioles against Seattle on Aug. 29, 2017.
Bundy retired the side in order five times, his only blemish an 82-mph changeup that Daniel Vogelbach belted over the right-field wall in the fourth. Bundy retired 11 Mariners in a row from the fourth through seventh innings.
After Mallex Smith reached on an infield single to start the eighth, Bundy retired the last six batters, two by strikeout. When Shed Long Jr. grounded out to shortstop for the final out, Bundy wasn't quite sure what to do with himself, so rare are complete games these days.
"You don't always know what to do as a starting pitcher, it seems like, after you get that last out," said Bundy, who is 2-1 with a 2.08 ERA in three starts. "It's always fun to be able to start and then end the game as well."
When Bundy returned to the dugout after the eighth with his pitch count at 97, there was no conversation with Maddon or pitching coach Mickey Callaway about who would pitch the ninth.
Asked if he had to be convinced to leave Bundy in, Maddon said, "No, not at all. … Just watching him, how he was throwing, how their hitters were reacting, he never came out of his delivery."
Angels pitchers are slow to the plate, and that's the primary reason opponents are stealing bases at an alarming rate. The catchers aren't to blame.
That's just how Bundy, who has a stoic demeanor, bulldog mentality and business-like approach — who is "a wild, wild West kind of guy, cut out of that Clint Eastwood mold," according to Maddon — would want it.
"I mean, that's your goal, to finish the game," said Bundy, who gave a beleaguered Angels bullpen a much-needed day off. "You don't ever want to look over in the bullpen or look in the dugout to see if he's calling down. You just throw as many pitches as you can; if it's 80, if it's 120, it doesn't matter."
Bundy, 29, was the fourth overall pick of a 2011 draft in which Gerrit Cole was selected first by the Pittsburgh Pirates. Bundy never lived up to expectations in Baltimore, going 38-45 with a 4.67 ERA in five years.
The Angels encouraged Bundy to continue to compensate for his declining velocity by throwing his fastball less and his off-speed pitches, as well as his slider, more.
That's helped Bundy keep hitters off-balance and generate more soft contact. Only two batted balls by the Mariners had exit velocities of more than 100 mph on Thursday.
"You show up and they basically tell you what you're good at and what you're not good at, so you try to use those strengths more often than not," Bundy said. "If you have all your pitches that you're able to work with and location in different spots, you just have a lot more options available if you get ahead in the count."

Short hops

Rookie right fielder Jo Adell sat out Thursday's game because of tightness in his quadriceps, an injury Maddon said is not serious. … Left-hander Patrick Sandoval is expected to be recalled to pitch Saturday's game at Texas. … Utility man Matt Thaiss and pitcher Jose Rodriguez were optioned off the big-league roster, which had to be trimmed from 30 to 28 Thursday. … The Angels, who place a high value on position-player versatility, are giving top outfield prospect Brandon Marsh some time at first base at their alternate training site.
DiGiovanna reported from Los Angeles.
Get the latest on L.A.'s teams in the daily Sports Report newsletter.
You may occasionally receive promotional content from the Los Angeles Times.