Angels perform some late-inning magic to complete four-game sweep of Astros
On a 106-degree afternoon that was scorching enough to trigger a hallucination, the Angels swear this wasn't a mirage. They completed a four-game sweep of the Houston Astros with a 9-5 come-from-behind victory in Angel Stadium on Sunday, and a vision of the playoffs appeared, though way off in the distance.
Their odds of making the postseason are still as long as the 461-foot home run Houston shortstop Carlos Correa crushed on Sunday, but they're a lot better than they were five days ago, when an 11-4 loss to San Diego buried them nine games out of a playoff spot.
Since then, the Angels have won five straight — erasing three-run deficits in each of their last three wins over the defending American League-champion Astros — to improve to 17-25 and move within five games of Houston (21-19) for second place.
The top two teams in each division and the two other clubs with the best records earn spots in an expanded 16-team playoff field. With Chicago (26-15), Cleveland (25-16) and Minnesota (25-17) looking like locks in the AL Central, the Angels would have to leapfrog Seattle in the AL West and either overtake Houston or the third-place team in the East, now New York (21-19).
The Angels have given up a major league-high 110 of their 224 runs (49%) with two out entering Sunday's series finale against the Houston Astros
The biggest hurdle for the Angels: They have only 18 games left in the 60-game season and none against the Astros.
"Of course, we do," manager Joe Maddon said when asked if there's enough time to make a playoff run. "What I'm seeing more recently is a higher level of competing on our guys' part. I'm not denigrating what happened before; it's just that we're tuned in a little bit better."
Maddon believes a series such as this, with hard-fought wins over a quality opponent, can spark an extended roll. The Angels swept Saturday's doubleheader with a pair of three-run, seventh-inning rallies. They broke open a tie game Sunday with four eighth-inning runs.
"You win four games 17-3 or 15-8, it's not like that," Maddon said. "You've got to win games like this to really earn the right to move to the next level. Because when you're playing a good team, and you get in tight games, you have to believe you're gonna win. … We're not there yet, but I see us trending in that direction."
Sunday's win was built with solid starting pitching and a small-ball approach that is finally being embraced by an offense that has scored 100 of its 209 runs (48%) on homers.
Three straight singles by Max Stassi, Jared Walsh and Taylor Ward netted a run in the second. Anthony Rendon hit a two-run homer to left-center field in the third, and the Angels added a run in the inning on a Jo Adell double, a wild pitch and a Walsh sacrifice fly.
Ward tripled and scored on Franklin Barreto's two-out single in the sixth, and the eighth-inning rally started with singles by Adell, Stassi and Walsh, who chopped a hard grounder over first baseman Yuli Gurriel's head for a 6-5 lead.
Houston manager Dusty Baker pulled starter Framber Valdez for right-hander Chris Devenski, who walked Ward to load the bases. Devenski got ahead of Luis Rengifo with two quick strikes.
Anaheim marks down the price of Angel Stadium by more than half to entice Arte Moreno to include affordable housing and a seven-acre park.
But Rengifo, who replaced the injured Barreto in the sixth inning despite being scratched from Sunday's lineup because of a left thumb sprain, drew a walk to force Stassi home for a 7-5 lead. Andrelton Simmons popped out to third, but Justin Upton ripped a two-run double to left for a 9-5 lead.
"I've noticed a lot of full, 100% effort swings, and honestly, I fall in line with that too," Ward said. "So, kind of dialing that back as an offense will be better for us in those situations, not relying on the long ball and letting a single do the job."
Angels right-hander Jaime Barria allowed three runs and three hits, including homers by Kyle Tucker and Aledmys Diaz, to the first six batters before retiring 12 of the next 13.
"It's not always going to be an oil painting, so you have to settle down," Maddon said of Barria's rocky start. "The last one you give up is the last one they're going to get. You've got to tell yourself that and permit your team a chance to come back. He kept doing that."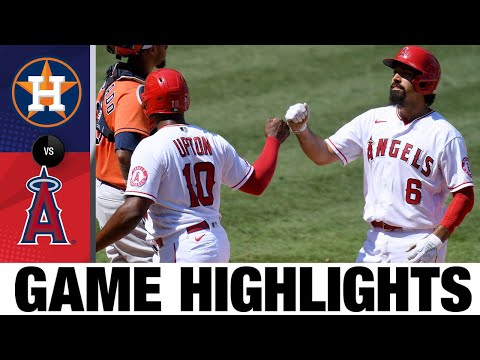 Highlights from the Angels' 9-5 victory over the Houston Astros on Sunday.
Three takeaways for Angels
Justin Upton continued to improve the quality of his at-bats with a third-inning walk ahead of Anthony Rendon's homer and a two-run single that provided a pair of insurance runs in the eighth. The left fielder is batting .429 (12 for 28) with two homers, three doubles, nine RBIs and eight runs in his last eight games, raising his average from .099 on Aug. 25 to .192.

Felix Pena entered with a 5-3 lead in the seventh and gave up a long homer to Carlos Correa, a walk to Aledmys Diaz and an RBI double to Myles Straw. But Noe Ramirez prevented further damage, fielding Martin Maldonado's bunt and throwing out Straw at third. Jack Mayfield doubled to put runners on second and third, but Ramirez got George Springer to fly to shallow right, the runner holding and Yuli Gurriel to fly to right.

Shortstop Andrelton Simmons provided a defensive highlight, racing about 80 feet into shallow left-center field and, with his back to home plate, making an over-the-shoulder catch of Mayfield's popup for the second out of the fifth inning.
Get the latest on L.A.'s teams in the daily Sports Report newsletter.
You may occasionally receive promotional content from the Los Angeles Times.