Column: Alvarez-Chavez Jr. fight is more important as a social happening than a sports event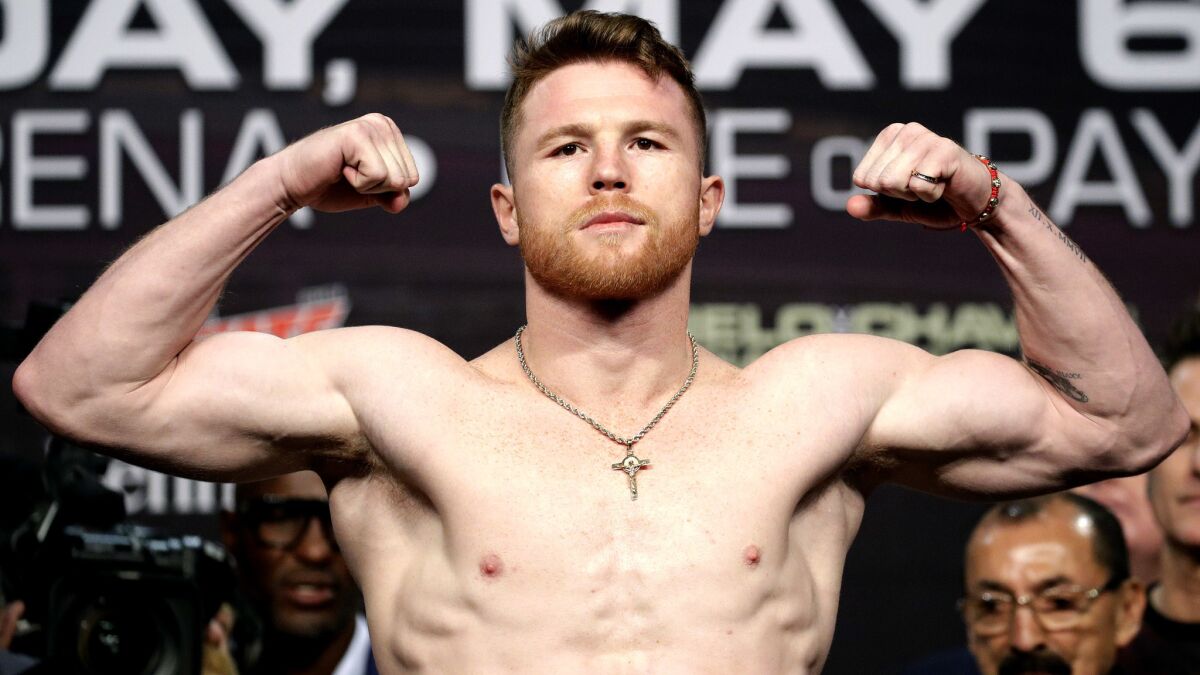 Reporting from LAS VEGAS —
Oscar De La Hoya can make whatever outrageous claim he wants. The numbers at the sportsbook don't lie.
While the boxer-turned-promoter is promising a competitive fight Saturday night that will evoke memories of the showdowns between Marco Antonio Barrera and Erik Morales, Canelo Alvarez is listed as a comfortable 5-to-1 favorite to defeat Julio Cesar Chavez Jr. at T-Mobile Arena. The public isn't buying what De La Hoya is selling in terms of the historical significance of the fight.
Here's the interesting part: It doesn't matter.
This isn't a major fight, but it's a major event. The weigh-in Friday at the MGM Grand Garden Arena made that clear.
The half of the venue that had an unobstructed view of the scale was packed to the rafters. The standing-room-only crowd flooded into the aisles and concourses, creating a nightmare for ushers. Mexican national soccer team jerseys and Mexican World Baseball Classic caps were everywhere. Many of the fans were drinking. When a song by norteño musician Ramón Ayala played over the public-address system, the crowd sang along.
The atmosphere will be similar for the actual fight Saturday night, as tickets sold out in only nine days.
And it's not only here. In Los Angeles, Phoenix, Houston and every other city with large Mexican and Mexican-American populations, families will use this fight as an excuse to get together. They will grill carne asada, down some beers, share some laughs. At some point in the night, everyone will move to the living room and watch the fight.
This is becoming an annual tradition for many families. The weekends of Cinco de Mayo and Mexican Independence Day in September have become the most important dates on boxing's calendar. This is like a Mexican Super Bowl. And like the Super Bowl, the matchup is secondary to the revelry.
Asked earlier in the week what was at stake in this fight, Chavez Jr. offered some lip service about pride. Then, he provided the truthful answer: "The dates." And he's right. The winner of this fight will be crowned the king of Mexican boxing, which gains him the right to claim the two dates as his. Alvarez and Chavez Jr. have competed over them before, albeit indirectly. When Chavez Jr. dropped a decision to Sergio Martinez on Mexican Independence Day weekend five years ago, Alvarez knocked out Josesito Lopez down the street on a separate show.
The scene in Las Vegas is the result of what we heard for decades, about how the changes in demographics and the increased buying power of certain groups would influence our culture.
Nineteen years ago, a little more than a half-million households purchased the pay-per-view broadcast of the rematch between De La Hoya and Julio Cesar Chavez Sr.
De La Hoya was ranked by Ring Magazine as the best fighter in any weight class. Chavez Sr. had already cemented his legacy as the most decorated Mexican fighter of all-time.
The fight between Alvarez and Chavez Jr. should outsell that.
Back then, to create an event of Alvarez-Chavez Jr.'s magnitude with Latino main-event fighters required an extraordinary set of elements. The first all-Latino pay-per-view fight that was purchased by more than a million households was De La Hoya's meeting with Felix Trinidad in 1999.
Both fighters were undefeated and in their primes, with the winner expected to claim a place alongside the greatest welterweight champions of all time. (As it turned out, the fight stunk and diminished the two fighters.)
There won't be any place in history at stake Saturday. This is a fight between a very-good-but-not-great fighter in Alvarez and a tough-but-not-world-class fighter in Chavez Jr. If Alvarez wins, he was supposed to. If Chavez Jr. wins, he beat up on a smaller fighter who basically spotted him 10 pounds.
Not that there are many historically significant fights that could be made today. There are only a couple of fighters who look as if they could have competed with the best of any era and the sport's shortage of high-end talent offers them virtually no opportunity to prove how great they are. And if athletes don't have a chance to pursue immortality, what's the point?
This view of the landscape prompted me to write last year that boxing was dead. This week has made me reconsider — to a degree.
As a sport, I maintain boxing is dead. As a social function, it's very much alive.
Get our high school sports newsletter
Prep Rally is devoted to the SoCal high school sports experience, bringing you scores, stories and a behind-the-scenes look at what makes prep sports so popular.
You may occasionally receive promotional content from the Los Angeles Times.