Andy Ruiz carries his Mexican heritage into the ring against Anthony Joshua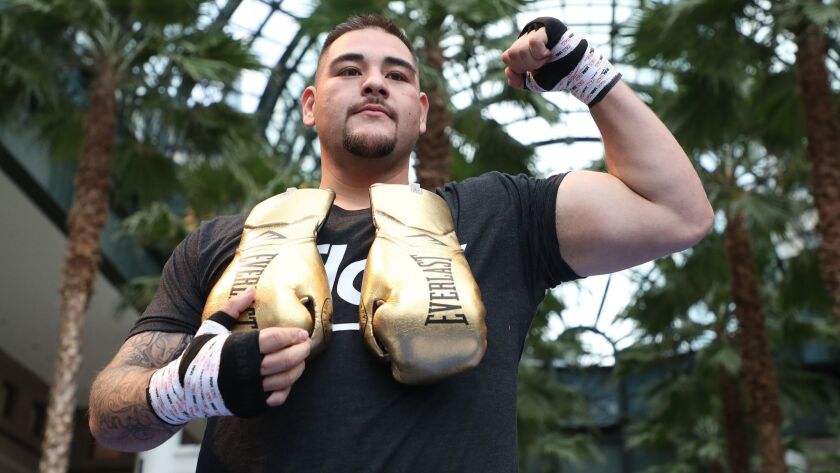 Reporting from New York City —
Andy Ruiz Jr. understands the symbolism of fighting near the Statue of Liberty.
The once-beaten heavyweight from the U.S.-Mexico border town of Imperial, east of San Diego, could become the first fighter of Mexican descent to be heavyweight champion when he meets unbeaten champ Anthony Joshua of England (22-0, 21 knockouts) on Saturday night at Madison Square Garden.
Ruiz (32-1, 21 KOs) knows that a shocking win on Saturday would be significant to more people than just him.
"It means a lot, especially knowing I've worked from 6 years old to get to where I'm at now," Ruiz said. "But it won't mean something only to me.
"The hard-working Mexican tries to get up here looking for opportunities because America's one of the greatest countries in the world. For me, I'm an American and I'm a Mexican. I live here. And it hurts me the way a lot of people talk about Mexicans when I know we're all about hard work and dedication.
"Each Mexican has his own dream, and I've come to believe as long as we focus, you can accomplish anything you want. So maybe by winning I can change some minds."
Charles Martin is Ruiz's Norwalk stablemate and a former International Boxing Federation heavyweight champion who lost his belt by second-round knockout to Joshua at London's O2 Arena three years ago this spring. Martin is aware of dismissive attitudes concerning Ruiz and insists they're flawed.
"He's good, he's ready — he came right off an [April 20] fight into this camp with no break and he fought a [tall] guy in that [Carson bout] just like Joshua, so he's got that look in his mind of where the sweet spot's at," Martin said of Ruiz. "He has a damn real chance at winning this fight in my opinion."
Ruiz's hand speed, defense, power and endurance are all underrated because of his frame, and Martin notes that, with Joshua's questioned stamina, there is a chance to surprise: "Trust me, anything's possible."
Ruiz wasn't even supposed to be here. On the week he disposed of 6-foot-7 Alexander Dimitrenko by stopping him after five rounds in Carson, Ruiz learned that Joshua's planned opponent, Jarrell "Big Baby" Miller, had submitted positive tests for steroids, Human Growth Hormone and EPO, scrapping his involvement.
In messaging Joshua promoter Eddie Hearn on Instagram, Ruiz wrote, "Give me this opportunity, Eddie. I can do better than all the other contenders you've got lined up for Joshua. I'm better, I just got done fighting. I really want this."
Hearn reviewed some of Ruiz's fight footage, including his narrow majority decision loss to Joseph Parker in 2016, consulted fight insiders and granted Ruiz's wish.
Sign up for our boxing and MMA newsletter »
"He knew I could do better drawing viewers than the others. I'm Mexican," Ruiz said.
The grip of that nationalistic pride is something Ruiz has long felt, from the time his father would transport him south daily for training sessions in Mexicali, willing to endure the 90-minute waits at the border crossing.
Ruiz Sr. made sure his teenage son didn't fall away from his commitment to boxing, then put him to work in the family construction business, a company whose mission is to assist neighbors searching for a better life in the U.S. like the one Ruiz Sr. discovered.
The elder Ruiz has constructed, rebuilt or re-sold more than 100 homes around the Imperial Valley, Ruiz Jr. estimates, and, for years, his father counted him as an apprentice.
The demands voiced at the construction site still echo for Ruiz Jr. — "Hey, go do this," "Go get that" – as the boy pounded nails into two-by-fours, picked up trash and loose items around the building, and lifted heavy bags of concrete mix again and again to help pour foundations. The finished product always left the boy in awe, but the early mornings and long hours were exhausting.
"My dad would ask, 'Are you going to be a boxer or are you going to be a worker?' " Ruiz Jr. said. "It got to the point I said, 'I'd rather be a boxer.' "
Ruiz Jr. nearly made the 2008 Mexican Olympic boxing team, turned pro a year later and worked his way with minimal training to the Parker title shot before feeling disillusioned by low pay from veteran promoter Bob Arum's Top Rank. Premier Boxing Champions' Al Haymon matched Ruiz's title-fight money ($500,000) for the Carson bout, and now the Joshua fight provides record earnings.
Some of the funds will help boost the investment in the family construction business.
"It's hard [in the Imperial Valley]. There's a lot of families who need help, who have it rough," Ruiz Jr. said. "If God blesses me with this win or not, I still want to help my community and give back. They've supported me since I was a little kid, and taught me it's crazy how life works, man. As long as you pray and believe in your dreams, anything is possible."
The elder Ruiz is focused on building apartments on lots designated for low-income projects.
"Luckily, I have a father to teach me these kinds of things," said Ruiz Jr.
The boxer said he learned a lot from building houses.
"It's just like how I started in boxing: with nothing. But thanks to the hard work and the labor I put in, I raised something good."
Twitter: @latimespugmire
---
Get the latest on L.A.'s teams in the daily Sports Report newsletter.
You may occasionally receive promotional content from the Los Angeles Times.