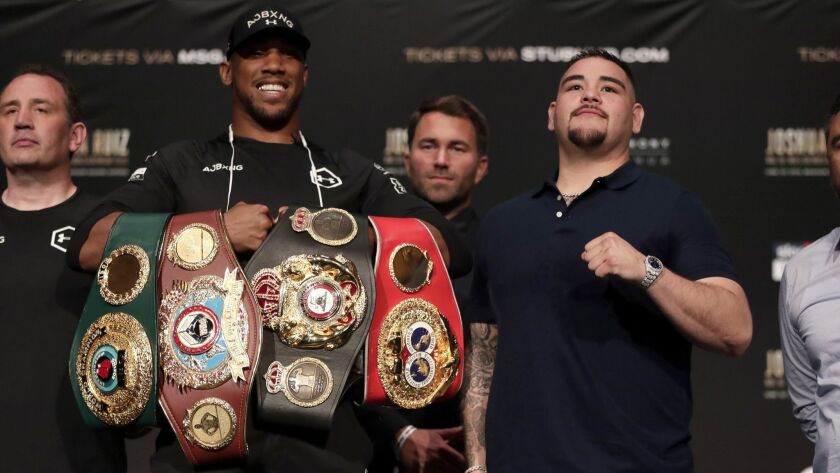 Anthony Joshua has walked under skyscrapers, mingled with the masses and absorbed many of the sounds, flavors and action of Manhattan this past week.
At his news conference Thursday, he craned his neck while scanning the ornate architecture inside the historic Beacon Theatre, where he came face to face with his California challenger, Andy Ruiz Jr., along with the invisible, imposing challenge that hovers over his U.S. debut Saturday night.
At Madison Square Garden, where Rocky Marciano, Joe Louis, Jack Dempsey, Joe Frazier and Muhammad Ali boxed before him, Joshua (22-0, 21 knockouts), England's world heavyweight champion, meets an 11-1 underdog from the Imperial Valley east of San Diego.
"There'll be a lot of American influence in that room Saturday night and I'll be among these great athletes America has produced," Joshua, 29, said. "Years ago, I felt Britain was overlooked in what we brought to sports. Brits would come to the states and get battered.
"I want to be respected globally — not just in the U.K. — be clever, use my skills, and show I'm a fighter that has so much more to give."
And in that elusive public-perception battle with fellow unbeaten elite heavyweights Deontay Wilder of Alabama and Joshua countryman Tyson Fury over who's most sincere about fighting each other, Joshua has seemed to nose into the lead this week.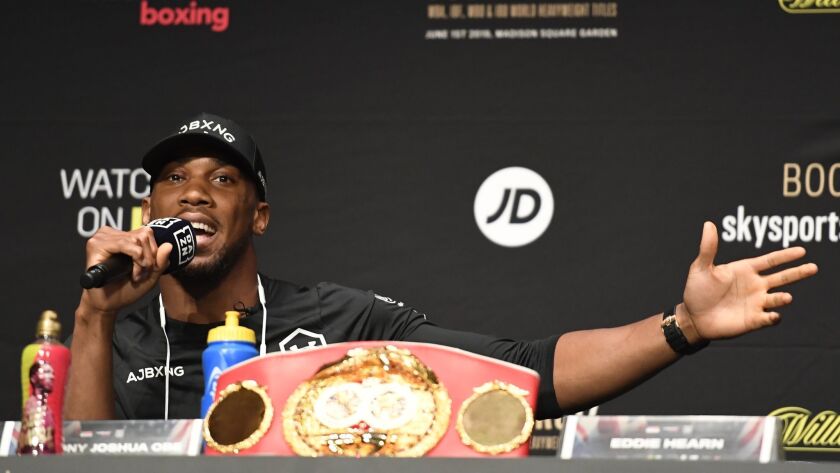 Less than two weeks from unleashing a devastating right hand that knocked out World Boxing Council title challenger Dominic Breazeale in the first round, Wilder backtracked from an invitation by Joshua to meet privately to try to arrange a superbout.
"It got to a stage," from previous failed talks between promoters and broadcasters, "where I asked, 'Can I sit down and talk to this guy to see where he's at, and ask, What do we need to do?' " Joshua said.
Instead, Wilder on Tuesday announced his intention to stage a rematch with Cuba's Luis Ortiz, 40.
"I knew none of these major fights were going to happen this year, so why not go ahead and get Ortiz II in there?" Wilder said in a Thursday interview with The Times. "This was the perfect time to finish him in a better fashion, and better than to wait on another fight. … I don't trust anything that they say. And who else is fighting Ortiz?
"The ones who hate this, I understand that because they want Wilder-Joshua. Everyone is impatient. They want what they want, but knowing I am the most exciting heavyweight in the world, you'll still watch the [Ortiz] fight, no matter what, because I bring the drama and the pain."
Joshua was impressed with Wilder's ring work May 18 in Brooklyn and wants to match it.
"Oh, that was a good [knockout]!" he said. "I am going to be in there in the first round trying to knock out Ruiz, but if it doesn't happen, it doesn't happen. As long as I get the win, it puts me on the path."
The path to where?
Joshua promoter Eddie Hearn skewered Wilder for taking the more comfortable option of an Ortiz fight on Showtime pay-per-view, and former three-belt champion Fury, who fights little-known German Tom Schwarz June 15 at Mandalay Bay on ESPN, has indicated he won't face either man until 2020.
"Let's not rob the fans of a good fight," Joshua, referring to Wilder, said in a television interview after telling reporters he'll likely choose from mandatory challenger Kubrat Pulev, former unified cruiserweight champion Oleksandr Usyk and others for a November bout should he defeat Ruiz.
When he learned Wilder was selecting Ortiz without even waiting for Saturday night to play out, Joshua said, "If it was me [who took an easier rematch] … I've got a lot more pressure, I think. How would they have dealt with me?"
His next bout will "not be the fight of the century, but the possibility of being in the mix as a champion keeps me motivated … I'd rather take a risk against someone who brings a massive reward," Joshua said.
Sign up for our boxing and MMA newsletter »
"Wilder's done a great job talking up a fight that hasn't happened. It's all irrelevant unless you back it up."
Hearn said he disagrees with Wilder's contention that negotiating a 2019 showdown was impossible.
"I know Anthony. I know he's the boss, and I know he doesn't get talked into decisions he doesn't want to do," Joshua said. "He wants the [Wilder] fight. He decides who he'll fight. And I think, finally, people are believing that [Wilder] is actually avoiding him."
Hearn suggested Wilder was pressed to take the safer Ortiz bout by powerful manager Al Haymon, the Premier Boxing Champions head who handles Wilder.
"It's too important for certain people to lose the world heavyweight champion from their stable," Hearn said.
"[Wilder's] being convinced there is a better plan. But think about it: Do you want $15 million to fight Luis Ortiz or $40 million or plus to fight Joshua for the unified title? That shouldn't be a difficult decision to make."
Twitter: @latimespugmire
---