Bob Arum claims Al Haymon will discourage Errol Spence Jr. fight deal with white promoter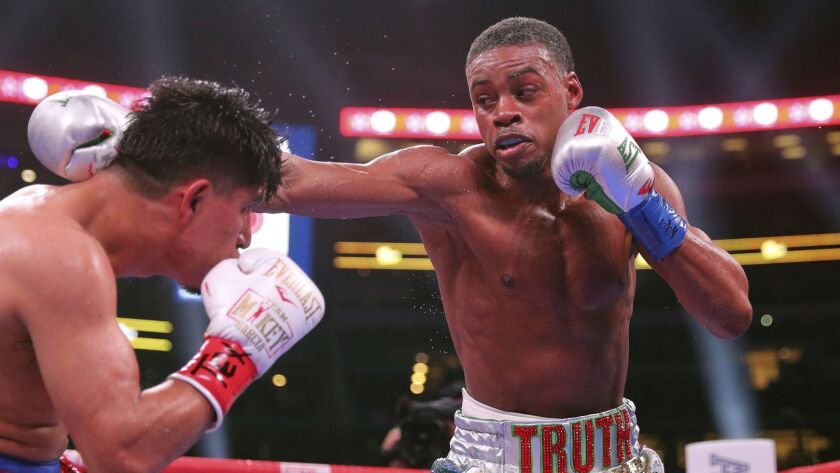 As fans were still sorting out that a Terence Crawford low blow had convinced Amir Khan's trainer to stop a fight, Crawford promoter Bob Arum followed by aiming verbal barrages below the belt.
The target of Arum's wrath was his longtime adversary Al Haymon, the powerful manager whose Premier Boxing Champions stable features unbeaten International Boxing Federation champion Errol Spence Jr. of Texas.
World Boxing Organization welterweight champion Crawford (35-0, 26 knockouts), after knocking down Khan in the first round and out-boxing him through the point that the low blow provoked a timely exit strategy, wants to fight Spence next.
"Everyone knows I want the Spence fight. That's the fight everyone wants. It's the fight I want to prove I'm the best welterweight in the division," Crawford said. "I'll fight every fighter put in front of me."
Arum said he badly wants to match the champions performing at their peak, too, for the sake of the sport. Last month, Spence starred in his first pay-per-view bout on Fox, dominating four-division champion Mikey Garcia at AT&T Stadium. Crawford's ESPN pay-per-view debut may post strong figures, too.
"It's inexcusable not to make fights that people want to see," Arum said.
But while Arum's Top Rank promotional stable is paper thin of quality welterweights, Haymon's features legendary eight-division champion Manny Pacquiao, unbeaten World Boxing Assn. champion Keith Thurman, World Boxing Council champion Shawn Porter and former two-division belt-wearer Danny Garcia, who was also sensational Saturday while winning in Carson.
Spence can't find a welterweight better than the one generally considered one of the sport's top two pound-for-pound talents, but he and Haymon are certainly in the stronger leveraging position.
Arum says he'll keep his vow to attempt to reach Haymon by telephone early this week to inquire if Crawford-Spence is possible, but the veteran promoter said he believes he already knows how the conversation will go.
Arum alleged that Haymon will discourage Spence from a business deal with an outside, white promoter.
"[Haymon's] going to say, 'Spence, listen to me. Don't listen to the white guys. Because if you listen to the white guys, they're going to steer you down the road … listen to me, brother, we're part of a brotherhood. And if I'm telling you not to fight Crawford, I'm telling you not to fight Crawford,'" Arum said.
Sign up for our daily sports newsletter »
That point dissolves when it's considered Arum has stopped fights by considering long-term boxing business, too. Earlier this year, when it appeared Haymon's heavyweight champion Deontay Wilder had a deal in place for a rematch with England's Tyson Fury following their epic Dec. 1 draw at Staples Center, Arum struck a co-promotion deal with Fury and now says the Brit will likely take two more fights to further build his brand in the U.S. before reuniting with Wilder.
In this case, however, Arum railed, ''You're … damn right I'm not blocking it. [Haymon] won't make the fight unless you [boxing writers] put pressure on him. We're prepared to do the fight. I'll try to call him and set up a meeting. Don't let them hide."
Told of Arum's harshness, Crawford trainer Brian McIntyre, who had closed the post-fight news conference by encouraging supporters to chant along with him, "We want Spence!" surmised, "That probably won't get the job done.
"[Arum's] out here campaigning for the fight, right? So you either put up or shut up. It looks like he's trying to put up. Just keep putting pressure on [Spence] and hope all the stars line up. If the man's going to fight, he's going to fight."
The Times sought comment from Harmon; PBC spokesman Tim Smith responded with a statement: "There are more great fights ahead of Terence Crawford like the one he had against Amir Khan without pulling Errol Spence into the picture, just as there are several great fights against champions [for Spence].
"We'll let Arum handle Top Rank and Crawford business while we attend to Errol Spence and Premier Boxing Champions business -- truly exciting times in boxing and the welterweight division."
The Arum-Haymon divide contributed to the extended delay before the 2015 making of the Floyd Mayweather Jr.-Pacquiao super-fight that stands as the richest one-day sporting event in North American history, but was a dud of a bout because it happened five years after its ripeness.
PBC's Smith invoked that dragged-out fiasco in assuring that Haymon and Arum have proved they can do business together. Arum suggests that the Crawford-Spence fight would be best served to be jointly distributed on both ESPN and Fox or Showtime, the networks linked to PBC.
The question that lingers is if that's the business model. And Smith did nothing to calm that concern.
"The whole thing reeks of desperation [from Arum]," Smith said. "It's embarrassing, really. These fights happen when the time is right."
---
Get our high school sports newsletter
Prep Rally is devoted to the SoCal high school sports experience, bringing you scores, stories and a behind-the-scenes look at what makes prep sports so popular.
You may occasionally receive promotional content from the Los Angeles Times.