Newsletter: The Fight Corner: Tito Ortiz discusses his upcoming match with Chuck Liddell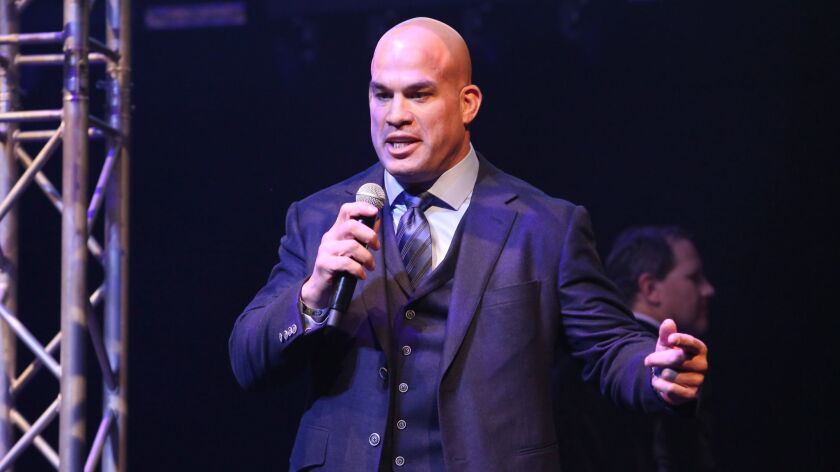 Hi, my name is Lance Pugmire, and welcome to our weekly boxing/MMA newsletter. This newsletter will be delivered right to your inbox every week if you sign up here. Let's get right to the news.
Tito Ortiz recently watched a video workout of his Saturday opponent and bitter rival, Chuck Liddell.
"He ain't going to beat me like that — slow, methodical, right hand coming from left field," Ortiz judged. "Stuff like that's not going to work."
Yet, Ortiz, 43, also has a fight to sell — a meeting between the former UFC legends and Southland neighbors who will participate in a pay-per-view at the Forum.
"That's my main goal. From the beginning of my career, I was the one saying us fighters are the ones putting on the show, giving the fans what they want to see, and we should be making most of the money," Ortiz said. "Let's give an opportunity to the fighters who are huge names to reap the rewards of the hard work they put in.
"I'm trying to change the game with this."
Liddell, who became, arguably, the signature fighter of the first half of the existence of the UFC by rising to light-heavyweight champion with 13 knockouts — including two stoppages of Ortiz — returns to cage fighting at age 49.
He hasn't won a mixed martial arts fight since 2007, was beaten in five of his final six UFC bouts badly — the last in 2010 — and he comes one birthday closer to the half-century mark on Dec. 17.
The California State Athletic Commission, after subjecting Liddell to a battery of tests except maybe the one known as common sense, cleared him for the fight. Oscar De La Hoya's Golden Boy Promotions stepped in to hawk it after UFC President Dana White said, "As a friend, I don't think [Liddell] should fight."
So now Ortiz has the chance of achieving long-awaited revenge as a strong favorite, while touting the quality of the fight with a straight face.
"I left it up to Chuck to show what he can do, and the stuff he posted didn't help … but I think he's sandbagging. I hope he's not that slow. It's going to be a short night if he's that slow," Ortiz said last week at a workout for reporters in Hollywood. While watching the Liddell workout video, "I had to take a step back and think of the promotion side of it, the psychological part of it.
"Is he slowing down to make me think he's that slow? I'm ready for him to be super-faster. So I'm not thinking about what I saw. I'm thinking of the Chuck Liddell who beat me the first and second time. That's the Chuck Liddell I've been getting ready for."
De La Hoya said he believed the Forum, scaled for 7,200 fans, could sell out as the combatants' names still carry value.
"If it ends up between 200,000 and 400,000 homes" on pay-per-view, "it's successful," De La Hoya said. MMA "is not a test run for us anymore because of the success we've had with this."
Beyond completing a hat trick against Ortiz, Liddell is motivated to cash in on a financial structure usually reserved for boxers, not MMA fighters, said Ortiz manager George Prajin.
After Golden Boy takes its cut and promotional and undercard costs are met, Ortiz and Liddell divvy up the remainder, not beholden to the bonuses the UFC provides to fighters once 200,000 pay-per-view buys are reached.
In addition to pay-per-view revenue, Ortiz and Liddell will get a cut of the live gate, international television rights fees, sponsorship and merchandising profits, as Canelo Alvarez does in boxing.
"The way Oscar structured this deal, they can do mediocre numbers and still make maximum dollars," Prajin said. "There's been criticism of the fight, but I'm confident and optimistic that the real MMA fans are going to watch this fight. It's not two guys in their 40s fighting. It's two guys who've built the sport, who genuinely hate each other and cannot wait to fight again.
"The thing that will make this fight special is that Tito wants to beat Chuck more than anything and Chuck wants doesn't want to lose. The winner of this fight gets the rest of their life to savor this."
De La Hoya sees the event as an opportunity to showcase that MMA fighters are underpaid.
"Chuck and Tito deserve to make the most money they can. When I heard about the money they were making [in the UFC] … I couldn't believe it," De La Hoya said. "I had to ask, 'Tito, you're sure? That's the most money you made?' It's like highway robbery, and so I said to myself, 'Let's come up with a structure where – I won't make a killing – but Tito and Chuck will earn what they deserve.' "
Liddell hopes younger fighters get the point.
"I'm glad of the contribution I made to grow this sport. I love this sport. I am a fighter," Liddell said. "I'm definitely hoping this will show the others. … It's a try at the boxing model for MMA fighters to get the lion's share of the income. Hopefully, that leads to expanding fighter pay."
Broadcasters selected
Golden Boy selected Todd Grisham to call the fight on pay-per-view with expert analysis by former UFC heavyweight champion Frank Mir and former light-heavyweight champion Rashad Evans, who has fought both Liddell and Ortiz.
"It's exciting to see both these guys challenging themselves and putting themselves through the grind — it's inspiring," Evans said. "If we get caught up with needing the approval of others, there's a lot that won't get done. It can turn out to be a great fight. Tito's been in the cage a lot more than Chuck, but … you can't discount that Chuck has a huge mental advantage over Tito, and that's hard to shake."
Swan song
In a master stroke of publicity, the latest Eastern European boxing champion to emerge timed his next fight to be the final main event of HBO's long-running World Championship Boxing.
Russia's Dmitry Bivol will defend his World Boxing Assn. light-heavyweight belt against former champion Jean Pascal at 7 p.m. Saturday at Hard Rock Hotel in Atlantic City.
"I have to make a statement in every fight," Bivol said. "All my life I have wanted to headline World Championship Boxing. … The historical significance of this event is not lost on me. It is an honor to be in the main event of the final show of such a great series."
HBO exec Peter Nelson announced earlier this year his premium network was leaving boxing to the likes of Showtime, ESPN, DAZN and Fox, instead scheduling a Boxing After Dark finale for Dec. 8 at StubHub Center featuring women's welterweight champion Cecilia Braekhus, former four-division champion Roman "Chocolatito" Gonzalez and women's middleweight champion Claressa Shields, a two-time U.S. Olympic gold medalist.
On the same night, De La Hoya will stage a card at Fantasy Springs between Rene Alvarado and Carlos Morales that will be broadcast on Facebook Watch.
De La Hoya-promoted Alvarez this week released a television commercial for the new streaming service DAZN in which he implies pay-per-view is dead; the middleweight champion recently struck a $365-million, 11-fight deal with DAZN.
"Boxing is changing toward a digital audience, going a different direction than UFC," De La Hoya said. "We have to be ahead of the curve, and we're extremely proud and satisfied with this new deal."
Until next time
Stay tuned for future newsletters. Subscribe here, and I'll come right to your inbox. Something else you'd like to see? Email me. Or follow me on Twitter @latimespugmire
---
Get our high school sports newsletter
Prep Rally is devoted to the SoCal high school sports experience, bringing you scores, stories and a behind-the-scenes look at what makes prep sports so popular.
You may occasionally receive promotional content from the Los Angeles Times.