Newsletter: The Fight Corner: Deontay Wilder wants Anthony Joshua, gets Dominic Breazeale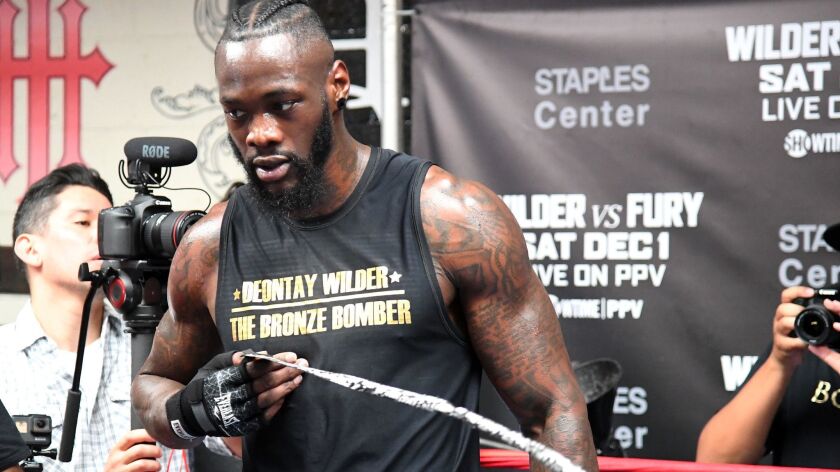 Hi, my name is Lance Pugmire, and welcome to our weekly boxing/MMA newsletter. This newsletter will be delivered right to your inbox every week if you sign up here. Let's get right to the news.
Deontay Wilder wants to fight Anthony Joshua. He doesn't want it so badly that he's willing to turn himself over to the streaming network DAZN for a multi-fight package that may not include a Joshua fight.
"I tried to do the noble thing and fight the best," Wilder (40-0-1, 39 knockouts) announced Tuesday at a Brooklyn news conference where it was officially announced that he'll fight his mandatory World Boxing Council challenger Dominic Breazeale (20-1, 18 KOs) of Eastvale May 18 on Showtime at Brooklyn's Barclays Center.
"Everyone wants to see the big fight … . We can only take one fight -- one step -- at a time."
So Wilder parlayed a meeting last week with DAZN executive chairman John Skipper into a likely -- but unconfirmed – bump in purse from the original $12.5 million he was offered to fight Breazeale on Showtime, and then allowed the wait to continue for a possible four-belt unification with Joshua, who defends his three belts June 1 in his U.S. debut on the new streaming service DAZN versus Brooklyn's Jarrell "Big Baby" Miller.
Three individuals familiar with Wilder's thinking said he was not sold that DAZN could deliver Joshua for the showdown, and he also assesses even more money can be available down the road. Wilder manager Shelly Finkel said he was also troubled by DAZN not revealing what Joshua would be paid for the fight.
Representatives of both DAZN and Showtime confirmed they are working with the respective heavyweights on a fight-by-fight basis, so if the unification happens, it will likely go to the highest broadcast bidder.
DAZN tried to be that, believing its connection to Joshua and his promoter Eddie Hearn would keep the Brit on board if a Wilder deal could've been completed. So DAZN offered Wilder $20 million to fight Breazeale on DAZN, and another $80 million guaranteed to fight Joshua twice more after that.
That keeps with Skipper's point in his visit to the Los Angeles Times last week, where he said his "fresh set of eyes" to previous acrimony between the fighters' camps could help bridge them together.
Skipper reminded Wilder at the meeting that he was offering the Alabama slugger "unprecedented" money, according to an individual who attended the session, to which Wilder's powerful manager and Premier Boxing Champions head Al Haymon whispered in Wilder's ear and referred to the massive sum as "training camp money" to Haymon's retired fighter Floyd Mayweather Jr.
"They handled it unprofessionally, to be honest. They went to that meeting just because they needed to know how much to supplement Wilder from what [Showtime] was offering," said the individual, who spoke on the condition of anonymity because they were not authorized to speak publicly on the matter.
Showtime's Espinoza, meanwhile, told The Times after Wilder's news conference that the network which brought Joshua to U.S. television intends to have "continuing discussions" with Wilder to stage the Joshua fight.
Espinoza affirmed to reporters that Showtime, which has taken a backseat to Fox with PBC this quarter, is stronger than ever and plans to remain a viable player in boxing broadcasting.
That left Wilder to build up the Breazeale fight, which he admitted does not deserve to be on pay-per-view – "one where you miss your rent money to watch this fight. I'm the people's champion. I want to be fair to the people.
"I bring the excitement to the heavyweight division. I hold the keys … I am the man … I am the puzzle piece. No one else is knocking out guys like me. For now, this is the right fight for me," Wilder said.
"I consider the mandatories like flies, always buzzing in my ear. It's time to see one champion, one face, one name. But you need cooperation for that."
Breazeale has aligned with Bay Area trainer Virgil Hunter, who has worked the corners of former two-division champion Andre Ward and works with coming welterweight title challenger Amir Khan.
Breazeale has knocked out three consecutive opponents to become the mandatory challenger, and has a past beef with Wilder after the pair scuffled at a hotel in February 2017.
"I've stolen the show every time I've been on his card," Breazeale jabbed.
"I'm sick of watching this bum with a belt around his waist. I'm going to knock him on his…. All you do is talk."
Wilder then delivered Breazeale an earful of anguish, a perhaps a result of his pent-up frustration at seeing Tyson Fury avoid a rematch and move to ESPN.
"I can't wait for this one. I love this sport. Payback is a [pain]. Every man I face, they end up on the canvas. I expect them to make funeral arrangements [for Breazeale]," Wilder said.
"I'm going to be the judge in the ring. I'm going to run this fool over. I can't wait. You know what to expect. I bring the pain. Devastating knockouts. I try to punch through them and grab their brain like Mortal Kombat. I'm going to show you street style."
Change of pace
The decade-plus run of major pay-per-view fights involving Floyd Mayweather Jr. and Manny Pacquiao yielded in Errol Spence Jr.'s dominant triumph over Mikey Garcia on Saturday in Texas, and the new voice was appreciated.
Instead of Mayweather's over-the-top cockiness, Spence, of DeSoto, Texas, confessed, "I'm a low-key guy. I don't really talk to the media. It was hard for me to sell these pay-per-view buys."
He was visibly angered by the show of support in his strongly Latino state for Oxnard's Garcia during fight week, but Spence had to be instructed to display a response that was similar to – but a far cry – from Mayweather wearing a sombrero, dressed in the colors of Mexico, to fight Oscar De La Hoya in 2007.
Spence merely had someone color the lettering of his name in Mexico's red, white and green on the back of his black jacket.
"I've still got work to do," Spence said when asked if he believed the victory over the lighter, former four-division world champion made him the new face of boxing]. "I still need more performances like this. I'm not the best yet."
Consider the work
Top Rank President Todd DuBoef phoned me this weekend to wonder why his company seems to take the brunt of criticism for denying the fights that make the most sense from happening.
I responded he might be overly sensitive in forming that opinion since all promoters share guilt in being too resistant to cross-promotion.
Undoubtedly, Top Rank and its broadcast partner ESPN deserve the blame for stepping into the unsettled talks between unbeaten lineal heavyweight champion Tyson Fury and Wilder and clinching that there will not be an immediate rematch of their Dec. 1 classic at Staples Center on May 18.
DuBoef made the point that he opened his ESPN deal with Manny Pacquiao getting upset by Australian Jeff Horn and saw his 140-pound title contender Alex Saucedo defeated by DAZN fighter Maurice Hooker last year while another Top Rank star, Vasiliy Lomachenko, survived a knockdown by Golden Boy Promotions' then-lightweight champion Jorge Linares before taking the belt earlier last year.
Additionally, DuBoef noted, he's sending one of his top prospects, 2016 Olympic silver-medalist Shakur Stevenson, to fight veteran Christopher Diaz on the April 20 Terence Crawford-Amir Khan pay-per-view undercard at Madison Square Garden.
The executive says he also plans to send his No. 1 prospect, junior-welterweight Teofimo Lopez, against either lightweight champion Richard Commey or recent champion Jose Pedraza later this year.
"And there's no way that Khan won't have an early lead on Crawford, who's a slow starter," DuBoef said.
Should the unbeaten World Boxing Organization welterweight champion Crawford defeat underdog Khan, as expected, DuBoef insisted he will work to cross the promotional lines toward Al Haymon's Premier Boxing Champions to try and make a Crawford-Spence unification.
That brings us to the ultimate response to all of these fight-makers who claim they only work to make the best fights possible: We judge you by actions, not words.
Alarming situation
Given the head trauma that exists in the fight game, it was especially troubling to read reports by MMA Junkie and MMA Fighting Friday on the restraining order filed by the wife of Costa Mesa's former UFC interim lightweight champion Tony Ferguson.
Cristina Ferguson claimed the fighter has suffered through a "psychotic break," resulting in bizarre behavior beyond Ferguson's typically erratic conduct.
Among the alleged actions, Ferguson's wife said the fighter recently drove his family to Palm Desert in fear of a flood, yelled at his wife, believing she was a witch and damaged their home as a way to remove a tracking device or camera.
Cristina Ferguson said she has video evidence of more "frightening, irrational and paranoid" behavior that has followed alcohol use after past prescribed anti-psychotic medication.
Ferguson was believed to be in line for the April 13 interim lightweight title fight – now being fought between current featherweight champion Max Holloway and lightweight contender Dustin Poirier in Atlanta – but the UFC explained Ferguson was dealing with personal issues, revealed by the restraining order.
Tony Ferguson posted on Instagram this week, "Thank you all for the great support! I'm in a great spirits, UFC & Management are helping me find the help we need. I'm getting all of your messages, keep em' coming!!! Thank you very much for the kind words, my family & team appreciates it."
The hope is that there's sincerity in that. and future actions by the UFC, state athletic commissions and Ferguson's handlers to ensure he achieves full scrutiny and complete mental health recovery before being allowed back in a sport that has proven to deteriorate the brain.
Until next time
Stay tuned for future newsletters. Subscribe here, and I'll come right to your inbox. Something else you'd like to see? Email me. Or follow me on Twitter: @latimespugmire
---
Get the latest on L.A.'s teams in the daily Sports Report newsletter.
You may occasionally receive promotional content from the Los Angeles Times.