Canelo Alvarez wins unanimous decision over Daniel Jacobs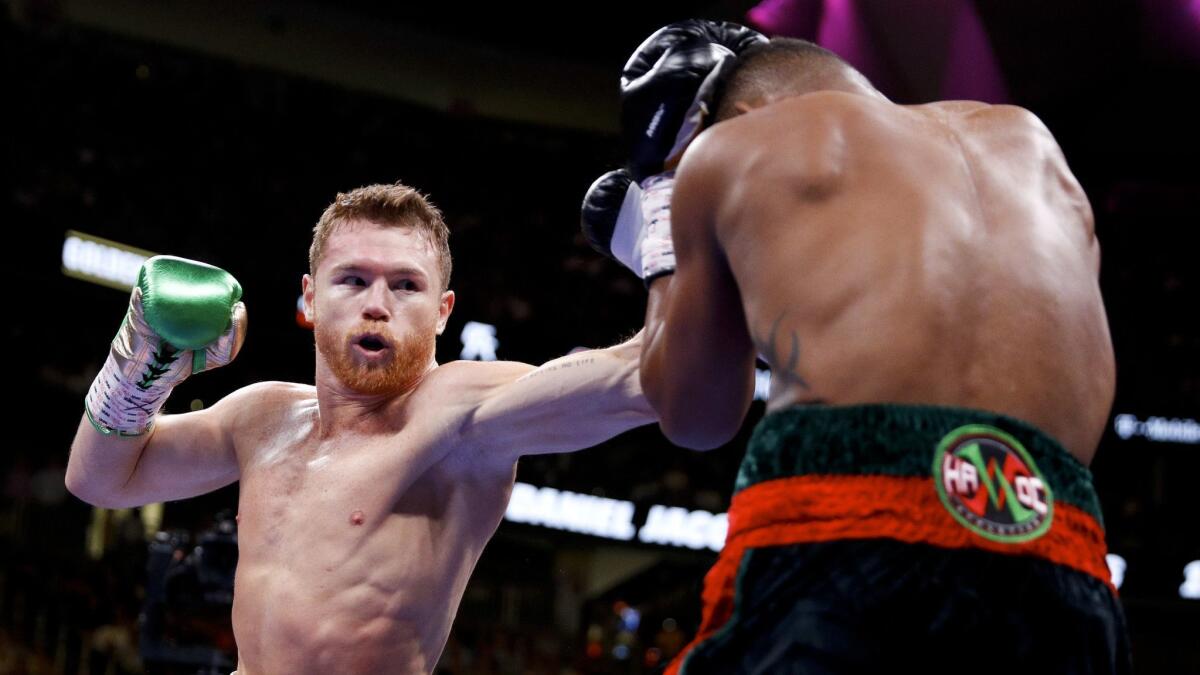 Reporting from Las Vegas —
Canelo Alvarez sought to out-box a boxer. He did that, and, in the end, also didn't bow to a significant size disadvantage.
Mexico's Alvarez added a third middleweight belt to his collection Saturday night at T-Mobile Arena by defeating Brooklyn's Daniel Jacobs by judges' scores of 115-113, 115-113 and 116-112.
By taking Jacobs' former International Boxing Federation middleweight belt, Alvarez (52-1-2) was especially sharp in piling up early rounds. After the perhaps 20-pounds-bigger Jacobs answered, Alvarez didn't wilt to the bigger man and leaned on his strong uppercuts and power to close the show.
Jacobs had been slapped with a $1 million penalty Saturday morning to be paid to Alvarez after weighing 173.6 pounds when his contractually stipulated fight-day weight limit was 170 – 10 pounds beyond the middleweight limit.
Jacobs instead rehydrated past that limit, taking the hit from a purse that was to be in the $12 million range while Alvarez's inflated to $36 million.
The pair started slowly with Jacobs (35-3) jabbing and Alvarez aiming at the body. Alvarez accelerated his work in the second, backing Jacobs with a right hand to the head, brushing off Jacobs' jabs and closing with a scoring jab and uppercut that pained Jacobs.
Already possessing the World Boxing Council and World Boxing Assn. belts, Alvarez kept the pressure on and then displayed all the improvements he's been honing in recent years in the fourth, slipping Jacobs' punches with elite head movement while working the body and meeting Jacobs' punch on in a clutch with his own.
Jacobs kept searching for answers, and instead absorbed damage to the body and scoring jabs, failing to find the evasive Alvarez.
In the sixth, Jacobs relished a sliver of success by turning to a left-handed stance, landing a clean combination. His success continued into the seventh by landing a hard power punch to the head and delivering a combination with Alvarez backed to the ropes.
The action heightened in the eighth when Alvarez escaped the ropes from Jacobs pressure, and Jacobs urged him to fight, receiving an unwanted response of four straight Alvarez punches to the head.
Jacobs surged back in the ninth by clocking Alvarez with consecutive left hands to the head, and after Alvarez took a breather, Jacobs maintained the activity into the 10th.
But Alvarez shifted into a defiant mode, and belted Jacobs with the defining late flurries and blows to satisfy his vocal fan base who gathered for, and celebrated, Cinco de Mayo.
Decision: Two judges had it 115-113 and the third 116-112 for Canelo Alvarez
Twelfth round: Wild hook by Jacobs and he slips and falls. No knockout. REf asks for a towel to dry up a wet spot. Good right by Canelo and you can tell both fighters are going to leave it out there. Canelo lands a good left. Nice exchange in the middle of the ring. Canelo wins a close round. This is going to be close.
LA Times Card: Canelo 10-9. 115-113 Canelo
Eleventh round: Right by Canelo snaps Jacobs head back after a slower start to the round. Neither fighter looks tired at this point. Good exchange near the corner for both fighters. Very close round so far. Jacobs works the body and pushed Canelo back into the corner. Jacobs is unleashing all his power at this point and Canelo is still making him miss. Jacobs takes another close one.
LA Times Card: Jacobs 10-9. 105-104 Canelo leads
Tenth round: Jacobs lands several shots while Canelo is back on the ropes but he works out of it. Good work here by Jacobs. This is looking like another close decision for the judges. Crowd is trying to urge Canelo on and he lands a good shot to the body. Jacobs again throwing combinations and forcing Canelo back on the ropes. Jacobs is looking strong and Canelo is showing the first sides of tiring. Another good one for Jacobs.
LA Times Card: 10-9 Jacobs. 96-94 Canelo leads
Ninth round: Not as much action at the start of the ninth as both fighters may be a bit winded from the last round. Huge left by Jacobs and I don't know how Canelo just took that. Canelo showed a real chin there. Jacobs peppering Canelo with jabs and this may be the clearest round for Jacobs. Fight is tightening up.
LA Times Card: Jacobs 10-9. 87-84 Canelo leads
Eighth round: Nice work to the body by Jacobs early in the round. Jacobs looks to be a bit more of the aggressor this round. He backs Canelo into the ropes, but he evades and they exchange blows. Best action of the fight so far and the crowd is on the feet. Jacobs is covering up and Canelo keeps landing blows. Best round of the fight, one of the better ones you'll see and Jacobs ends in a flourish. Round to Jacobs.
LA Times Card: Jacobs 10-9. 78-74 Canelo leads.
Seventh round: Best combination of the fight so far and Canelo wobbles Jacobs a bit. Canelo may be imposing himself at this point. Four punches by Canelo push Jacobs back onto the ropes. Best round so far by Canelo. Doesn't look a bit winded. Canelo unhappy that Jacobs is grabbing him behind his head. Jacobs responds and puts Canelo onto the ropes. Best round of the fight so far. A nice left by Canelo near the end of the round and he did just enough at the start of the round to take another one.
LA Times Card: Canelo 10-9. 69-64 Canelo leads
Sixth round: Slower first minute of the sixth and there is a smattering of boos from the crowd. Nice exchange in the middle of the ring, but the main result was two Jacobs misses on wild uppercuts. Canelo's defense is really showing up, Jacobs can't find him. Nice combination by Canelo rocks Jacobs a bit. This might be the clearest round for Canelo.
LA Times Card: Canelo 10-9. 59-55 Canelo leads.
Fifth round: Jacobs repeatedly trying to work the jab in the early moments of the fifth but Canelo's defense is too good and they don't do damage. Nice left by Canelo halts Jacobs a bit, but Jacobs keeps moving forward with his jab. Two nice lefts by Canelo in a very close round. This one can go either way. Slight edge to Canelo in the fifth
LA Times Card: Canelo 10-9 49-46 Canelo leads.
Fourth Round: Left by Canelo to start the round snaps Jacobs head back. With Canelo crouching down, Jacobs height advantage is evident. Jacobs missed four straight punches and Canelo shows off his defense. The crowd erupts into another chant of 'Canelo' Less action this round than in the third so far, but two lefts by Canelo brings the crowd to its feet. Close round but Canelo takes it again.
LA Times Card: Canelo 10-9. 39-37 Canelo leads.
Third Round: Canelo looks to be more of the aggressor in the third and is stalking Jacobs around the ring. Canelo gets the crowd up with a combination while Jacobs was on the ropes. Nice combination by Jacobs in the middle of the ring silences the crowd. Canelo is working the body more and that will come into play in the later rounds. Jacobs responds and this is the best action of the fight so far. Really even fight.
LA Times Card: 10-9 Canelo. 29-28 Canelo leads.
Second Round: Jacobs looks quick early in the second and is throwing more than Canelo. The fans are urging their fighter on with more chants of 'Canelo'. An uppercut to the body by Canelo by still very little action. Right before the one minute mark, both fighters exchanged combination. Good work by Canelo near the end of the round. Close round but it goes to Canelo
LA Times Card: 10-9 Canelo. 19-19 even.
First Round: Tentative first minute of the fight with both fighters just measuring themselves. Hardly a punch thrown in the first minute. Some boos intermixed with cheers of Canelo by the fans in T-Mobile. Nice right to the body by Canelo brings the first ovation from the fans. Canelo may win this round based on that one punch since there is very little action. Jacobs throwing his jab to little effect. Jacobs throws a combination to the body that grazes Canelo. Jacobs might have closed with enough activity to get that round.
LA Times Card: 10-9 Jacobs
8:55 p.m. Boos for Jacobs are to be expected and this may be the most pro-Mexican crowd Canelo has seen in a Las Vegas fight. A very big ovation for Canelo.
8:50 p.m.: Now it's Canelo's turn. And it's the classic "Mexico Lindo y Querido". Few things are better than that song as he gets into the ring to screaming Mexican fans.
8:45 p.m.: Michael Buffer has given the word and the fighters will be making their way into the ring. First, will be Danny Jacobs to the tune of Jay-Z's New York. Some boos from the fans here.
8:40 p.m.: The national anthems have started. We are close.
8:30 p.m.: The lights have been turned down and we should be nearing the ring walks for both fighters. Expect some epic national anthems soon.
8:15 p.m.: Crowd is definitely on the edge of its seat right now in anticipation of the ring walks by Canelo and Jacobs. The crowd had some fun booing Gennady Golovkin, who did an interview on the big screen.
8:05 p.m.: You will be seeing that knockout by Vergil Ortiz on repeat for a long time. You just hope Mauricio Herrera is ok. Stunning third round knoclout by Ortiz. He's a star. Next up the main event.
8:00 p.m.: From columnist Arash Markazi here is the list of celebrities at tonight's fight: Kliff Kingsbury, Danny Trejo, Dave Chappelle, Demarcus Lawrence, Denzel Washington, Drake, Evander Holyfield, Fernando Vargas, French Montana,Gennady Golovkin, Julio César Chávez, Lennox Lewis Mario Lopez, Meek Mill and Michael Brockers, Miguel Cotto, Roberto Duran, Roger Clemens, Ryan Garcia, Teofimo Lopez, Terence Crawford, Tommy Hearns, Usher, Victor Cruz, Wladimir Klitschko, YG, Zou Shiming, Andrew 'Hawk' Hawkins, Andy Ruiz, Bad Bunny, Devin Haney, Hozumi Hasegawa, Jeff Fenech and JP Arencbia.
7:45 p.m.: T-Mobile is starting to fill up and the energy as the main event gets closer is definitely kicked up a notch. We may still be a little bit away from the main event, but the crowd is definitely ready, getting hyped with a mix of hip-hop and banda music.
7:40 p.m.: Joseph Diaz Jr. earned the seventh round win by stoppage as Fonseca's corner threw in the towel. Diaz was dominating the fight throughout.
Next up is Vergil Ortiz, one of the best prospects in boxing facing Mauricio Herrera. Could be a good coming out party for Ortiz on the biggest stage of his career.
7:20 p.m.: Unless these next two undercard fights end quickly it seems unlikely that the 8 p.m. ring walks will happen. Seems like the window is getting pushed to 8-8:30p.
7:15 p.m.: Joseph Diaz Jr. (28-1) of South El Monte is now in the ring with Freddy Fonseca (26-2-1) of Managua, Nicaragua. T-Mobile is starting to fill up and the vibe is definitely getting a little more electric now.
7:00 p.m.: Lamont Roach Jr. won a controversial unanimous decision over Jonathan Oquendo, who looked like the aggressor throughout. The crowd at T-Mobile, which is slowly filling in, is booing Roach in his ring interview.
6:45 p.m.: The video screens at T-Mobile just showed Daniel Jacobs getting this hands wrapped. The crowd didn't make a peep. The guess is the crowd will be about 90% Canelo. Much more one-sided than the Gennady Golovkin fights.
6:25 p.m.: Now hearing the fighters will be making their way into the ring just before 8 p.m. Assuming the undercard doesn't go too long, the main event will start right around 8:15 p.m.
6:20 p.m.: Roach is in the ring and the first fight of the main card in underway.
6:00 p.m.: The DAZN stream of the main card is ready to go live. Still hearing main event around 8:30 p.m. We will update when we hear more. The first big cheer of the night as they show Canelo Alvarez walking into the ring.
5:50 p.m.: Next up is Lamont Roach Jr. (18-0-1) from Washington, D.C. vs. Johnathan Oquendo (20-5) of Vega Alta, Puerto Rico.
5:40 p.m.: Another third round knockout, as Anthony Young quickly dispatched Sadam Ali. Three more undercard fights before the main event.
5:10 p.m.: Relative unknown John Ryder scored a stunning knockout in the third round over Bilal Akkaway to win the interim WBA super middleweight title.
Next up is Sadam Ali (27-2) of Brooklyn, NY vs. Anthony Young (20-2) of Atlantic City, NJ for the USNBC silver welterweight title.
4:30 p.m.: The first two fights of the undercard are over and we are awaiting the start of the John Ryder (27-4) vs. Bilal Akkaway (20-0-1) fight for the vacant interim WBA super middleweight title.
After the Ryder vs. Akkaway fight there are four other fights on the undercard before the main event starts, so it'll be a bit of a long night.
What time is the fight and how to watch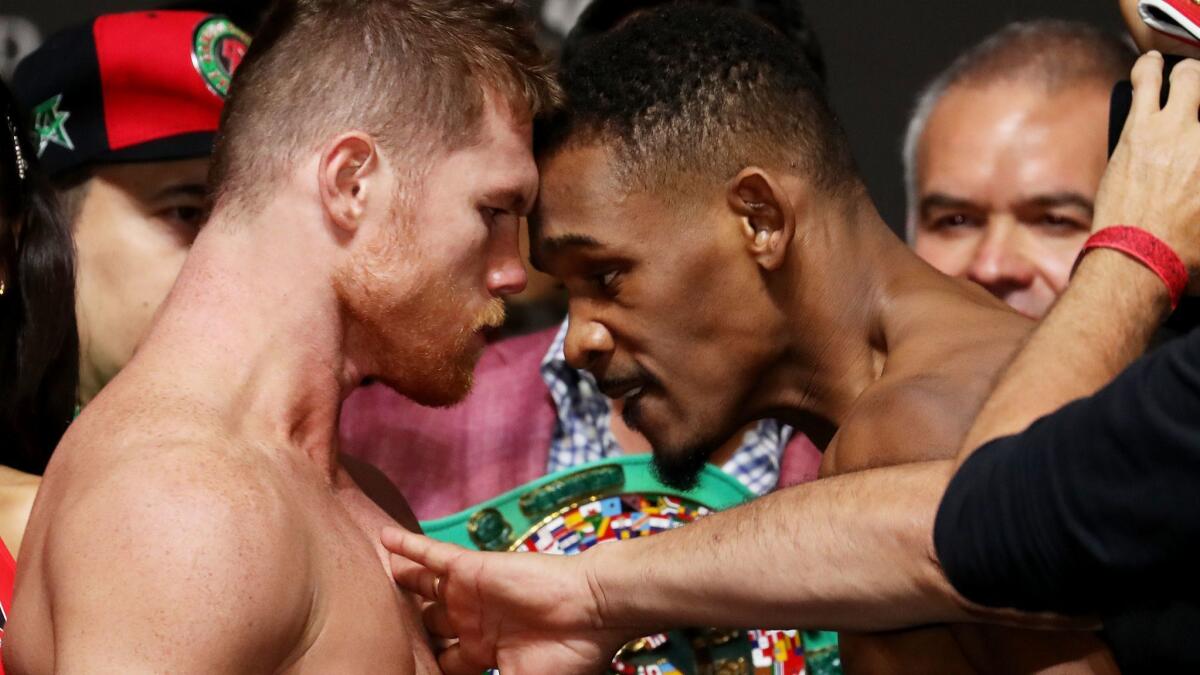 The middleweight title fight between Canelo Alvarez and Daniel Jacobs should start around 8:30 p.m. PST, but when the boxers actually get into the ring is always a moving target depending on the undercard fights.
This fight will also be the first big test for the new streaming service DAZN, who signed Alvarez to a record 10-fight, $360 million contract last year. In order to watch the fight tonight you will need to download the DAZN app and decide which of the tiers you prefer.
There are two options to stream the fight. You can $99.99 for an entire year of access to DAZN streaming or pay $19.99 per month.
Los Angeles Times staff predictions
Here are the predictions of Times staffers for the fight (this story will be updated):
Dylan Hernandez: Daniel Jacobs is the "boxer" in this matchup, but he isn't a classic counterpuncher in the mold of Floyd Mayweather or Erislandy Lara. Rather than slip punches, Jacobs often uses a high guard to block them and waits for his opponents to stop throwing to retaliate. The tendency could be fatal against Alvarez, who is one of boxing's best combination punchers. Whether the punches land or not, the optics of Alvarez delivering a succession of power shots against a covered-up opponent will likely be more than enough to sway the judges. Read my detailed breakdown of the fight.
Prediction: Alvarez by decision.
Arash Markazi: Despite what the oddsmakers would have you believe, Daniel Jacobs will not be an easy fight for Canelo Alvarez, who is a -450 favorite. Jacobs not only has the height and reach advantage but he has just one loss over the last nine years. Gennady Golovkin defeated Jacobs via unanimous decision two years ago, but it was a close fight and some at ringside had Jacobs winning. Jacobs, who would like a rematch with Golovkin, knows he likely won't get a decision if he has a similarly close fight with Alvarez on Saturday.
While Jacobs is a skilled fighter and an amazing feel-good story after beating cancer, Canelo is just entering his prime and will show Saturday why he is the biggest star in the sport by becoming the first Mexican to hold three belts (WBA, WBC and IBF) simultaneously.
Prediction: Alvarez by decision.
The latest odds from Las Vegas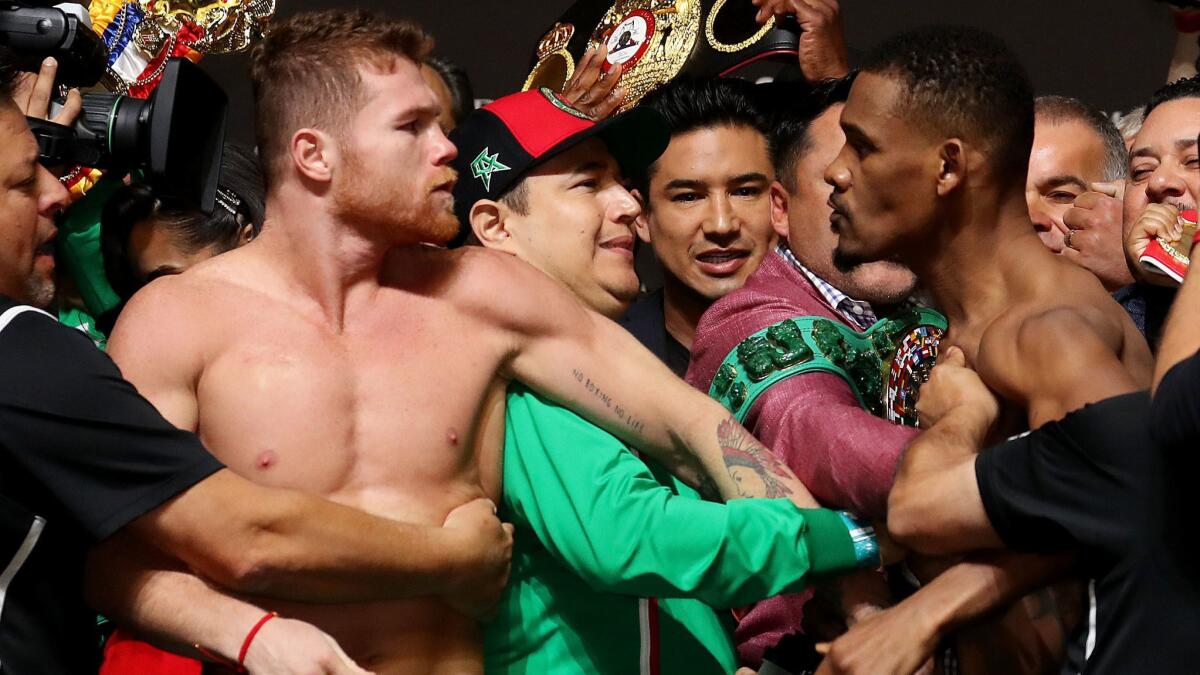 Canelo Alvarez remains the betting favorite as of Saturday afternoon at the MGM sports book in Las Vegas.
Alvarez is more than a 4-1 favorite to defeat Daniel Jacobs to capture three of the four middleweight belts this evening from T-Mobile Arena.
The line has grown even more in favor of Alvarez in the late betting as many Mexican fans are wagering on the side of the countryman. The line started at +360 for Jacobs and it moved to +425 my noon Saturday.
There are a number of props bets with the longest odds being a win by Jacobs by decision which is currently at +550, meaning if you beat $100 you would win $550, plus your initial bet.
- Angel Rodriguez
Get our high school sports newsletter
Prep Rally is devoted to the SoCal high school sports experience, bringing you scores, stories and a behind-the-scenes look at what makes prep sports so popular.
You may occasionally receive promotional content from the Los Angeles Times.