Dominic Breazeale knows this could be his last shot at a heavyweight belt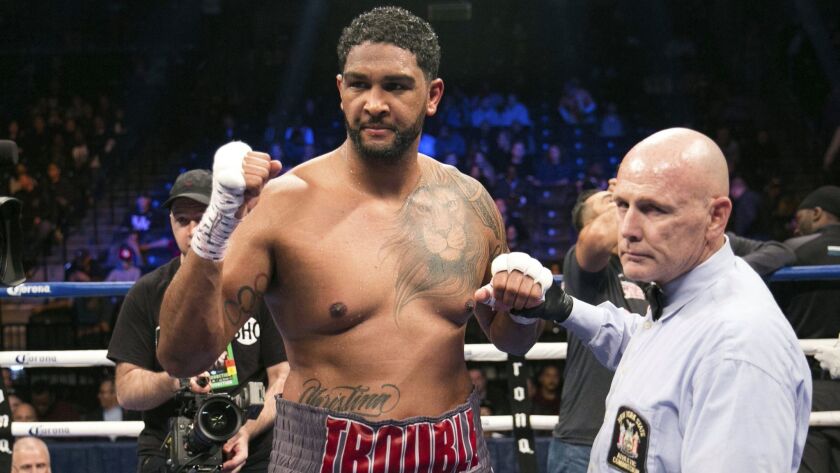 It's all about embracing teachable moments with Dominic Breazeale, the Southland-based heavyweight who's journeyed to New York for a title fight Saturday against unbeaten Deontay Wilder.
Breazeale (20-1, 18 knockouts), a 33-year-old from Eastvale, has absorbed the humbling lessons of a 2016 title loss in England to current three-belt heavyweight champion Anthony Joshua. He's experienced a revealing stare-down with Wilder at a hotel lobby following their separate knockout victories.
For the last two months he's hunkered down away from his family, rejecting interview requests, to take in the wisdom of Oakland-based trainer Virgil Hunter.
"I didn't want to be jumping out of the ring for an interview," explained Breazeale, a 6-to-1 underdog. "I was trying to stay away from extra distractions. I wanted to focus on my craft, to understand everything that was going on. I wanted everything organized, no deterrents."
Breazeale has three knockout victories since getting stopped by Joshua (22-0, 21 KOs) in the seventh round of their bout and said he's summoned motivation from the idea that this Showtime-televised main event at Brooklyn's Barclays Center could be his last chance to become a heavyweight champion.
"Every time, you go into a fight, it could be your last one, and I say that while fighting for a world title in a heavyweight boxing match — a situation I know is always dangerous," Breazeale said. "But I've prepared well, and I go into it with a great deal of confidence and a high level of satisfaction that I'm ready for it."
Wilder (40-0-1, 39 KOs), the World Boxing Council champion from Alabama, generated headlines this week by going beyond the possibility of eliminating Breazeale from title consideration, invoking the burning embers of their February 2017 feud while saying, "This is the only sport where you can kill a man and get paid for it at the same time. It's legal, so why not use my right to do so?"
"I'm not going to waste my energy with something that doesn't make sense," Breazeale said of Wilder's "kill" comment. "I took from that [2017 confrontation] that he's not a dog-heart fighter. He's not the thug, crazy individual he says he is, because most individuals who have a purpose in mind as they walk up to an individual in a hotel lobby will act on it, not just stand there and say word after word after word.
"So for me, it's been my motivation to remind myself why I'm getting up at 6 in the morning to go run, doing the extra push-ups and rounds. It's behind my drive to win Saturday night. I'm calling his bluff in the ring. He hasn't faced anyone of my caliber."
Under Hunter, who trained retired and unbeaten Andre Ward to two division titles, Breazeale said he's emphasized attention on defense.
"I'm an offensive fighter. I like to throw my hands, like to throw big bombs, but I can forget about my defense, so we've been working on coming back to my home base — my defense, my fundamental stance, my jab," Breazeale said. "Virgil stops you from making a mistake. He takes the time to teach.
Sign up for our boxing and MMA newsletter »
"I'm not very fond of Wilder's boxing style or how he's grown as a boxer. This is the first time he'll face someone who can take his shot and give his shot back, and put him down on the canvas. He hasn't been down on the canvas as a pro, and when he does, I believe he'll realize, 'Oh [man], I'm in for a fight.' He's going to have to go through his checks and balances. 'Do I really want to get up and fight this guy, or am I done?' When I put him down, he's going to be done. And if he gets up, I plan on ruining his career, put him into retirement."
That would disrupt all the plotting that surrounds Wilder and his push beyond this mandatory assignment to reach either a unification bout with Joshua or a rematch with unbeaten former champion Tyson Fury, who vacated his titles to deal with addiction and mental health problems.
Breazeale has already been in there with Joshua, dealt with the time change, the unfamiliar food and heard the massive crowd rooting against him.
"It was a blessing and probably the biggest learning tool of my career. It made me understand what I was doing wrong, and why it was wrong. It made me self-correct, to study myself," he said. "I'm a better fighter and I've proven it with three knockout wins and becoming the WBC mandatory" challenger.
"This is my third fight in New York. Yes, it's a world stage, fighting for a world title, but I know what this is. At this point, I'm like a caged dog. I'm champing at the bit. I can't wait for the bell to ring."
Twitter: @latimespugmire
---
Get our high school sports newsletter
Prep Rally is devoted to the SoCal high school sports experience, bringing you scores, stories and a behind-the-scenes look at what makes prep sports so popular.
You may occasionally receive promotional content from the Los Angeles Times.