Conor McGregor begins promotion of his fight with Khabib Nurmagomedov with verbal jabs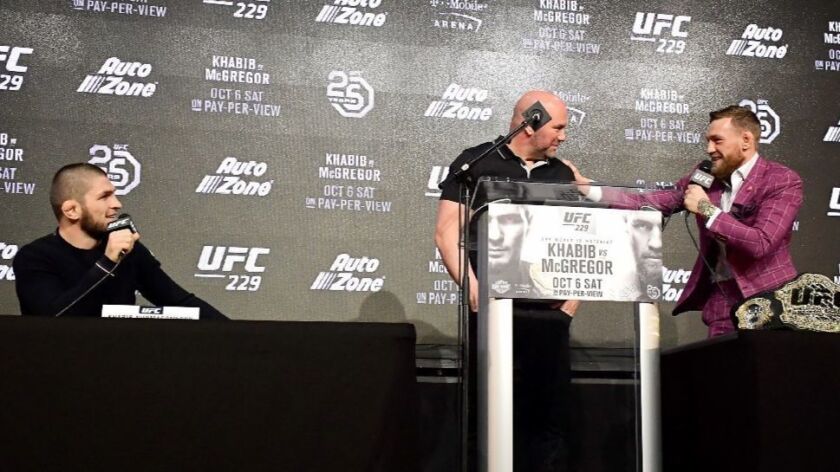 Red-faced Conor McGregor, in a whiskey-swilling, sometimes-unhinged tirade peppered with raw language, sought Thursday to rattle his unbeaten UFC lightweight-champion foe Khabib Nurmagomedov during their joint news conference at Radio City Music Hall in New York.
Bound for a sold-out UFC 229 main event Oct. 6 at T-Mobile Arena in Las Vegas, McGregor (21-3) stormed back into public view by immediately lighting in to his replacement champion.
McGregor was arrested after throwing a hand truck at a bus carrying several UFC fighters, including Nurmagomedov, in April.
"I came back for the love of this, to come and shut this little rat up — this little weasel, a little hard man in groups who grows [courage] in numbers, but, on his own, cowers away," McGregor said. "And that's what you saw on the bus over there.
"I am going to truly love putting a bad, bad beating on this little glass-jawed rat."
From those opening remarks, Russia's Nurmagomedov (26-0) was left to play verbal catch-up while mostly remaining composed sitting in his chair as Ireland's McGregor stood and roared and, at times, overreached.
McGregor, the former two-division champion stripped of his featherweight and lightweight belts due to inactivity partially connected to taking a lucrative August 2017 boxing match against Floyd Mayweather Jr., grew so agitated while separated by UFC President Dana White that his face color shifted to a bright red.
"It's been a war zone in my camp … broken arches, broken feet, fingers. We are coming for war," McGregor said, criticizing Nurmagomedov's interest in wrestling instead of engaging in the type of fistfight the former champion has relied on in becoming the UFC's most popular athlete.
"I hope it's a long night. … You dive for the legs and hold on for dear life. What kind of fighting is that? You beat a real estate agent. You're a phony, a fake … an amateur … in over his head. … May God have mercy on your soul."
Nurmagomedov, a devout Muslim, rejected McGregor's offer to sip from a shot of McGregor's Proper Twelve whiskey that he'd poured for the new champion.
"I don't drink," said Nurmagomedov, which brought McGregor to ask, "Why?" and label him a "backwards" expletive.
Later, Nurmagomedov ripped McGregor's animated display by reminding, "I'm 26-0, never lost a round. You think whiskey's going to help you?"
Nurmagomedov's most effective response came in pressing McGregor on why he came with so many associates in April when McGregor rushed the bus carrying Nurmagomedov and other UFC fighters.
McGregor was upset that Nurmagomedov had put his hands on a McGregor stablemate in a physical confrontation earlier in the week.
"I come here to smash this guy," Nurmagomedov said.
McGregor challenged, "Smash me, mate. Did you not see me outside the bus? The first thing I did was show you my hands … no weapons, unarmed. Step off the bus. He did nothing, and caused what happened to happen. Here's my location: right in front of you! Do something about it. You'll do nothing!"
Nurmagomedov calmly answered, "Why you come with 40 people? ... I went over there [to Brooklyn's Barclays Center] with one guy. He showed me his weakness … he comes with 40. He can talk all he want. Most important is 6 October. When cage close, we're going to watch."
McGregor's mental jabs at the San Jose-trained Nurmagomedov invoked tense familial and patriotic situations. He detailed the legal issues confronting Nurmagomedov's Russian supporter, oil billionaire Ziyavudin Magomedov, who's facing embezzlement charges.
"[Magomedov] started to invest and pump money into his gym so [Nurmagomedov] started thinking he was a … tough guy. Then [stuff] hit the fan. [Magomedov] got locked up and there's not a bean left," McGregor said. "Now, I'm here to put the nail in the coffin."
He called Nurmagomedov's father "a quivering coward" for befriending the Chechnya dictator Ramzan Kadyrov.
McGregor said it was wrong of Nurmagomedov to confront "your own people" by going after McGregor's Chechen stablemate, Artem Lebov, and he acted as if he was offended when Nurmagomedov made a reference to not needing to take photos with anyone to prove his importance, a jab at McGregor's pose with Russian President Vladimir Putin at the World Cup.
"Are you disrespecting your president?" McGregor asked twice. "Explain what you mean!
"My Chechen friends tell me [Nurmagomedov's people have] chicken jaws … I've seen this man wobble many times. I know he's afraid of a smack, and a smack from me will feel like a double-barreled shotgun."
He added that if the bus door had opened, Nurmagomedov "would be dead now, in a box, and I would be in a cell, and we would not have this great fight in front of us."
Twitter: @latimespugmire
---
Get the latest on L.A.'s teams in the daily Sports Report newsletter.
You may occasionally receive promotional content from the Los Angeles Times.