Inside of a Harbor City garage, Brian Ortega found his ticket to potential UFC glory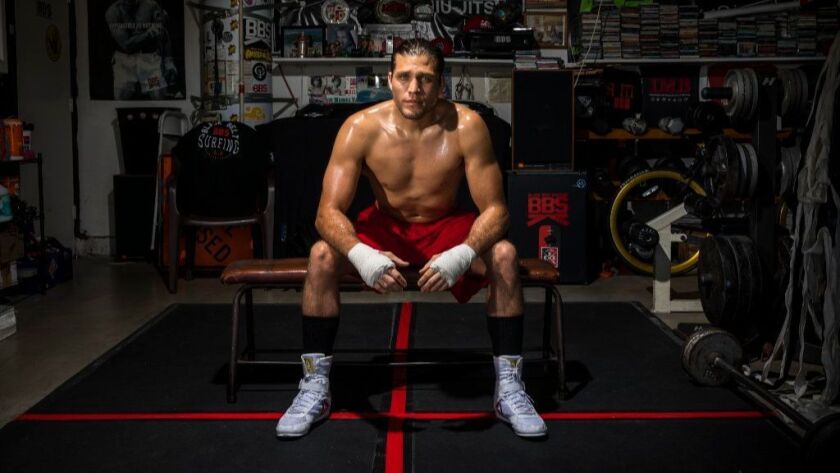 At the depth of his life as a teen, Brian Ortega was pierced by an inspired thought: "I'm better than this, I don't belong here."
Ortega's reality quickly slapped the belief away. At 17, he was out of his home, expelled from a fourth high school for fighting, and associated with a meddlesome group around the South Bay. Who believed in him? Where else would he go?
Sanctuary, it turns out, was in a Harbor City garage.
At the Redondo Beach surfers' haven, the Breakwall, a boxing coach happened to glance up before taking to the waves one day to spot Ortega. A friend at a nearby jiujitsu academy had recently described a skinny, shaved-head kid displaying rare talents, and the coach connected Ortega to that description.
James Luhrsen approached Ortega, asking him how strong his stand-up fighting was. Admitting it as a weakness, Ortega accepted Luhrsen's invitation to come train with Luhrsen and his boxing brothers. Luhrsen didn't need long to assess that Ortega's fighting stance was deeply flawed.
To fix it, he told Ortega, peering hard into the troubled boy's dodgy eyes, "You need to listen.
"Are you going to listen?"
Ortega turned 27 last week. Saturday night at UFC 222 in Las Vegas, the UFC's unbeaten, No. 3-rated featherweight has an opportunity to reach a title fight if he can defeat former lightweight champion Frankie Edgar, 36, at T-Mobile Arena.
Reflecting on how he's gotten here, Ortega pointed to Luhrsen's question.
"We've all had that one time — it doesn't matter who you are — when you have this choice, that one chance," Ortega said. "That's your ticket out. That's your escape. A lot of people don't take it, the guys who tell you later in life, 'I could've done this, I should've been here. ...' I heard it all the time. So I just knew what I was supposed to do. The energy that time was, 'Take this opportunity.' "
It would start then as Ortega's fight camps still begin, with the fighter driving his dated Chevy SUV to Luhrsen's garage for sessions that cover opponent breakdown, heavy bag striking, weightlifting and, most importantly, deep conversation.
Ed Soares, Ortega's manager and a longtime friend of Luhrsen, says, "The influence and guidance James provided Brian is like that of a father, a confidant, a shadow. Brian is a good-hearted human being, the captain of his own ship. All he needed was to be guided, someone to help him navigate."
Luhrsen calls his one-car garage "the dungeon."
The pair is shielded from the world when the garage door slides down. Inside, Ortega has bared the darkest torment of his past and reached the most painful limits of physical conditioning.
"We always said this is going to be from the ground up. It's not much, definitely not state of the art, but it's where we started," Ortega said. "It started by having this fantasy talk of, 'One day, you're going to do this and that, and then be champion.' All of a sudden, we're sitting here training for Frankie Edgar and the winner gets a shot at the belt.
"A lot of people think they need the best training partners, the best gym. I started with Vans, Jack in the Box and a dream, and now I'm here. You just need to have that work ethic, focus and dedication."
There was much to discuss inside the garage — "there's some real dark side to his before," Luhrsen said — and a remnant of some of Ortega's released rage is above the garage opener, a dangling, creaking two-by-four that is hooked to the heavy, battered punching bag.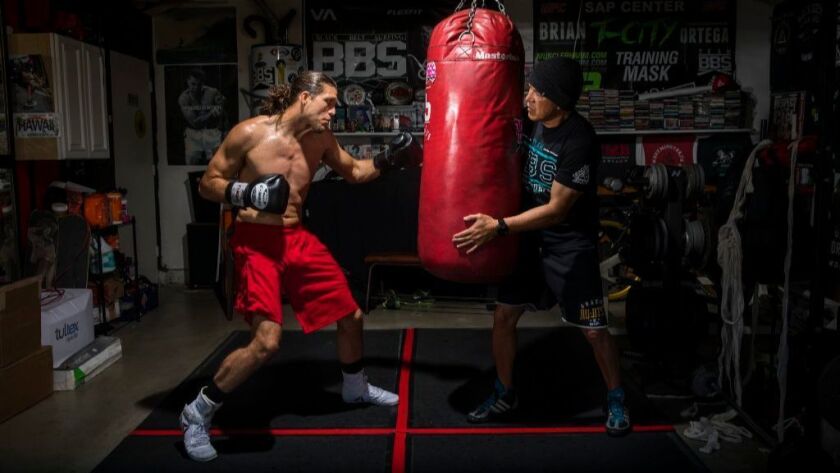 Ortega had much to be angry about. He drifted from an erratic home life in which his father worked around the clock and his mother had criminal trouble. He sought to harness his interest in fighting at the Gracie jiujitsu academy in Redondo Beach, but that sport's attention to discipline was sabotaged by his life on the street.
"My house was a revolving door," Ortega said. "I was just telling James' son, who's 17, 'Dude, when I was 17, I wouldn't come home for two to three weeks.'
"And I wouldn't even get a call of 'how are you?' or 'where are you?' It was just … different. I was up to no good, and when you're living in the houses of the people who'll just take you in, the environment is … not the best."
Ortega says it was like Luhrsen had a crystal ball in predicting how the fighter's friends would fall by the wayside. Luhrsen, who would only say he is in his 50s, withstood a similar life a generation earlier. He listened and nodded as Ortega would confide to him about the doubts fanned by those people, even as Ortega went 11-0 in amateur fights, then won his first eight pro bouts to land a UFC contract in 2014.
"There's always a way to pull back and discredit ourselves, but once you just shut that out and start doing it, you realize things about yourself that you never thought were possible," Ortega said. "This was a vision … I used the negativity as gasoline.
"We just had each other in the garage. Fight by fight, it was like, 'Boom, proved you wrong.' They still had something to say — 'It's only the minor leagues,' 'You barely made it through,' 'You won't do it in the UFC … .' Now, finally now, they're like, 'We believed in you.' "
Ortega is 13-0 as an MMA pro and none of his five UFC bouts has gone the distance. His most recent victory was a second-round submission over veteran Cub Swanson in December to earn his third fight-of-the-night bonus. Then, earlier this month, featherweight champion Max Holloway withdrew from UFC 222 because of a leg injury and Ortega emerged.
Huddled in the garage, where Ortega has hung his blood-stained fight uniforms — "war paint," he says — he and Luhrsen consider the double-edged sword of his youth and energy versus Edgar's wisdom and age.
"James sharpens the right tools in the right place to help Brian execute what he needs at the right time," said Soares, who also manages UFC legend Anderson Silva. "Anderson once told me there's a magic moment in every fight, and Brian's able to feel and capitalize off those magic moments."
Something that can't be coached also stirs in Ortega, and it's been seen in his unflinching response to punches in the face.
"The mind is a powerful tool, and my mentality in the octagon is literally, 'You have to kill me to stop me,' " he said. "I never want to lose, but James knows the way I think: If you're going to fail, fail big."
The proof he lives that motto: A skilled surfer, Ortega dismissed Luhrsen's warnings in 2016 about high surf and took on the Breakwall's biggest waves. A local news story headlined, "Two dead, MMA fighter gets a scare," is taped to the garage wall, after Luhrsen's friends pulled a breathless Ortega from the ocean floor to resuscitate him.
"I've proven I can hang in there, go through adversity and pull tricks out of the bag. This is another step I have to go through. I'm dangerous," Ortega said, "because I have nothing to lose."
Follow Lance Pugmire on Twitter @latimespugmire
---
Get our high school sports newsletter
Prep Rally is devoted to the SoCal high school sports experience, bringing you scores, stories and a behind-the-scenes look at what makes prep sports so popular.
You may occasionally receive promotional content from the Los Angeles Times.