Leo Santa Cruz dedicates his victory to his father battling spinal cancer
Leo Santa Cruz had more to deal with then a desperate Abner Mares Saturday night in their entertaining featherweight title bout Saturday night at Staples Center.
Santa Cruz retained his World Boxing Assn. belt by unanimous-decision scores of 115-113, 116-112, 117-111 in a thrilling clash that featured just under 2,000 combined punches and no knockdowns.
The champion was heartened by the ongoing health battle his father-trainer, Jose Santa Cruz, is fighting against the ravaging effects of spinal cancer known as myeloma.
"My dad was really the champion. Coming to this fight, he was doing good, but before the weigh-in [Friday], he got really bad. He barely made it. Because of his cancer in the back, he could barely move," Leo Santa Cruz said following the fight.
"I was worried … he had to go to the [hotel] room and had to stay there all day. He didn't want to say anything, but I knew it was bad. I was fearing he wasn't going to be in my corner."
Santa Cruz told The Times on Sunday morning that his father was taken to the hospital "to see if the cancer has spread.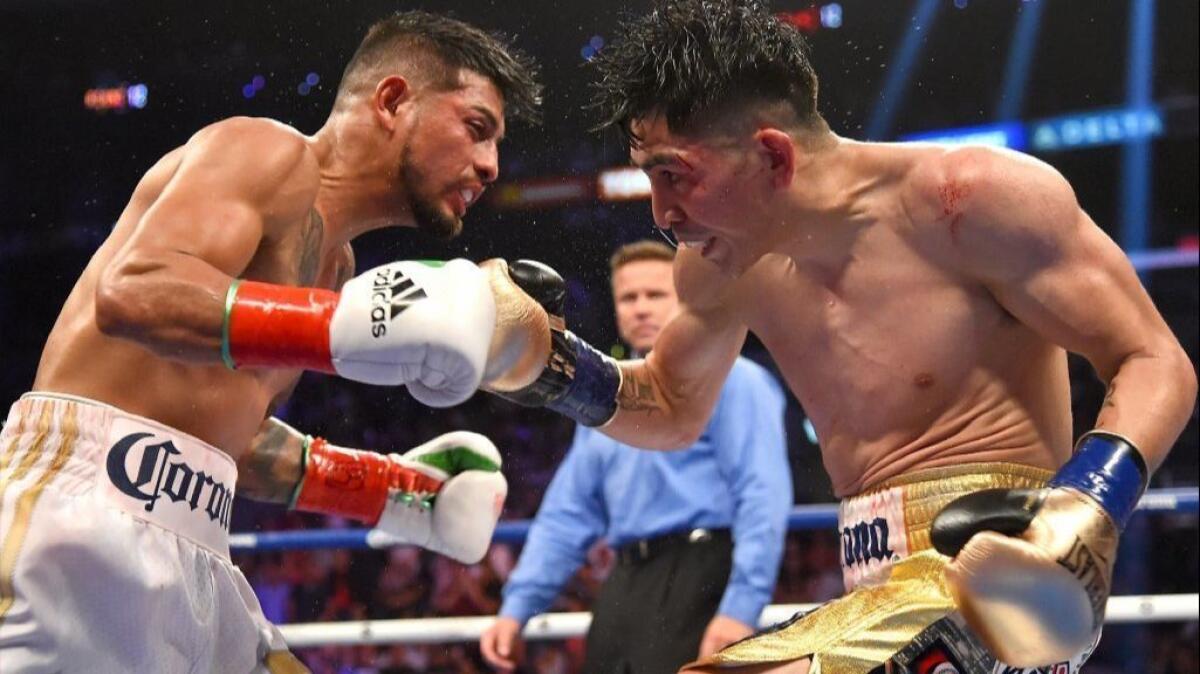 "He was getting knots on his neck. He couldn't really turn his head, really painful, and he was all swollen," Santa Cruz said.
Santa Cruz revealed his father required IV treatments with powerful painkilling medicine on Friday, and took morphine tablets Saturday "to take his pain away, and that wasn't really helping," while he experiences ongoing pain from a metal device implanted in the back to support a weakening disc.
"He's a hard man, a tough man, and he went up there and stood in my corner," Leo Santa Cruz said. "He was there. We talked. I dedicate this fight to him.… I did things in there to make him feel better.
"If he's giving that effort, I have to give something, and show him toughness, too."
Former four-division champion Mares pressed the action early, finding a route under Santa Cruz's punches to land some effective punches inside.
The champion reverted to his natural reach advantage and peppered his Southland rival — as he did in winning their first meeting in 2015 — with effective punches and jabs from distance, adding some uppercuts that discouraged the three-years-older Mares as the bout wore on.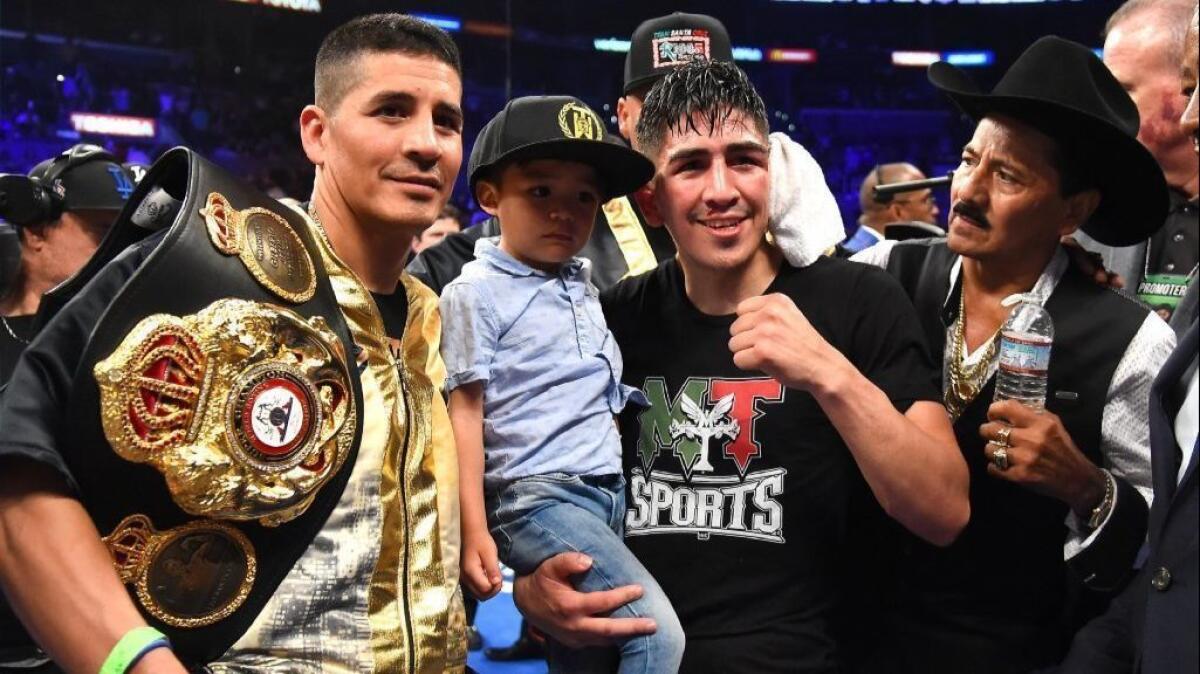 "My dad said whatever he brings, we'll have something for him … it was hard, but I had to do it," Santa Cruz said.
Victory moves Lincoln Heights-raised Santa Cruz on to a lofty position where he can dictate both his opponent and venue, and he found an audience of more than 10,000 supportive fans at Staples Center very comfortable.
"This is my house," Santa Cruz said. "If I could have all the fights here, I would love that."
His expected next opponent is World Boxing Council featherweight champion Gary Russell Jr., who is managed, like Santa Cruz, by Premier Boxing Champions head Al Haymon, and has let it be known he would come to L.A. and fight by December, according to one PBC official.
"With Gary Russell, he's really fast, but timing beats speed," Santa Cruz, 29, said. "In the gym, I do really good against the fighters who are fast because I know how to fight them. With my pressure working that body … you can tell Gary Russell is not ready for that power. I can beat Gary Russell."
Unbeaten, Southland-trained World Boxing Organization featherweight champion Oscar Valdez immediately called out Santa Cruz "to unify the belts … let's do it for the fans."
"He's a Mexican, comes forward, throws a lot of punches. It'd be a great fight with that same style," Santa Cruz said. "Like I said, I have a response for everything."
He was less interested in revisiting another bout with Mares.
"I've already beat him twice," Santa Cruz said.
Hawaiian Gardens' Mares retreated to his dressing room and his promoter Richard Schaefer said the fighter was distraught in seeing his daughter crying over the loss.
Mares' Saturday effort was admirable, however, and perhaps he can emerge as the best immediate opponent for the younger Valdez, with some interesting tension connected to the fact that Mares split with Valdez's Southland-based manager Frank Espinoza to join Haymon.
lance.pugmire@latimes.com
Twitter: @latimespugmire
Get our high school sports newsletter
Prep Rally is devoted to the SoCal high school sports experience, bringing you scores, stories and a behind-the-scenes look at what makes prep sports so popular.
You may occasionally receive promotional content from the Los Angeles Times.