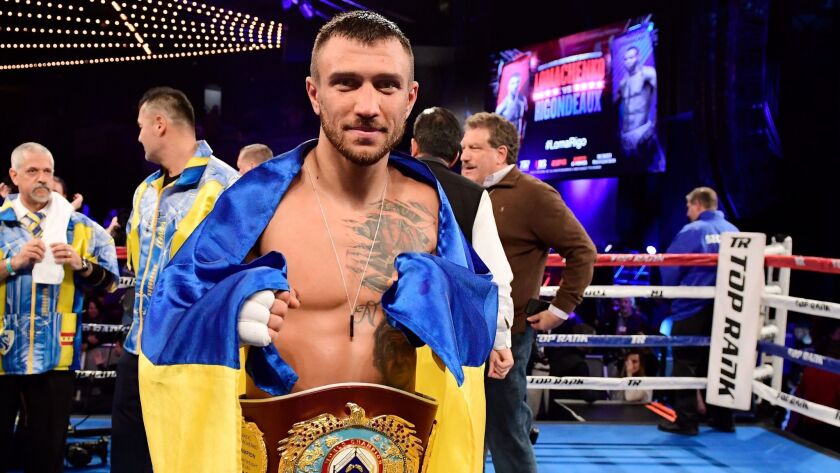 Even before the numbers arrived Tuesday, veteran boxing promoter Bob Arum said he'd seen enough to debunk the UFC-fueled theory that boxing's fan base is old and a relic to advertisers who want to sell to an audience in the 18-49 age range.
"Boxing is not an old man's sport," Arum told reporters after his Saturday night main-event fighter Vasyl Lomachenko successfully defended his World Boxing Organization super-featherweight belt at Madison Square Garden's Theater.
"Our demographics are young. We've been up against [the UFC] three times on a level playing field, and when [boxing's] free, we beat the pants off them, in the overall rating and the demographics everybody is looking into."
Make it four times.
According to Nielsen, ESPN's broadcast of Lomachenko's history- making victory over fellow two-time Olympic gold-medalist Guillermo Rigondeaux effectively doubled the audience that watched the UFC card from Fresno televised by FS1.
The ESPN Top Rank boxing show had 1.73 million viewers while 870,000 watched Brian Ortega's UFC main-event victory over Cub Swanson. HBO's boxing broadcast of Miguel Roman's stoppage of Orlando Salido finished third with 576,000 viewers when households with two-plus viewers were weighed.
"We're thrilled with our relationship with ESPN and what it's meant to bring boxing to a broader fan base," Top Rank President Todd duBoef said Tuesday. "We're not on an island [on HBO/Showtime] anymore. It's resonating, and we're proud."
Top Rank's relationship with ESPN began in July with Manny Pacquiao's upset loss to Jeff Horn in Australia, which produced the best cable ratings for a boxing match this year. Horn returns to defend his belt on ESPN on Wednesday morning (3:30 Pacific time).
That jump to ESPN has paid dividends thanks to the promotion and lead-in of events like the Heisman Trophy presentation Saturday.
Even with that boost, the Lomachenko fight was ESPN's highest-rated show of Saturday — better than the Heisman and the MLS Cup. Several ESPN executives, including John Skipper, attended the fight.
"There's nothing like ESPN," Arum said. "With all due respect to HBO and Showtime — and let's be honest, they carried boxing for several years because they were the only ones putting it on for decent money — but their lead-ins are, 'Little House on the Prairie,' and [stuff] like that. They're an entertainment network. This [ESPN] is a sports network.
"What about [leading in] with Alabama [football]? Birmingham was the No. 1 highest-rated area in the country for our fight [in Fresno last month]."
In the 18-49 range, the ratings showed Saturday's ESPN card drew 1.234 million viewers compared with the UFC's 414,000 and HBO's 294,000.
"You [reporters] bought into this demographics thing, that young people don't watch boxing," Arum said. "In the light of day, it turns out to be total …."
Twitter: @latimespugmire
---