Roy Jones Jr's friendship with Dana White nets Fight Pass deal, could lead to Silva fight and Russia deal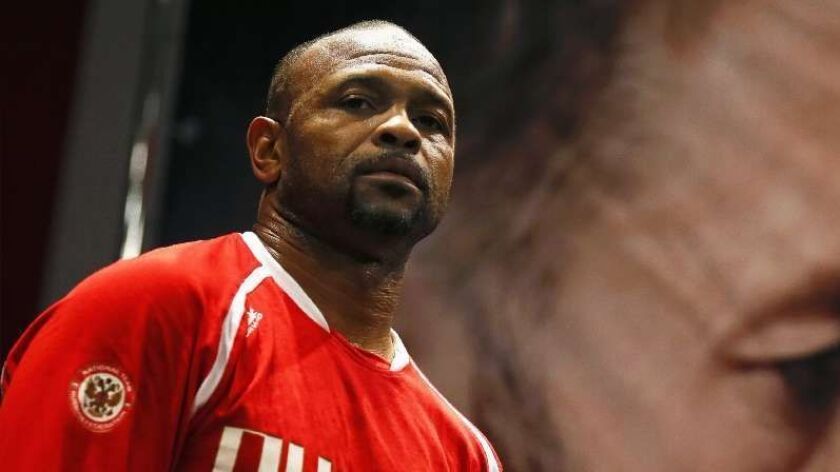 Roy Jones Jr. nearly 25 years ago was preparing for a middleweight world title fight against James Toney in Las Vegas when he met Dana White, who then was nearly a decade from taking over as UFC president.
"We were down in an arcade playing a few games. Yes, I was the man at that time, but he's always remembered me treating him like he was a friend, like he was cool, and he never forgot that," Jones said. "He became who he is now … that's why you should always be careful about how you treat people.
"Because you never know when your lives may cross again. … You reap what you sow. Look what it did for me."
White is doing all he can to help Jones (65-9, 47 KOs) promote a bout the 49-year-old former four-division champion is touting as his goodbye fight — a Feb. 8 cruiserweight bout against Scott Sigmon (30-11-1, 16 KOs) in Jones' hometown of Pensacola, Fla.
Beyond placing the bout on the UFC's subscription streaming service Fight Pass — Jones is expected in the ring around 7 p.m. Pacific that night — the UFC and White hosted a workout/media appearance with Jones on Monday at its Performance Institute in Las Vegas.
Jones is appreciative, and he'd like one more kind gesture from the UFC's boss: a long-asked-for boxing showdown against long-reigning former UFC middleweight champion Anderson Silva.
"That'd be a true boxing match, but it's not even boxing as much as it's an event," Jones said. "An event supersedes anything else, and me and Anderson Silva has been lurking in the wings for some time.
"If you finally have the opportunity to do something you've wanted to do for so long, you'd be a fool not to do it. Because one day, you may not be capable of making it happen."
For now, Jones is saying this is the end, content to close the book on a career certainly bound for induction into the International Boxing Hall of Fame in New York in five years.
"It feels like the time has come to look at other chapters of my life. There are good things to come," said Jones, who also works as an HBO boxing analyst. "This is a good opportunity for me to go out on my own terms, with free will … there's so much beauty in this for me exiting this way. I look forward to that wonderful night."
Many criticized Jones for fighting far too long — 13 years past his final world-title bout — but he speaks without slurred speech and insists his mental faculties are intact.
"That has nothing to do with my departure. I feel as if I'm still fine," Jones said. "I know HBO has concerns about me avoiding injury or getting messed up, because they want me around for another 20 years. But I'm on my own terms, and I love boxing. That's why I'm doing it.
"I want to go out the way I want to go out. There's nobody to prove nothing to."
He said the worst effects of age are knee and ligament injuries, limiting his movement, "letting me know it's time to get out of here, because if I still had my knees, no one could catch me, like before."
Asked if the Silva bout will happen, Jones said, "I don't know. I can't really answer that now. That's why I'm calling this my last boxing match. That's why I'm telling you this is my last one."
He said White has provided no assurance that a Silva match will happen, although the UFC president announced last year he will move into boxing promotion soon.
"We've had to get this done on Fight Pass before we could talk about [Silva]," Jones said. "Hopefully, this goes into something bigger."
Jones could be a helpful advocate to the UFC in Russia considering his friendship after a personal visit with Russia's President Vladimir Putin a few years ago.
The UFC is trying to negotiate into televising a home fight for top-rated lightweight contender Khabib Nurmagomedov (25-0), who will fight for the interim lightweight belt April 7 against Costa Mesa's Tony Ferguson in Brooklyn, and says he'll pursue Conor McGregor after that.
"Of course I could be an intermediary, and I would love to do that … I want to be a part of anything [White] does with boxing or the UFC in Russia," Jones said. "Dana knows I have that relationship, and he already knows I'll do whatever I can to help him."
---
Get the latest on L.A.'s teams in the daily Sports Report newsletter.
You may occasionally receive promotional content from the Los Angeles Times.