UFC 239: Amanda Nunes KOs Holly Holm in first round; Jon Jones wins split decision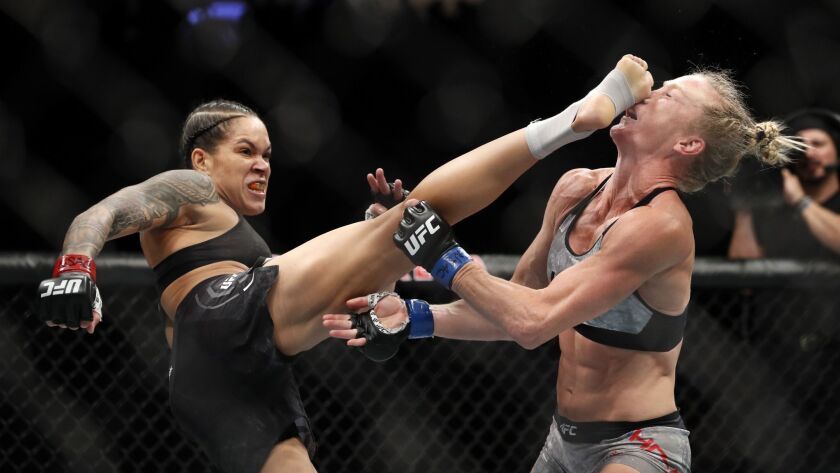 Reporting from las vegas —
Amanda Nunes wasn't always comfortable calling herself the greatest.
Much like her rise to the top of the UFC, it took her some time, but eventually she became comfortable with the reality most everyone already accepted.
"A lot of people kept telling me that I'm the greatest and they send me letters and tell me that when I sign autographs and I have to believe that now," Nunes said Saturday night at UFC 239. "They believe I'm the greatest and I have to believe that too. I am the greatest. Look at what I've done. I deserve everything that has happened in my life."
Nunes (18-4-0) further cemented her legacy as the greatest female fighter in UFC history with a devastating kick to the head to knock out Holly Holm (12-5) at 4:10 of the first round. Nunes is not only the UFC women's bantamweight and featherweight champion, the first female to be a two-division champion, but she also has now defeated everyone who ever held those titles in dominant fashion. She also has scored two victories over flyweight champion Valentina Shevchenko.
"This feels amazing," Nunes said. "People say what happens in Vegas stays in Vegas, but this belt is going home with me. During my warmup, I knew I was going to get her. I told my coaches I wanted to knock her out the same way she knocks people out. I did it tonight. She was the only former champion I didn't beat yet. Now, I beat her and I'm very happy."
Sign up for our daily sports newsletter »
Jon Jones' status as arguably the greatest male UFC fighter survived being taken the distance by Thiago Santos (21-7-0) before claiming a split-decision victory. Many fans at T-Mobile Arena booed the decision.
"Boy, was he tough," Jones (25-1) said. "We all knew Thiago's best chance was to knock me out. I played it smart and brought home this gold for my family and team. He was technically a lot more sound than I thought. Thiago Santos is a black belt in Muay Thai. I'm proud of myself, because I stood with a guy who's been kickboxing way longer than me."
Mike Bell and Derek Cleary scored the fight 48-47 for Jones while Junichiro Kamijo had it 48-47 for Santos. Jones, who tied Georges St-Pierre for the most title fight wins in UFC history (13), had to be helped out of the octagon and back to the locker room after the fight.
"I felt like I was winning, so there was no need to take him down," Jones said. "We were playing a very high-level game of chess in there. Any time you out-kickbox a black belt in Muay Thai, you shouldn't hold your head down. ... He implemented a game plan I think a lot of people have wanted to for a very long time. He did a good job. He exploited a hole in my game that won't be there next time."
It was Jones' third fight and win in seven months, returning him to the consistency he previously enjoyed before an arrest and multiple failed drug tests caused the UFC to strip him of his title three times in nearly three years.
Jones said he would like to fight again in December and three times again in 2020. While many would like to see a trilogy against heavyweight champion Daniel Cormier, Jones isn't sure if he wants to move up in weight just yet.
"I'm going to continue my dominance at light heavyweight and breaking records and when the time is right, I'll try it at heavyweight as well," Jones said. "I just want to remain undefeated [as champion] — that's a goal of mine — and continue dominating the toughest guys in the world."
Nunes hasn't lost in nearly five years, and her era of dominance began three years ago when she defeated Meisha Tate in the first round of UFC 200 to claim the bantamweight championship. Since then she destroyed Ronda Rousey and Cris Cyborg, who previously had been thought of as the greatest, within a minute. Nunes now has the most wins (10), stoppages (eight) and first-round finishes (seven) in the history of the women's bantamweight division. The only problem for Nunes is figuring out who she will fight next after defeating every big-name opponent.
"The rematch with Cyborg is the fight the fans want to see," Nunes said. "We'll see. Cyborg was the most dominant woman on the planet and she wants to prove herself again, but she knows she can't beat me. I'm going to beat her again."
Jorge Masvidal (34-13-0) made UFC history by recording the fastest knockout ever when he connected on a flying knee and dropped Ben Askren (19-1-0) moments after the bell sounded. It was clocked at five seconds, but it was over the moment Masvidal's knee hit Askren's head two seconds into the fight.
"I really wanted to beat him up for 14 minutes and 30 seconds before ending him, but it didn't happen," Masvidal said. "Now it's back to business. I have nothing nice to say about him. He was talking wild and I had to show him there are consequences. You're welcome for ending that dude."
Jan Blachowicz (24-8-0) recovered from a loss to Santos in February with a second-round knockout of Luke Rockhold (16-5-0). Blachowicz dropped Rockhold with a left in the second, following through on his prediction that he would do just that in the lead-up to the fight.
"I saw that left hook in my dreams," Blachowicz said. "I saw it when I visualized the fight. I don't know how many times I watched his fight with Michael Bisping, but I knew I would finish him similarly. I don't believe it yet, but I feel great … I saw everything he was trying to do. It was my night."
Michael Chiesa's struggles to make weight seem like a distant memory now as he looked dominant in his second fight as a welterweight. Since moving from 155 pounds to 170 last year, Chiesa (16-4) submitted former interim welterweight champion Carlos Condit in the second round at UFC 232 and on Saturday he thoroughly dominated Diego Sanchez (29-12-0) in securing a unanimous decision.
"This is my division," Chiesa said. "Top 10 next. I won't accept anything less. I usually have a name in mind, but I don't tonight. I didn't want to look past Diego. I'm going to let the UFC decide, but be ready if you have a number next to your name. This is the weight class I can win a world championship."
---
Get our high school sports newsletter
Prep Rally is devoted to the SoCal high school sports experience, bringing you scores, stories and a behind-the-scenes look at what makes prep sports so popular.
You may occasionally receive promotional content from the Los Angeles Times.