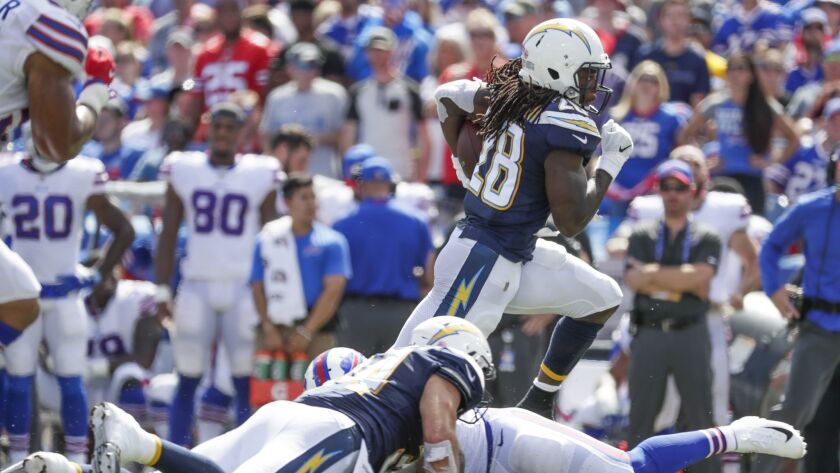 He caught only 22 passes during his college career but not because he didn't have the hands.
Melvin Gordon's team just didn't have the need.
"At Wisconsin, it was handed to him and he'd run through holes like this, you know?" Chargers quarterback Philip Rivers said, holding his hands apart wider than the average doorway. "Why would they throw it to him? They didn't have to."
Now in his fourth NFL season, Gordon is emerging as one the league's top dual threats, a running back with receiver skills.
He leads the Chargers with 15 catches, and only three players at his position have more receptions through two games.
Two of Gordon's catches Sunday in Buffalo went for touchdowns. Entering Monday, no other running back in the league had caught more than one scoring pass.
"I think he's just got to the point where he sees the running back position as a three-down position," Rivers said. "And also, who cares how you get touches? It's not a 25-carry, 150-yard league anymore."
During Week 1, Gordon's 24 touches broke down as 15 rushes and nine receptions. He totaled 166 yards.
Against the Bills, he finished with 15 touches (nine carries, six catches) for 66 yards and three scores.
"It's 16 carries, seven receptions …" Rivers said, speaking generically of the direction in which the running back position has moved. "You see it around the league. … That's what they do. I think he's also embraced that."
Gordon caught 33 passes in his rookie season. After fellow running back Danny Woodhead was injured early in 2016, Gordon assumed more of a receiving role and finished with 41 catches.
His total jumped to 58 last year, and his start suggests he'll easily surpass that number this season.
"Melvin has excellent hands and he's a decent route runner," Chargers coach Anthony Lynn said. "We're trying to get him more involved in the passing game, for sure."
The Chargers have a Pro Bowl receiver in Keenan Allen, who's coming off a 102-catch season.
Still, Lynn explained that Gordon's increasing value in the team's offense means he can be the better option for Rivers on certain plays.
"Sometimes, the best matchup might be him on a linebacker versus Keenan on a corner," Lynn said. "So we have to look at that."
As for his part, Gordon said he is just one piece of a bigger operation moving in the right direction.
"It's just all working," he said. "Everybody's on the same page right now. When everybody's on the same page, you can see the difference."
Nwosu apologizes
Chargers rookie Uchenna Nwosu issued an apology Monday to Buffalo's Taiwan Jones in connection to a frenzied play that resulted in Jones' forehead being bloodied Sunday.
During a fumbled punt return, Jones was attempting to carry the ball out of the end zone when his helmet came off.
Because no whistle was blown, the play continued. As Nwosu converged on a crowd of players, Jones spun and Nwosu hit him.
"My intention is never to hurt anyone," Nwosu's apology read in part. "… I didn't realize that his helmet had come off. My apologies, man."
Lynn indicated that he planned to contact the NFL to ensure that his understanding of the play was accurate.
"I have a pretty good idea what should have happened, but I want to get clarification," he said. "We have open dialogue with the league, just so we know how to coach our guys. A lot happened on that play. I think, in real time, anybody can mess up a call."
Lynn said he appreciated Nwosu's gesture.
"That's nice of him," he said. "I didn't know he did that. … Uchenna was just trying to make a play. He had no idea the helmet came off. The whistle should have been blown."
Etc.
Gordon missed the end of the game Sunday because of what he later described as an "upper-body" issue, though he didn't elaborate. He didn't seem overly concerned.
"He's sore, a little tired," Lynn said Monday. "It was hot. I can't imagine what it felt like playing on that turf in that humidity and heat. He played a heck of a game. He was tired and he should have been."
---