Antonio Gates savors unexpected return to the field with Chargers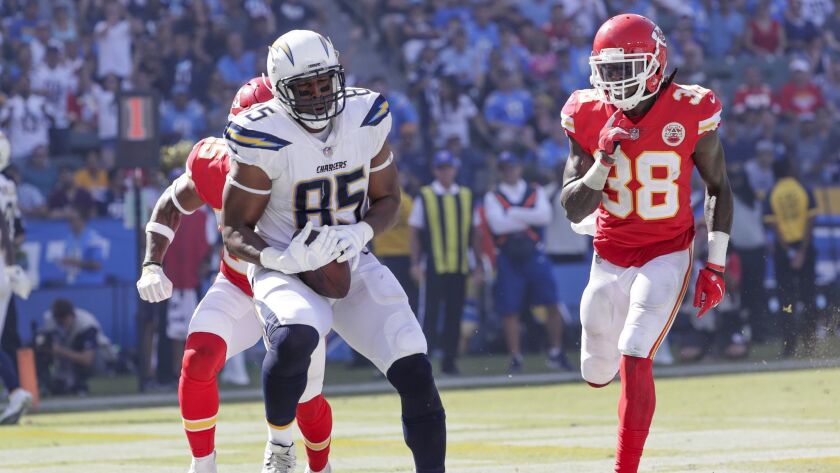 The loss was flustering, painfully self-inflicted and maddeningly familiar, the Chargers falling to Kansas City for the ninth consecutive time.
And there was another feeling in the losing locker room Sunday, hanging right there with the balled-up frustration and ankle tape.
Appreciation. Unmitigated appreciation.
"To be here, to hear the fans again, was just an unbelievable experience," Antonio Gates said. "I think, for the most part, you take it for granted."
Who wouldn't after 15 seasons? After becoming the franchise's all-time pass catcher and the position's all-time touchdown scorer? Who wouldn't get used to the cheers raining down, even from StubHub Center's famously bipartisan seats?
He called the idle time his "mini-retirement," the eight months Gates spent as a non-Charger before re-signing with the team on Labor Day.
He hadn't been anything but a Charger since 2003, six playoff appearances, three head coaches and one franchise relocation ago.
Gates is 38 and already has been told once that he was no longer a part of the team's future.
That was after last season and before starting tight end Hunter Henry was lost to a knee injury.
"Ultimately, when you step away, reality hits you," Gates said. "And [then] you step back into this situation. I think you really understand and respect the opportunity."
He caught three passes against the Chiefs, one for a two-point conversion and the other two for 16 yards. No, he wasn't exactly the king of this homecoming. But there's still no questioning Gates' status as Charger royalty.
He received the loudest ovation during pregame introductions and was encircled by reporters after the game, Gates having just played fewer than half of the team's snaps.
Each of his receptions came during a five-minute stretch of the fourth quarter, as the Chargers frantically attempted to assemble a comeback that, in the end, fizzled in a heap of dropped passes and other blown chances.
Yet, there was no other place Gates would have wanted to be Sunday, the cloudless blue sky falling on the Chargers and all.
"It's like getting something back that you thought was gone forever," said Philip Rivers, whose first completion to Gates came on New Year's Eve 2005. "It was good to have him out there."
The two have connected for scores more often than any quarterback and tight end in NFL history.
Both joked in the days leading up to the Kansas City game that, in a way, it was like Gates never was gone, so familiar are they with one another.
Not surprising, seeing how Rivers and Gates know each other well enough to be absurdly capable of finishing each other's touchdowns.
"I honestly think he has more juice right now than he did at the end of last year," Rivers said, "which makes sense because he was able to be fresh all preseason and all training camp."
Gates said it took him about half the game to find the place where he left off in 2017, when he caught 10 passes for 127 yards over the final two weeks.
There were a couple early missed assignments in the running game. But coach Anthony Lynn said Gates blocked better throughout the afternoon than he had anticipated given the time off.
For a player of renowned Sunday accomplishment, Gates faces the pedestrian burden of having to improve Monday through Saturday.
"I know he's a Hall of Famer, but he's still gotta get some work done," Lynn said. "The more practice he gets the better shape he'll be in. He's just going to be that much better."
Gates likened his experience Sunday to riding a bike, a skill that, once learned, is easily recalled.
Rivers used a bike-riding comparison, too, but went in a completely different direction, equating an NFL season to the Tour de France, another sport where they wear helmets and tight pants.
"There are 16 stages you get," Rivers said. "You make sure you better win your fair share of them. It's a long deal. We're down. We're down after the first phase, and we have a chance in Buffalo to go get a win and go 1-1."
So, it's on to the Bills and Week 2. That's how it works in this league, if you're a rookie or a veteran working on his 16th year, whether your contract is guaranteed or you're playing a season that nearly wasn't.
"I still have a long way to go because I just got back," Gates said. "But my thing is just progress. I'm trying to make progressions every single week."
---
Get the latest on L.A.'s teams in the daily Sports Report newsletter.
You may occasionally receive promotional content from the Los Angeles Times.