Chargers GM Tom Telesco hopes to excel at NFL draft, spreadsheets and all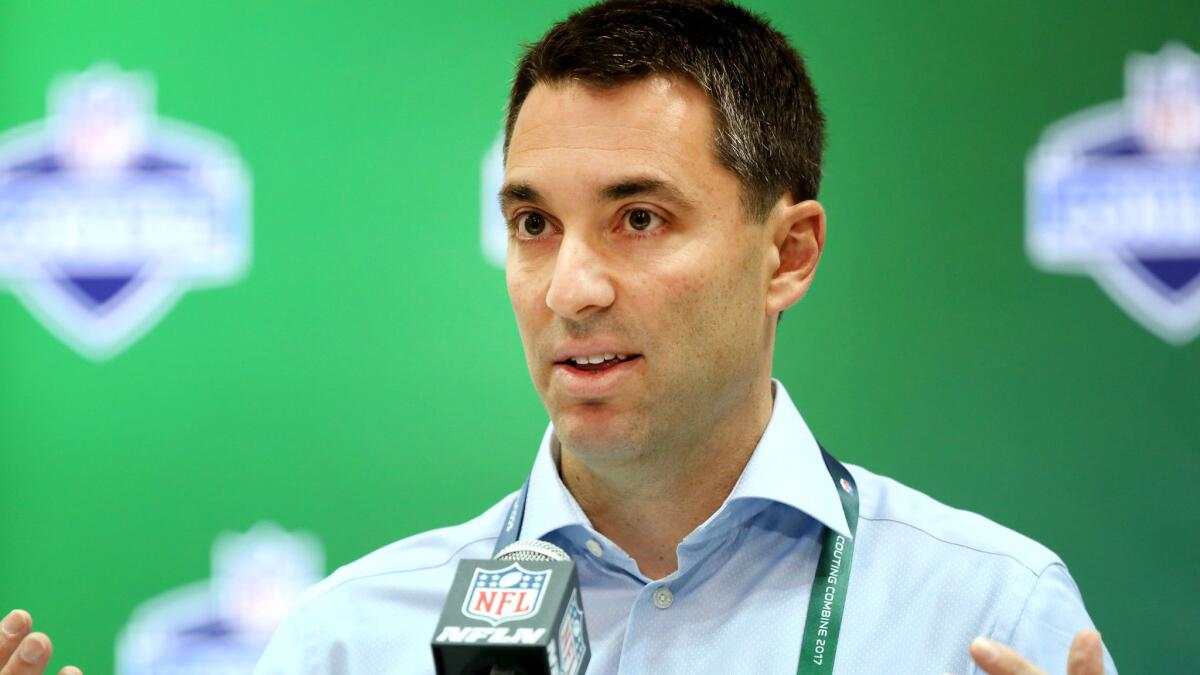 Every NFL general manager needs a system.
In the buildup to the NFL draft, years of in-person scouting, hours of film study and mountains of notes about details large and small need to be distilled down to an easy-to-navigate list, ranking the football players that'll best help your football team.
And if your system is flawed, you'll drown in a flash flood of information.
Luckily for Chargers General Manager Tom Telesco, he's got a sturdy life raft built out of rows and columns.
"I can't exist without Excel," he said.
Telesco was an early adopter of the Microsoft spreadsheet program in the mid-1990s during his time as a scouting assistant with the Carolina Panthers, and he still relies on it today.
Everything can be organized and sorted, tracing the origin of a decision. And if you were to trace the origin of Telesco's path to being the general manager for the Los Angeles Chargers' first draft in their new city, it would point to a tiny college just east of Cleveland.
On the surface it seems strange that Division III John Carroll University would have such a large presence in the modern NFL landscape, considering its schedule is populated with opponents such as Muskingum and Heidelberg.
While the school's enrollment couldn't fill one section in a NFL stadium, plenty of its alumni have prominent roles in the NFL's past and present. The stadium is named after the most famous graduate, Don Shula. Jacksonville Jaguars General Manager Doug Caldwell played for the Blue Streaks, as did longtime NFL assistant coach Greg Roman, New England Patriots offensive coordinator Josh McDaniels and the Patriots director of player personal, Nick Caserio.
So did Telesco, and even as he sees his former teammates strolling around at the league's major events, it doesn't seem too shocking to him.
"It's Division III football with a Division I feel," he said, proudly noting the Blue Streaks reputation for turning out smart, hard-working football minds. "If you play Division III football it's not for a full scholarship. It's because you love it. You've got kids that love football there, who have a passion for it."
And in talking to Telesco, he's most comfortable discussing that love for football.
It began in high school in Buffalo, where he abandoned baseball and basketball after discovering football was his true passion.
It continued to the practice fields at John Carroll, where he played wide receiver and tried to beat Caldwell at the line of scrimmage when working against the scout team.
And, through some good luck, it led to a spot as a scouting assistant with the Carolina Panthers, where Telesco impressed Panthers General Manager Bill Polian with his willingness to do anything the team needed — including a short-lived stint helping out in the weight room.
"Very early on in Carolina, when he was just beginning, it was obvious that he had a great deal going for him," Polian, currently an analyst for ESPN, said. "As time went on, it was clear that he had a grasp of things beyond just what his present job was. He saw the big picture. He understood issues. He was really inquisitive and at the same time, really grasped everything he learned. He was a fast learner. It was obvious."
He learned how to cut and edit game and practice tape. He logged everything. He was one of the first young guys in the office to embrace Excel spreadsheets.
"He had tremendous organizational skills," Caldwell said. "He was always on top of it."
Telesco went with Polian to Indianapolis before eventually becoming the youngest general manager in Charger history.
Now 44, and about to helm his fifth draft, Telesco isn't gloating about picking Joey Bosa last season or Melvin Gordon the year before or Keenan Allen in the third round in 2013. The misses, such as Manti Te'o and Chris Watt, haven't been egregious enough to result in total condemnation, either.
And in this league, draft evaluation for Telesco comes on Sundays in the fall, something Polian always believed as well.
"'Winning' the draft isn't important to him. Whatever Mel Kiper grade he gets, he could care less," Polian said. "What he wants to do is to make sure the draft does what it's supposed to do — to contribute good players to the team that can help you win on Sunday. That's the overarching task. And, that's where his focus is."
By that measure, the past four seasons haven't been good enough.
The Chargers are 27-37 since Telesco's hiring with only one trip to the postseason, three years ago. They've won only nine games over the past two seasons and are about to step foot in Los Angeles, where every win and every loss will help determine the team's place in the city's sports hierarchy.
"It really doesn't make a difference to me," Telesco said about working in a new city.
Whether it was on the tiny field outside of Cleveland, in the offices in Carolina and Indianapolis, or in front of a spreadsheet in his San Diego office, every action has an origin point.
Get the latest on L.A.'s teams in the daily Sports Report newsletter.
You may occasionally receive promotional content from the Los Angeles Times.