Chargers hire former star LaDainian Tomlinson to help win their 'fight for L.A.'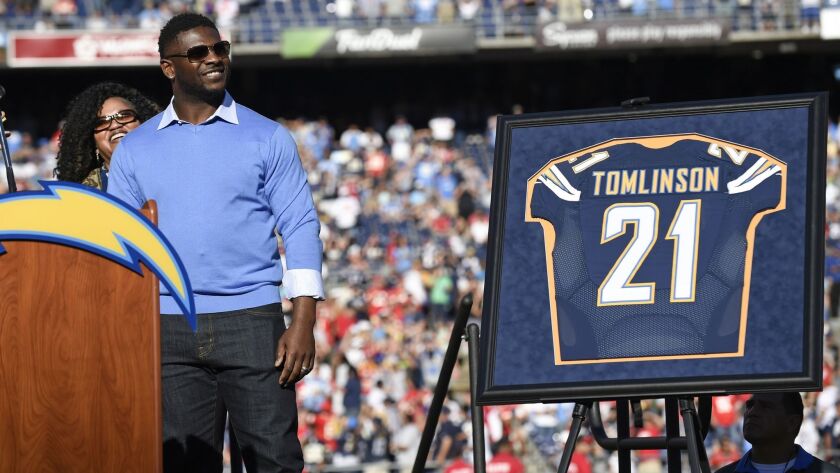 For most of his career, LaDainian Tomlinson ran from challengers, dodging tackles on his way to 13,684 career rushing yards and 162 touchdowns.
But, as of Thursday, Tomlinson will take on a massive challenge head on — no jukes, no spins and no stutter steps.
The Chargers will name Tomlinson special assistant to the owner, a job in which he'll be asked to play a pivotal role in the community as the team he starred for transitions from San Diego to Los Angeles.
The move will be announced officially Thursday.
"I share the Chargers' commitment to fight for Los Angeles," Tomlinson said in a statement to The Times. "Alex Spanos created a legacy of devotion to the community, and Dean Spanos and his family have faithfully continued that tradition.
"I'm eager to help guide the Chargers' efforts to contribute in important and lasting ways to the Greater Los Angeles area."
Tomlinson will be inducted into the Pro Football Hall of Fame this summer after a stellar career in which he set 28 franchise records in nine years for the Chargers. He rushed for more than 1,000 yards in all but his last season in San Diego, and set a league record with 28 rushing touchdowns in 2006.
In an interview with the Fort Worth Star-Telegram after the team announced its move to Los Angeles, Tomlinson offered a "silver lining" to Chargers fans in San Diego.
"You still have the opportunity to support your team," he said. "You know, they're only an hour and a half up the coast."
His support of the team's move angered some fans in San Diego. The Chargers hope this hire helps them cultivate new ones in their new home.
"L.T. has always been all about service to the community, ever since the first day he came to the Chargers," Chairman Dean Spanos said in a statement to The Times. "I'm thrilled L.T. will now play an essential role with the Los Angeles Chargers to help us win our fight for L.A. by helping us determine how we can best play a worthwhile role in the many neighborhoods that make up our new home."
Twitter: @DanWoikeSports
ALSO
New Chargers Coach Anthony Lynn is ready to ground and pound with Melvin Gordon and others
Chargers have sold out of season tickets for games at StubHub Center in 2017
After the Rams, Chargers and Raiders, what's the NFL's next move?
---
Get the latest on L.A.'s teams in the daily Sports Report newsletter.
You may occasionally receive promotional content from the Los Angeles Times.