Will Chargers' Hunter Henry play against New England? 'We'll see,' he says with a smile
Hunter Henry said he will board the Chargers' flight for Boston on Friday afternoon with the mindset that he is playing in Sunday's AFC divisional playoff game against the New England Patriots, but the team still listed the tight end as "questionable" after Friday's practice.
Henry, who established himself as one of the NFL's best young tight ends in 2016 and 2017, is trying to make the improbable transition from supposedly season-ending knee surgery in June to the physically-unable-to- perform list all season to playoff performer on Sunday.
He was placed on the active roster and returned to practice last week but was not activated for last Sunday's AFC wild-card playoff win at Baltimore.
"I wanted to be out there with the guys, especially being away that long and being that close and not being able to be out there — it was definitely frustrating," Henry said. "But I just continued to go back to work and get ready for this week."
Coach Anthony Lynn said the Chargers will decide on Saturday whether Henry will play in Gillette Stadium.
"I think he got better as the week went on," Lynn said, "but we have to step back, look at some more tape and just make sure he's right."
Henry said his knee feels good and that he is "not really concerned" about not participating in a padded practice.
"I'm ready to go," Henry said. "I've done it my whole life. It will be different, but once I get a hit out of the way, I'll be good."
Asked if he was playing on Sunday, Henry said, with a big smile, "We'll see."
Henry caught 36 passes for 478 yards and eight touchdowns as a rookie in 2016 and 45 passes for 579 yards and four touchdowns in 2017. He is also a reliable blocker.
He was expected to sit out the entire 2018 season after tearing the anterior cruciate ligament in his right knee in May, but he remained ahead of schedule in his rehabilitation throughout the fall and resumed practice on Dec. 17.
"It was a long, long journey," Henry said. "There's lots of highs and lows. We've had guys who have gone through it on this team, so I was able to talk to them, kind of build some feedback from there on how to go about the process.
"I think the hardest part was being away from everybody, especially with the success the team has had. I was so happy for everybody on the team, but just being away from it for so long, being away from the guys, that's probably the hardest part."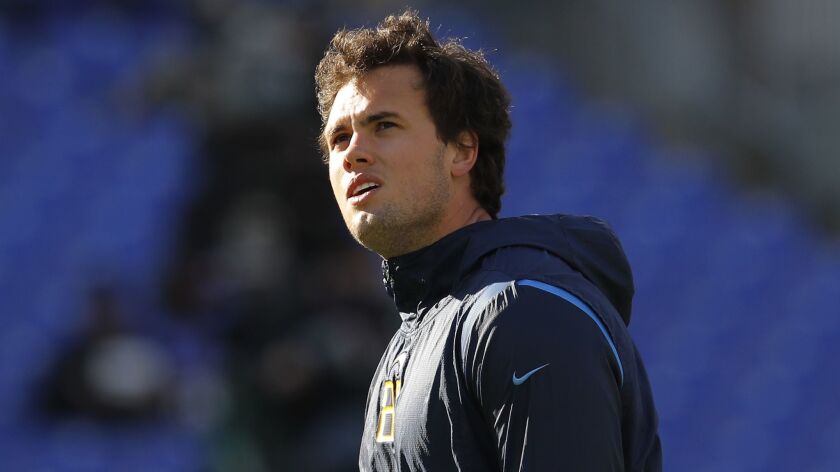 Lynn said Henry would be on a "pitch count" if he plays against the Patriots. Offensive coordinator Ken Whisenhunt said he wouldn't expect Henry, who has not played since Dec. 16, 2017, to simply pick up where he left off.
"I don't know that you can say after having been off for this whole time that you can go right into a game and say, 'same old Hunter,' but if there was somebody that could do that, he could be the guy," Whisenhunt said. "I tell you what, you just have so much respect for how hard he's worked to get back.
"You can tell and you can see it out the practice field. He loves the game. So whatever happens, I hope the best for him because of how hard he's worked. [I hope] he gets the opportunity to do it."
Twitter: @MikeDiGiovanna
---
Get the latest on L.A.'s teams in the daily Sports Report newsletter.
You may occasionally receive promotional content from the Los Angeles Times.