Chargers rookie Michael Davis went undrafted, but not unnoticed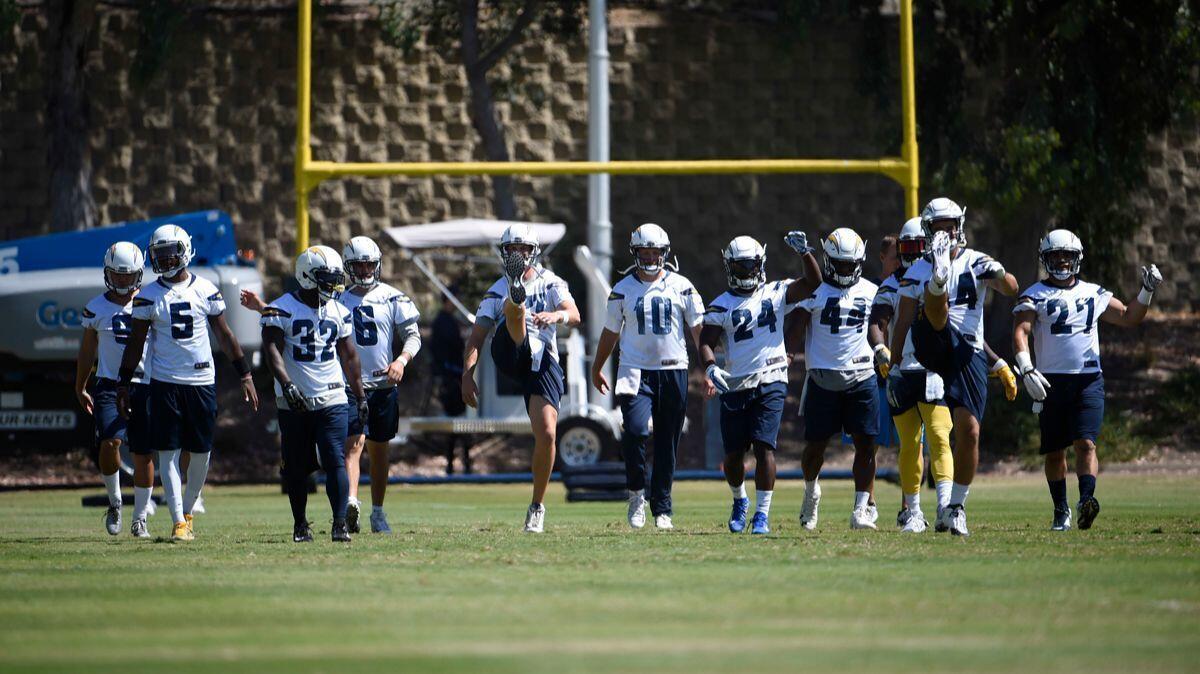 The white food tent near the perimeter of the Chargers' practice field in San Diego would seduce the nostrils and, in turn, the stomachs of the team's players.
And after a morning workout under the California sun, its powers would only grow stronger.
But while most of his teammates had exited the field earlier this month after one of the Chargers' last organized workouts of the offseason, undrafted rookie defensive back Michael Davis fought off the temptation to replace the calories he'd burned between the lines.
Davis and a few teammates wanted extra work, polishing up technique and trying to get a better grasp of the system. With no guarantees that he'll have a job this fall, every moment counts.
"My mom just told me to come here every day and try hard, and anything can happen," Davis said.
Injuries happened. Opportunities happened. Reps with the first string happened.
It's how players such as Davis end up catching a coach's eye.
After not hearing his name called during the seven-round NFL draft, Davis agreed to a free-agent deal with the Chargers in April, putting an end to a torturous few days.
While graduation from Brigham Young helped distract him during the early rounds, word trickled in from teams that his wait could be ending soon.
"Teams were calling me telling me, 'Michael, you need to stay by the phone. Be next to the phone. Your time is coming up,' " he said. "As every round passed by and it got to the seventh round, my name still hadn't been called."
Considering his senior season at BYU, the silence made sense.
Davis lost playing time to younger defensive backs, leading to postings on BYU message boards wondering "what's the deal?" People wondered if maybe it was because of injuries. Or maybe it was a lack of ball skills — he only had one career interception — or suspect tackling.
On-field struggles for Davis, who was an all-area receiver and track star at Glendale High, didn't change some obvious truths. He was still blazingly fast, and that can't be taught. He was still tall, 6 feet 2, at that can't be taught either.
He ran 40 yards in under 4.40 seconds at his pro day in Provo, Utah, according to the local papers, giving him some hope his phone would ring. And, after seven rounds in the draft, it finally did.
The Chargers, who had brought Davis to San Diego for a visit with coach Anthony Lynn and other staffers, wanted to offer him a deal to bring him to training camp.
"Let's make this happen," Davis thought.
It didn't take Davis long to get noticed by his new coaches. Early in the team's offseason schedule, Lynn singled out Davis as a pleasant surprise. Defensive coordinator Gus Bradley, who has traditionally coveted cornerbacks with size and speed, also noticed those attributes.
"I think there's a couple of things. One, he's got length. That helps. And then he's very fast. He's got really good speed," Bradley said. "Those two traits — obviously, there's others — but those two traits for him stand out. And he utilizes his length."
Davis was able to work his way into reps with the first string, thanks to the absences of Casey Hayward (ankle) and Jason Verrett (knee). He worked on the outside in three-cornerback situations.
"I've been given the opportunity," he said. "Now, I just have to seize it and play. You can't worry about the outside. You can't worry about getting beat, over-thinking things."
The results were mixed.
"He's done good; a little bit inconsistent," Bradley said. "You see really good flashes, and then the next day he might get humbled a little bit. And then, the next day, he comes back. So the inconsistency. … But as coaches, this time of the year you're looking for skill sets, and those flashes. Let's build on that.
"I think training camp will be big, just to see how far he comes with it."
Making an NFL roster as an undrafted free agent is not an impossibility. Before the 2016 season, there were more undrafted players on NFL teams than ones who were picked in the first and second rounds.
Opportunities, undeniable physical traits, system fits, and ultimately talent can work in a rookie's favor, and Davis has positioned himself to stay on the field longer than maybe even he expected.
"First coming here, I didn't really think I had [a chance] to be running with the [first string] because we have so many corners and some vets," Davis said. "But I just put my head down and worked hard, and I guess it showed. "
Twitter: @DanWoikeSports
Get the latest on L.A.'s teams in the daily Sports Report newsletter.
You may occasionally receive promotional content from the Los Angeles Times.