Chargers receiver Mike Williams works on finding his comfort zone during rocky rookie season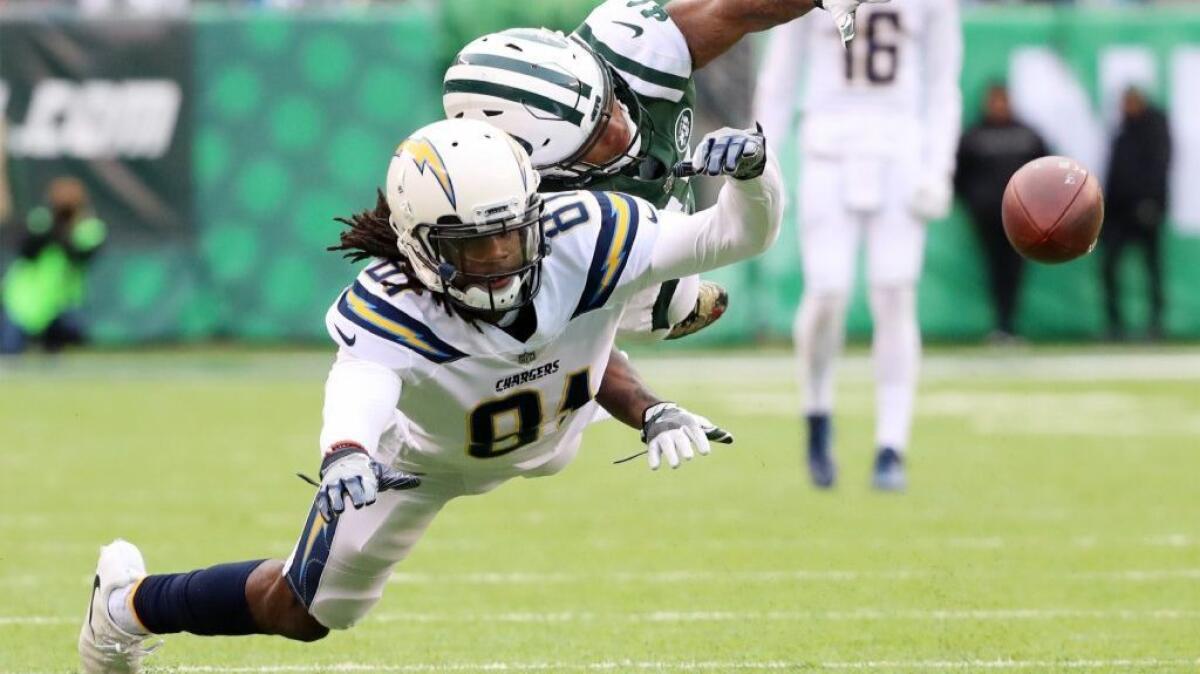 "Now this looks like the kind of receiver Philip Rivers will love."
That was the sentiment of NFL draft evaluators after the newly relocated Los Angeles Chargers selected Mike Williams, wide receiver from Clemson, with the No. 7 overall pick.
Williams was coming off a highly productive season at Clemson, one in which he caught nearly 100 passes while helping his team win a national championship.
Cut from a similar cloth as former Rivers favorites like Vincent Jackson and Malcom Floyd, Williams was going to be the next Charger to dominate smaller cornerbacks, to use his size, speed and strength to win the "50-50 balls" Rivers would heave down the field.
But 16 weeks into his first season as a professional, those expectations have gone almost completely unrealized.
"I feel like I'm comfortable, but I just need more time to gain trust from the staff and the quarterbacks I guess," Williams said. "That's what it is."
But time is a limited resource in the NFL for No. 4 wide receivers — no one has time to wait for Williams to catch up.
Injuries have limited him to nine games. Only 22 passes have been thrown his way, and he's only caught 10. Last week in New York, he dropped two.
His season has been as stop-and-start as rush hour traffic on the 405 Freeway. A back injury cost him the summer and the early part of the season. Then just as he was settling in, a knee injury cost him even more time.
"I can't say that he's 100% confident in what he's doing," Chargers coach Anthony Lynn said.
His teammates are convinced he's still going to be a special player.
Wide receiver Travis Benjamin said the players inside the receivers room are invested in Williams' future.
"It can be tough but the special thing about Mike and this receivers group is we have guys like myself and Keenan [Allen] who have been through injuries early in our careers. We know what it takes to come back and continue to play," Benjamin said. "And, he's young. When the opportunity comes your way, you have to take advantage of the opportunity and continue to play and continue to have trust."
Right now, the opportunities are sparse and Williams isn't comfortable or confident when they come.
"That's probably the biggest difference. I come out at Clemson and drop two balls, I still will get 10 more thrown my way and catch the rest of them. Here, I get limited opportunities so I've got to let every opportunity count," Williams said. "I mean, you drop one here and you don't get another opportunity the rest of the game."
Williams isn't pouting. He's excited for a full offseason of work with Rivers to establish timing and comfort. And while he's struggled, the team could find itself in the playoffs after Sunday's game against Oakland.
"We're winning. I'm happy. That's the main thing," he said. "We need the win to make the playoffs, and I'm excited to go out there and get this win and see where it takes us after this."
Benjamin said Williams just has to stay on track and trust that things will work out if he controls what he can control.
"We always push each other up and make sure we're in good spirits," he said. "Just stay with it. You do what you've got to do to get healthy, do what you've got to do to be productive around the field. He's got guys around him who want to help him. We all help each other. "
Maybe that support will help Williams earn Rivers' trust. Maybe it'll help Lynn and offensive coordinator Ken Whisenhunt put more on his plate.
Ultimately, that's what Williams thinks will help get him on track.
"I feel like I need that. I need a game where I go out there, have fun, get the ball," he said. "I feel like I'd be more relaxed after that."
Etc.
Defensive coordinator Gus Bradley, who is reportedly on a one-year contract with the Chargers, has been mentioned as a candidate for the head coaching vacancies that are expected to be created next week. Bradley spent almost four years as Jacksonville's head coach, guiding the Jaguars to a 14-48 record before being fired in December 2016, but his work with a stout Chargers defense has rejuvenated his career. "I'd love to see Gus get another job, but we'd love to have him here, too," Lynn said. "I think it's very important to keep him around." … Melvin Gordon, who injured his ankle last Sunday against the Jets, was a limited participant in practice Thursday, fueling hope that the running back will be able to play against Oakland. Safety Adrian Phillips remained sidelined by an ankle injury, and tight end Antonio Gates did not practice because of an illness. Center Spencer Pulley (knee) went from a limited participant Wednesday to a full participant Thursday.
Times staff writer Mike DiGiovanna contributed to this report.
Twitter: @DanWoikeSports
Get the latest on L.A.'s teams in the daily Sports Report newsletter.
You may occasionally receive promotional content from the Los Angeles Times.