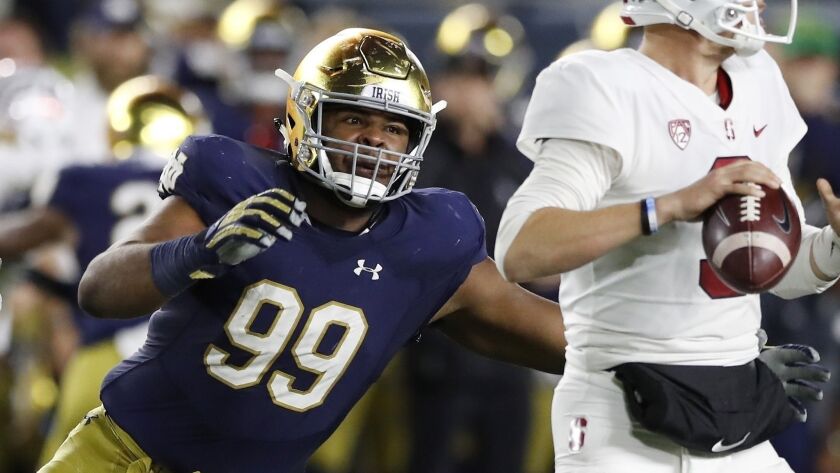 In an attempt to expand the limits of their defense, the Chargers drafted a player whose limits are so expanded that some observers have questioned his commitment to football.
With the 28th pick of the first round Thursday, the team selected Jerry Tillery, a defensive lineman from Notre Dame and a student of the world.
Tillery, 22, has traveled extensively, studied for a time in Japan and, as a child, would watch tapes of C-SPAN because he found the goings-on fascinating.
He already has graduated with a degree in economics. He has practiced yoga with Notre Dame's president and with Brian Kelly, the Fighting Irish's coach. He once did a hedge fund internship in Ireland.
All of which has resulted in the belief among some people that Tillery just isn't focused enough on football.
"I think that's ridiculous," he said. "People who say these things, they don't know. They don't know Jerry Tillery. They haven't seen me working in practice. They don't know everything that I've put in to what I do. I'm going to show them. I going to show them pretty soon."
Listed at 6-foot-7, 295 pounds, Tillery caught the Chargers' attention because of his combination of size and athletic ability. General manager Tom Telesco noted Tillery's flexibility and speed.
He projects as a defensive tackle who can provide a pass rush up the middle, something the Chargers hope will help edge rushers Joey Bosa and Melvin Ingram and shrink the pocket on opposing quarterbacks.
"A solid first-round player," Telesco said. "You don't always get that with the 28th pick. … He's a gifted man at that size."
Last season, Tillery had seven sacks, forced three fumbles and blocked two kicks. He had four sacks and a forced fumble in a September win over Stanford. As a junior, he totaled 56 tackles, including nine for losses.
In that victory over the Cardinal last fall, Tillery suffered a torn labrum in his right shoulder. He finished the season anyway and then had surgery on March 6.
He said a re-examination last week confirmed he remains ahead of schedule in terms of strength and range of motion. He indicated that he would be OK for the start of training camp in late July.
"I fully plan and expect to be ready to compete by then," Tillery said.
The Chargers began Thursday with only three interior defensive linemen — Brandon Mebane, Justin Jones and T.Y. McGill — on their roster. Veterans Corey Liuget and Damion Square remain free agents.
Mebane is one of the team's starters and, of Jones, Telesco said, he "is a starting defensive tackle in this league. We feel very good about him."
Telesco said Tillery will provide immediate depth at tackle and also could play some snaps at end.
"He has some inside pass-rush ability," Telesco said. "That really jumped off the tape to us, his movement skills for such a big man. It's nice getting somebody inside with some length and size to try and push that pocket a little bit."
Tillery, who is from Shreveport, La., was vacationing in Maui when the Chargers selected him. He said he went into the day with no expectations about whether or not he'd be drafted in the first round.
When the call did come, he said he felt that his four seasons at Notre Dame and all the effort he has invested had been rewarded.
"A whole college career coming to fruition at that moment," Tillery said. "This is what I wanted. This is what I wanted to be. This is what I wanted to do. To find out I'm going to get to do it in L.A., I could not be happier."
As for the eclectic nature of the newest Charger, Telesco explained he has no concerns about Tillery's life beyond football.
"He's a very smart person," Telesco said. "He has interests off the field. We don't shy away from that. I don't mind players having other interests off the field.
"All these guys, they play football right now for their careers. But football doesn't last forever, either. He loves to play the game. He loves football. He knows this is his primary job."
Sign up for our daily sports newsletter »
Jerry Tillery, defensive tackle
6 feet 6, 295 pounds, Notre Dame, Round 1, Pick 28
Notable: Tillery had shoulder surgery in early March but reports have indicated he is ahead of schedule in his rehabilitation and is expected to be ready for full activities in early July.
Last season: In 12 games with the Irish, Tillery had seven sacks and 8.5 tackles for loss. He finished with 28 total tackles. The year before, as a junior, he had 56 total tackles.
Why the Chargers drafted him: Defensive tackle was one of the team's biggest needs entering the draft. Brandon Mebane, Justin Jones and T.Y. McGill were the only interior defensive linemen on the roster. Corey Liuget and Damion Square both remain free agents. In the Chargers' defensive front, Tillery will be reunited with Isaac Rochell, his former Notre Dame teammate.
Twitter: @JeffMillerLAT
---