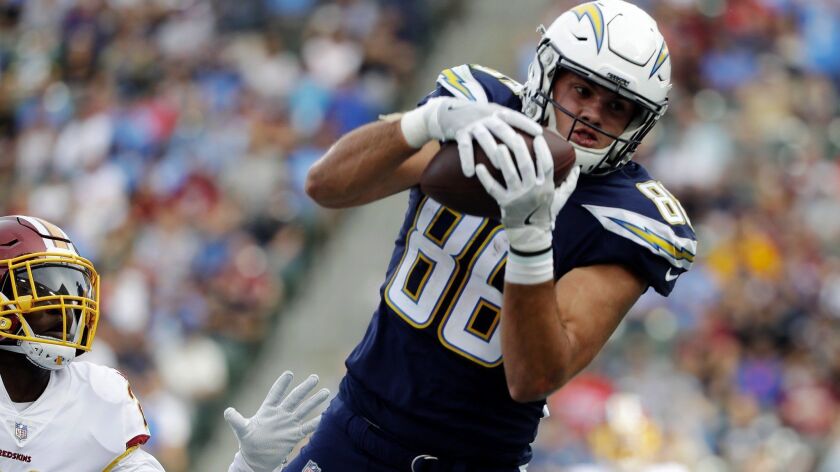 As the Chargers prepare for the NFL draft, The Times will examine their roster. Part 6 of 8: Receivers.
He had one of the longest seasons among the Chargers, and Hunter Henry appeared in only one game — and even then for a relatively short time.
The tight end was on the field for 14 snaps in the team's 41-28 AFC divisional round playoff loss at New England in January.
What was long was the road Henry traveled to reach that single afternoon. He ground through months of rehabilitation after suffering a torn anterior cruciate ligament in May.
"It taught me a lot," Henry said of his nearly completely lost season. "Just patience, just how to really grow and just who I am and what everything was about … I'm really excited to get back out here."
He was coming off a season in which he caught 45 passes for 579 yards. In his first two years in the NFL, Henry totaled 12 touchdowns.
Then he went down during the first official day of organized team activities, bringing to a halt what was building as a story of growth and promise.
It took the Chargers advancing to the second round of the playoffs for Henry to have enough time to make it back. Now, even for just those 14 snaps, he's glad he appeared in that game.
"It was definitely big," Henry said. "It was good for just my spirits, kind of pushing me this offseason, too."
This week, he pronounced himself to be 100% back and facing zero limitations as the Chargers initiated their offseason program.
A healthy Henry in 2019 would give quarterback Philip Rivers another target — particularly in the red zone — and remind Chargers fans what their team was missing last season.
Under contract for 2019: Wide receiver Keenan Allen ($12.15 million), wide receiver Travis Benjamin ($6.5 million), wide receiver Mike Williams ($5,386,379), tight end Virgil Green ($3.3 million), tight end Henry ($2,030,098), wide receiver Geremy Davis ($730,000), tight end Sean Culkin ($649,000), tight end Vince Mayle ($645,000), wide receiver Dylan Cantrell ($570,000), wide receiver Andre Patton ($495,000), wide receiver Artavis Scott ($495,000), tight end Austin Roberts ($495,000), wide receiver Justice Liggins ($495,000).
Free agents: The Chargers have maintained that they remain open to bringing back tight end Antonio Gates, although his desire to continue playing seems greater than the chances of him returning to the team. He has spent his entire 16-year career with the Chargers and caught 28 passes for 333 yards and two touchdowns in 2018.
Draft: One of the most recent mock drafts had the Chargers selecting Iowa tight end Noah Fant in the first round. Given the return of Henry and the presence of veteran Virgil Green, the Fant move would seem farfetched, although the number of moving roster parts leaguewide right now makes ruling out anything almost impossible.
Roster decisions: Deep-threat wide receiver Tyrell Williams was lost to Oakland in free agency, something the Chargers figured was likely given their tight cap space. To help fill that void, the team would love to see Travis Benjamin bounce back from an injury marred season and look more like the guy who caught 68 passes for 966 yards in 2015.
NEXT: Quarterbacks.
Sign up for our daily sports newsletter »
Twitter: @JeffMillerLAT
---