Chargers aren't facing just Patriots in playoffs, they're staring down history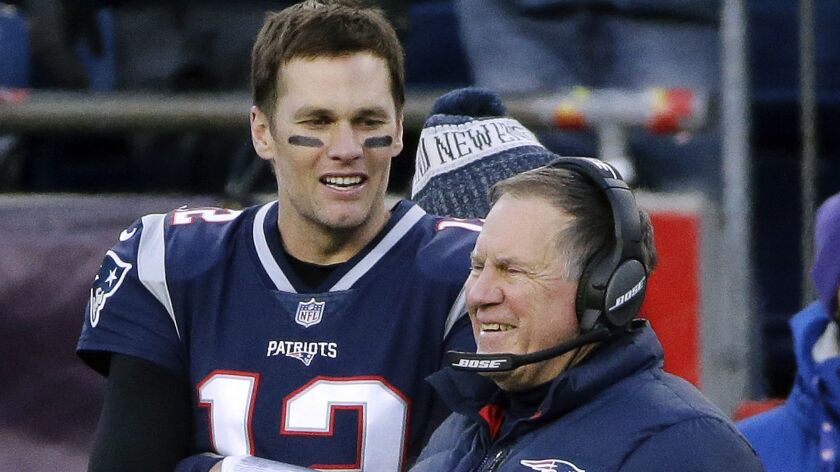 Reporting from foxborough, mass. —
It's bad enough to be facing Brady and Belichick and Gronk and an uninviting Gillette Stadium, in which the New England Patriots have won this type of game nearly nine of out every 10 times.
Even more worrisome, the Chargers on Sunday will be matched against a Patriots history so rich with rings that this is how far the franchise has come: In his first Super Bowl start, Tom Brady was a 14-point underdog.
No, seriously. The greatest ever and his New England teammates were getting a full two touchdowns entering Super Bowl XXXVI. Then they beat the St. Louis Rams 20-17.
Four more championships later, it's hard to remember Brady ever being anything but the favorite, season in and season out, from an unlikely goal-line interception to an impossible 25-point deficit, from inflated expectations to deflated footballs.
That's what the Chargers are up against when they meet the Patriots on New England's unfriendly and frosty turf with a spot in the AFC championship game going to the winner.
Brady has 27 playoff victories. Philip Rivers has five. Bill Belichick has coached 39 playoff games. Anthony Lynn has coached one.
The Chargers have invested more than half a century into the pursuit of their first Super Bowl title. The Patriots are trying to win their third in five years.
The challenge could be considered daunting to the point of being a downer. Unless none of this is even considered at all.
"We don't have to overcome the mystique," Lynn said. "The mystique is not going to win on Sunday."
Yes, for the Chargers, this game is much simpler, matching the reigning AFC East winners against the conference's current top wild-card team. It is being played in 2019, not in retrospect.
They just visited here last season and didn't play well, were dominated for stretches, had too many penalties and the game's only turnover and still lost by just a single possession.
The Chargers know all the things the Patriots have accomplished. They praised Brady over the past week for everything but his smile. And they insist the past will be as relevant to the outcome of this game as one of Belichick's hoodies.
"This is the NFL," defensive lineman Isaac Rochell said. "Everywhere you look, you're going to see big names. And we were in New England last year. It's not like I've never seen Tom Brady before."
Still, the test will be the steepest yet for a team that so far has not wavered when playing outside of Southern California.
The Chargers are 9-0 away from their home market, their performance one-sided enough to generate its own slogan: ASAP — Any Squad, Any Place.
Sure, the campaign might sound a little silly. But remember how the Philadelphia Eagles looked wearing dog masks a year ago.
"We do special things on the road," defensive lineman Damion Square said. "That's fact. That's not an opinion."
This one would be extra special. The Patriots haven't lost at home since Oct. 1, 2017, against Carolina. They haven't lost at home in the playoffs since Jan. 20, 2013, against Baltimore.
At Gillette Stadium, they've won 15 in a row overall and eight straight in the postseason.
With Brady starting at quarterback, New England has won 19 of 22 playoff games here.
"These guys are a very good team," left tackle Russell Okung said. "But history doesn't win games. As much experience as they have — and I respect what they've been able to put together — I respect what we're doing, too."
The Chargers are trying to reach the AFC title game for just the second time since the franchise dropped its lone Super Bowl appearance following the 1994 season.
Rivers was here 11 years ago and, playing on a torn knee ligament, lost to Brady and the Patriots 21-12 to end up a step short of reaching the Super Bowl.
At 37, this could be his last best chance, the Chargers about to become the first visiting team to face New England in the playoffs as something less than a six-point underdog since 2010.
"Let's not say, 'Hey, we have to play a perfect game,'" Rivers said. "No, let's just play. We're going to miss some throws, miss some tackles. We're not going to play perfect because we haven't all year. But attention to detail, have fun, play how we've always played. That's when we play our best."
These Patriots are being portrayed as one of the vulnerable versions of the Brady era.
They lost as many as five games during the regular season for the first time since 2009. Tight end Rob Gronkowski scored just three touchdowns, matching his career low. They had only two Pro Bowlers, five fewer than the Chargers.
But this is still New England. And it's still January.
And it's still daunting. Unless it's not.
"We're playing the 2018 Patriots," safety Jahleel Addae said. "Nobody else."
Twitter: @JeffMillerLAT
---
Get the latest on L.A.'s teams in the daily Sports Report newsletter.
You may occasionally receive promotional content from the Los Angeles Times.