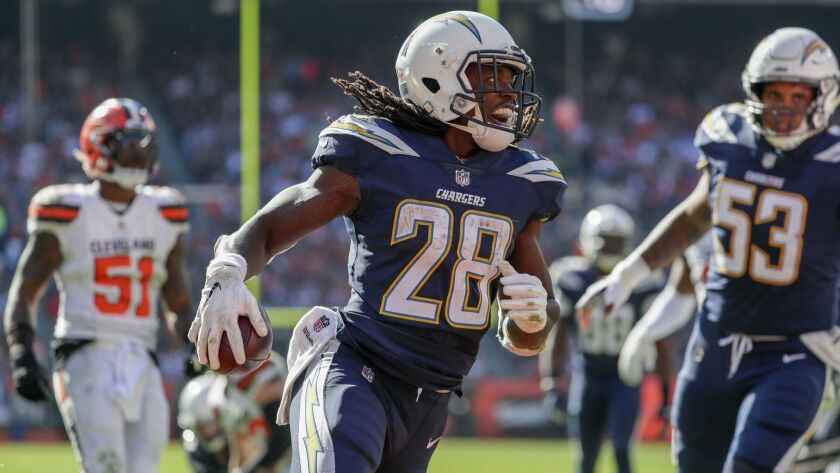 As with his teammates, Melvin Gordon endured the flight from Cleveland to London for the Chargers game against Tennessee at Wembley Stadium.
Unlike his teammates, he wasn't rewarded with the opportunity to participate.
"You get all the way out there, you want to play in front of those fans," Gordon said Thursday. "I was excited. I've been wanting to play in London for a while. Then to get out there …"
It might have been the long flight or dehydration or something he did in practice. Gordon wasn't entirely enlightening when asked how he injured his hamstring, the ailment that knocked him out of the Chargers' most recent game a couple hours before kickoff.
The running back was no more specific when he declared the injury was the result of "a little bit of everything."
Gordon also wasn't terribly forthcoming regarding his chances of playing in the Chargers' next game, Sunday at Seattle.
"We'll see," he answered when asked specifically about his availability. Earlier, Gordon did say he was "happy with the opportunity to go back out there this week and make it happen again."
For the second consecutive day, the Chargers listed Gordon as a limited participant in practice. The team doesn't have to designate an exact playing status until Friday.
Without Gordon, the Chargers were limited to 47 yards on 16 carries in their 20-19 victory over the Titans on Oct. 21. The week before, in a 38-14 win at Cleveland, he rushed for 132 yards and three touchdowns.
The Chargers were off last week, giving Gordon extra time to heal.
He tested the hamstring on the field before the game against Tennessee but quickly realized he would be unable to play.
"Thought it was best to chill," Gordon explained.
If Gordon isn't available Sunday, Austin Ekeler again would assume a more prominent role.
Ekeler rushed 12 times for 42 yards and caught five passes for 26 yards against the Titans.
Super reunion
Brandon Mebane and Russell Okung won a Super Bowl with the Seahawks in February 2014.
On Sunday, the two linemen will return to face the Seahawks for the first time in the regular season.
"It probably will be [strange], but I think I'm used to it," Mebane said about being a Charger. "Now, if you would have said that my first [season here] I would have probably been like, 'Yeah.' But now it's like I've forgotten about it. It's in the past."
Mebane, who joined the Chargers before the 2016 season, said he hasn't been to Seattle since attending K.J. Wright's wedding in 2017. Wright is a linebacker for the Seahawks and one of Mebane's former teammates.
These franchises haven't met in the regular season since Sept. 14, 2014, a game the Chargers won 30-21 in San Diego.
The Chargers' most recent visit to Seattle came in the 2010 season.
CenturyLink Field is famous for its noisy and chaotic environment. The Seahawks fans have become known as the 12th Man because of their passionate engagement.
Chargers coach Anthony Lynn called the stadium "the loudest place I've ever played."
Lynn was Buffalo's offensive coordinator in 2016 when the Bills lost 31-25 in CenturyLink. It was so loud that he said he remembers quarterback Tyrod Taylor struggling to hear the plays being called through the headset.
"When I was there," Mebane said, "there were times where I think we made a lot of plays just because of the crowd, the environment."
200 club
Quarterback Philip Rivers will start his 200th consecutive NFL game Sunday. He'll become the 10th player to do so since 1970.
Then again, Gordon suggested Thursday that Rivers isn't playing football at all.
"He's out there playing chess," Gordon said. "When you're a master at playing chess, you know what moves are being made before they're made. It's kind of hard for people to beat you."
Etc.
Mebane on containing Seahawks quarterback Russell Wilson: "Keep your eyes on his hips. He can try to shake you. … Whenever you have somebody that shakes, it's mostly the upper-body movement. You key in on the hips."… At 5-2, the Chargers are attempting to start 6-2 for the first time since 2006. … The Chargers' all-time record: 440-440-11.
Twitter: @JeffMillerLAT
---