Chargers report: Caleb Sturgis is back and so is poor kicking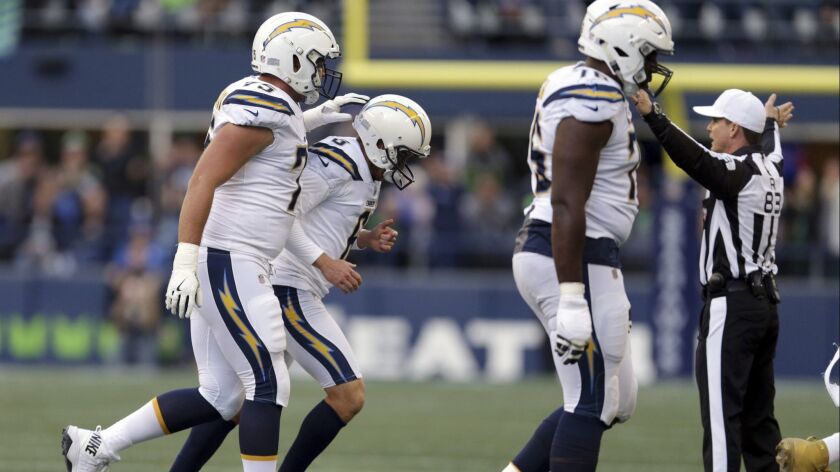 Reporting from seattle —
They tried to be supportive, but the Chargers understand the gravity of the situation.
On Sunday, that gravity weighed heavily on the shoulders of Caleb Sturgis.
The kicker missed two more extra-point attempts and a 42-yard field-goal try, forcing the Chargers to make a last-play defensive stand to hold on for a 25-17 victory over Seattle.
"In reality, there's no chance for the Seahawks to win that or to make a run in OT if he makes one of those PATs," running back Melvin Gordon said. "It's part of the game. Hopefully, he can regroup and get it together."
It might be too late for Sturgis. The veteran has missed six extra-point tries and is nine for 15. He is nine for 13 on field-goal attempts.
In March, Sturgis signed a two-year, $4.45-million contract after sitting out nearly all of 2017 with Philadelphia because of a hip injury.
A quadriceps problem knocked him out of consecutive games before Sunday, with rookie Michael Badgley filling in.
Badgley was seven for seven on extra-point kicks and three for three on field-goal tries in Sturgis' absence, though his kickoffs were not as consistently deep.
Last week, after Sturgis was deemed healthy enough to return, the Chargers waived Badgley but then re-signed him to their practice squad.
"Players are like everybody else," coach Anthony Lynn said. "They have peaks and valleys. They struggle. You don't just throw them out when they're down. We try to help and bring them back.
"But he didn't kick well today, didn't kick well today. So we have to evaluate the whole situation and we'll see."
Asked whether he thought the misses might have become a mental hurdle for Sturgis, Lynn dismissed the question.
"We won the football game," he said. "Don't really want to talk about the kicking right now."
Sunday wasn't a great afternoon for the Chargers' special teams, though they did cover kicks well.
Punter Donnie Jones didn't exhibit a particularly strong leg, averaging 43 yards on six attempts, two of which ended inside the 20-yard line.
Desmond King averaged 11 yards on two kickoff returns and 4.3 yards on four punt returns.
New starter
Cornerback Trevor Williams lost his starting job to Michael Davis. Both signed with the Chargers as undrafted free agents, Williams in 2016 and Davis in 2017.
"We wanted to see Michael get out and play," Lynn said. "Trevor has struggled some. He knows he hasn't played at the level he played at last year. So we put Michael in the game."
Williams started 15 games last season and the first seven this year. Before the last few weeks, Davis had played almost exclusively on special teams and in certain defensive packages.
Russell Wilson magic
Even when the Chargers went up 25-10 on Desmond King's interception return for a touchdown with 6 minutes 44 seconds remaining, cornerback Casey Hayward said he knew the game was still not decided.
"I've played here plenty of times," Hayward said. "I know it's like Russ magic here."
Quarterback Russell Wilson, a four-time Pro Bowl selection, has pulled out games for the Seahawks, particularly at CenturyLink Field.
"I pulled the guys to the side after they scored [to make it 25-17]," Hayward said. "I'm like, 'Yo, this game is not over. This guy does this all the time. They expect to win this game.' We found a way to win and that's what it's all about."
Road warriors
Unwelcoming CenturyLink Field? The Chargers know all about such things.
"Unfortunately, we play an away game every single week," defensive lineman Damion Square said. "So, no better team to come in here and get the 'W.' "
The Chargers' home, StubHub Center, is quite famous for hosting split allegiances.
Hanging on
For consecutive games, the Chargers offense has been forced to sit idly in the closing seconds and hope the defense can secure a victory.
"I hate it," left tackle Russell Okung said. "I'd rather have the game in our control. But that's why they call us a team. We're fortunate to have a defense that's really doing its job.
"But I can't watch, to be honest. I just listen for the crowd to cheer or boo or whatever. I can't even stand up. It's super frustrating."
Twitter: @JeffMillerLAT
---
Get the latest on L.A.'s teams in the daily Sports Report newsletter.
You may occasionally receive promotional content from the Los Angeles Times.