Steelers receivers Antonio Brown and JuJu Smith-Schuster stay in corner of Chargers' minds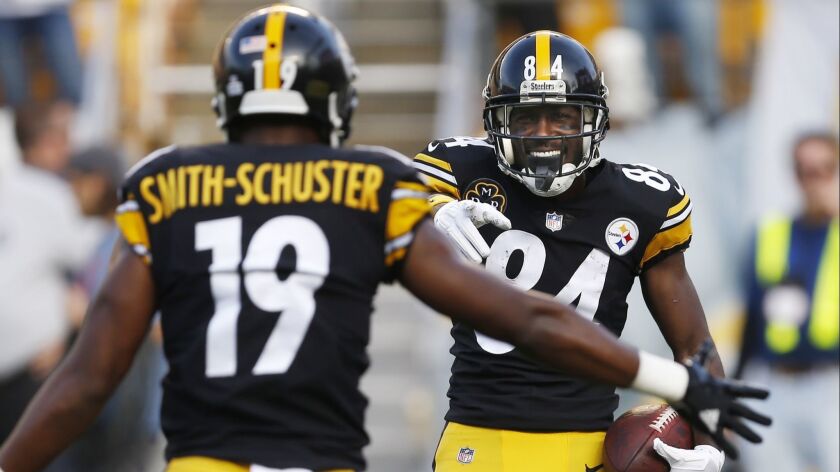 As good a defender as Casey Hayward is — the Chargers' veteran has been a shut-down cornerback for several years — he can't blanket two wide receivers at once.
So when Hayward sticks to superstar receiver Antonio Brown in Sunday night's game at Pittsburgh, who will cover JuJu Smith-Schuster, the former USC star who, at 22, has more catches and receiving yards than Brown this season and is just as dangerous as his more-acclaimed Steelers teammate?
"There's only one of me, but I have faith in my guys each and every week," Hayward said after Friday's practice. "Nobody looks at either of those two guys over there as a No. 2 receiver, so I guess we're going against two No. 1s."
Hayward said "it's possible" he will follow Brown, which would leave much of the responsibility for Smith-Schuster to Michael Davis, a second-year pro who replaced cornerback Trevor Williams in Week 9 and has played all 247 defensive snaps in four games since.
In the Chargers' cover-three zone, Davis will get plenty of help from safeties Derwin James and Jahleel Addae, and slot corners Desmond King and Adrian Phillips.
"He knows with Casey being a premier corner that other teams, other coordinators, are going to look his way because they feel like they have a 'fish' out there," Phillips said of Davis. "But he's just as good. He's fast, he's physical, he's long, and he embraces the challenge. He's not afraid of the spotlight."
Few teams provide the kind of matchup challenge that Smith-Schuster and Brown do. The 6-foot-1, 215-pound Smith-Schuster has caught 77 passes for 1,055 yards and four touchdowns, including 13 for 189 yards in last week's loss to Denver.
"He's a big play waiting to happen," James, the Chargers rookie, said. "You see him take quick slants 90 yards. He's going to get the 50-50 ball. He's blocking. He's doing everything."
The 5-10, 181-pound Brown, 30, has been one of the NFL's most dominant receivers for six years, with 653 catches for 8,722 yards and 63 touchdowns in that span, including 71 for 874 yards and an NFL-best 11 touchdowns this season.
Brown and Smith-Schuster have combined for nine pass plays of 40 yards or more this season, including a 97-yard scoring strike from veteran quarterback Ben Roethlisberger to Smith-Schuster last week.
"Usually when you game plan, most teams have that No. 1 guy they can go to with a nice complement," Phillips said. "The Steelers basically have two No. 1 receivers. You can't sleep on either one of them."
Running back James Conner has caught 49 passes for 453 yards, and tight ends Vance McDonald and Jesse James have combined to catch 62 passes for 823 yards and five touchdowns, but Brown and Smith-Schuster create the most stress for opponents.
"They are so effective on the perimeter," Chargers defensive coordinator Gus Bradley said. "They mix it up where they're aligned, how they disperse, the routes they run, and then [Roethlisberger] has a chance to get it to them. He's very accurate … and has an ability to extend plays."
The Chargers, led by edge rushers Melvin Ingram and Joey Bosa, must apply constant pressure on Roethlisberger to ease the burden on the secondary and slow the Steelers' passing game.
The 6-5, 240-pound Roethlisberger can scramble and throw on the run, but unlike many of today's younger more mobile quarterbacks, he doesn't always extend plays with his feet.
"The big thing about Ben is he's not scared of the pocket," Phillips said. "Some quarterbacks, when the pressure is on, they like to roll out or throw the ball away or find some type of outlet. He stands in the face of the fire, and he's a tough guy to get down too."
In the hunt
Offensive coordinator Ken Whisenhunt is a candidate for the vacant Georgia Tech coaching job but will not travel to Atlanta on Saturday to interview, according to a person familiar with the situation but not authorized to speak publicly about it.
Whisenhunt, 56, spoke to coach Anthony Lynn about the position this week, and he could meet Georgia Tech officials Tuesday, the Chargers' off day.
"It's his alma mater, and it's an honor and a privilege for those guys to come after him," Lynn said. "But right now, his focus is on Pittsburgh. After this game, we'll talk about it some more, but right now, it's all Pittsburgh."
Lynn said he and Whisenhunt haven't discussed whether Whisenhunt will finish out the season with the Chargers if he gets the Georgia Tech job.
Injury report
Right tackle Joe Barksdale dressed for Friday's practice but did not participate. Lynn said Barksdale "has some personal things going on right now." Later Friday, Barksdale was ruled out for Sunday's game.
Nose tackle Brandon Mebane will miss his second straight game to tend to a family matter. Melvin Gordon will sit out the Steelers game because of a right knee injury but said he is "ahead of schedule" in his recovery. Receiver Tyrell Williams (quad) was a limited participant Friday and is questionable for the game.
Follow Mike DiGiovanna on Twitter @MikeDiGiovanna
---
Get the latest on L.A.'s teams in the daily Sports Report newsletter.
You may occasionally receive promotional content from the Los Angeles Times.