Chargers report: Steelers hold super reunions with hallowed stars before showdown with L.A.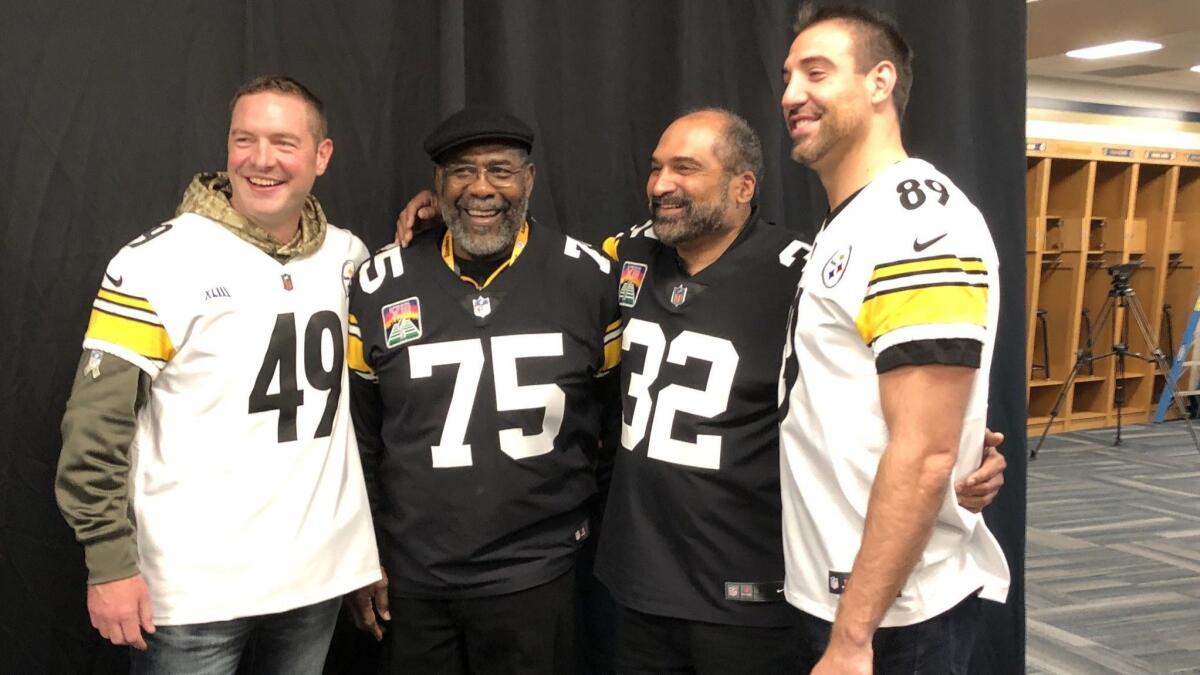 Reporting from pittsburgh —
The cherished Pittsburgh Steelers memories were all there Sunday night in black and white.
Three hours before kickoff of the Chargers-Steelers game, a huge collection of Pittsburgh Super Bowl winners was honored in the home locker room at Heinz Field.
The players in the black jerseys were winners of Super Bowl XIII, celebrating the 40th anniversary of their victory over the Dallas Cowboys. That group included Hall of Famers such as Franco Harris, "Mean" Joe Greene, John Stallworth and Rocky Bleier.
In the white jerseys was a different generation of Steelers stars, members of the XLIII team celebrating their victory 10 years ago over the Arizona Cardinals. That group included James Harrison, Brett Keisel, Willie Parker and Max Starks. Current Steelers quarterback Ben Roethlisberger even stopped by to greet his old teammates, slapping handshakes and swapping stories.
"Guys want to come back and visit with each other, they want to celebrate this," said Starks, an offensive tackle.
He said members of the 1978 team "laid the foundation for what we did. What they did was legendary during a decade span, winning four Super Bowls. You always hold those guys in the highest esteem, and they turn around and say, 'You guys did it too. Congratulations.'
"You feel like you're welcomed into the elite club of the elite club," Starks said.
Pittsburgh has won the most Super Bowls, with six titles in eight appearances. The Steelers won in 1974, '75, '78, and '79, then in the 2005 and '08 seasons. But there wasn't always a culture of winning.
The iconic Greene played for the Steelers from 1969 to 1981 and was a fixture on all four of the Super Bowl champion teams in the 1970s.
"My indoctrination into the Steelers is when they used to call us the 'Same Old Steelers,'" said Greene, whose team went 1-13 his rookie season. "There was a bad connotation to that because we were losing, year in and year out. We got a new coach, they started bringing in better players, and somewhere around the time that [running back] Franco [Harris] came we won our first division and started to set the tempo for the Steelers.
"We didn't win them all but we won some. Each and every year the Pittsburgh Steelers became competitors instead of the lovable loser," Greene said.
Not only is Stallworth in Canton, Ohio, as a receiver, but also he now owns a minority stake in the Steelers franchise.
"There's a common bond between us, and to be able to come together like this is really special," Stallworth said. "Plus, we can tell lies about ourselves, and nobody is really here to say 'No, that wasn't the case.' "
Rookie Jackson runs into spotlight
The running game came out of nowhere for the Chargers on Sunday night.
So did Justin Jackson.
The rookie running back from Northwestern stepped up in a big way in the fourth quarter of Sunday night's 33-30 victory at Pittsburgh, breathing life into a team that mustered two yards rushing in the first half.
"I have full belief in our offense, and when my number was called, just go out there and make a play," said Jackson, who gave the Chargers their first lead on an 18-yard scoring run with 8 minutes 14 seconds to play. It was his second 18-yard run of that possession.
"That's what we live for, being in this type of environment with the game on the line," he said. "That's what you dream about, right, but you don't make it that big, you go out there and play."
Jackson didn't come out of the blue completely. The seventh-round draft pick gained 57 yards in seven carries in a rout of Arizona a week earlier, but that was the first time he had touched the ball in five weeks. Before that, he had never run for more than four yards.
Asked if getting carries against the Cardinals helped him against the Steelers, he said: "Yeah, get your feet wet. To get significant reps, to get a feel for everything, and it was nice that I was able to do well to get some confidence going into this game."
Teammate Virgil Green, for one, wasn't surprised Jackson stepped up.
"That's something I've been expecting from him the whole season," Green said. "You watch him in practice, he works his tail off. While he was sitting down, he tried to understand the offense.
"He showed a lot of poise and resiliency tonight. I'm definitely proud of him. He practices like he's playing a game, and the moment didn't seem too big for him. He barely batted an eye."
Gordon healing fast
Running back Melvin Gordon, who missed the game because of a medial collateral ligament sprain in his right knee, said he is "ahead of schedule" in his recovery.
There's some hope Gordon will be able to return Sunday when Cincinnati visits StubHub Center. But the Chargers, who have been cautious with Gordon, want to be sure he'll be ready for a critical AFC West game at Kansas City on Dec. 13.
"I'm not sure about next week — I'm going week to week," said Gordon, who entered Week 13 sixth in the NFL in rushing despite missing one game because of a hamstring injury. "I don't want to come back too soon. I want to make sure I'm ready."
Gordon, who was limited to light conditioning and rehabilitation work last week, leads the Chargers with 802 yards rushing and nine touchdowns on 153 carries, and is second on the team with 44 receptions for 453 yards and four touchdowns.
He was disappointed to miss Sunday night's nationally televised game, which marked the first time the Chargers played in NBC's marquee game since Dec. 7, 2014, against New England.
"It's a prime-time game," Gordon said. "I was looking forward to playing. I do really well when the lights are on."
Scott active
Rookie offensive lineman Trent Scott was active for the game, replacing Joe Barksdale, who was out because of a non-injury situation. Scott had been inactive the previous five games.
Wide receiver Tyrell Williams (quadriceps) also was on the active roster after being limited in practice. He played only nine offensive snaps a week ago in the Chargers' 45-10 victory over Arizona.
Cornerback Trevor Williams returned after being inactive for three games. Williams was a starter until being replaced by Michael Davis in Week 9.
Times staff writer Mike DiGiovanna contributed to this report.
Twitter: @LATimesfarmer
Twitter: @MikeDiGiovanna
Staff writer Jeff Miller contributed to this report.
Get the latest on L.A.'s teams in the daily Sports Report newsletter.
You may occasionally receive promotional content from the Los Angeles Times.