Philip Rivers will become fourth NFL quarterback to start 200 consecutive games when Chargers visit Seahawks on Sunday
Don't bother doing the math. Philip Rivers already has.
The Chargers quarterback will make his 200th consecutive regular-season start Sunday at Seattle, a measure of durability and productivity that only three other NFL passers have matched, but he knows he will never catch the man who holds football's equivalent of Cal Ripken Jr.'s Iron Man streak.
That would be Hall of Famer Brett Favre, the former Green Bay quarterback who started 297 consecutive regular-season games — 321 if you count the playoffs — over 19 years, from 1992 to 2010.
"Favre was always a favorite of mine — still is — and I kind of wanted to have that mark, to at least push for it," said Rivers, who turns 37 on Dec. 8. "But I'm not going to get there. Y'all can do the math and figure out your projection of how many years I'm going to play, but I'm not going to get to 300."
There is no shame in that. The only other NFL quarterbacks with 200-game streaks — Eli Manning (210) and Peyton Manning (208) — have four Super Bowl rings between them and are Hall of Fame-bound.
"It's pretty cool," Rivers said this week. "I just feel thankful. I think there is a small element of toughness involved and, shoot, lots of prayers for me from many people on Sundays and guys' protection that allows me to be out there every week, whether dealing with minor things or big things.
"Then, just that competitiveness to want to be out there and play every week. I have that same passion in this 200th one that I had in the first one."
Rivers remembers his first NFL start as if it were last week. It was a Monday night game at Oakland on Sept. 11, 2006, a 27-0 Chargers win in which Rivers completed eight of 11 passes for 108 yards and one touchdown, a four-yard toss to Antonio Gates. It was the first of 88 touchdown connections between Rivers and the tight end.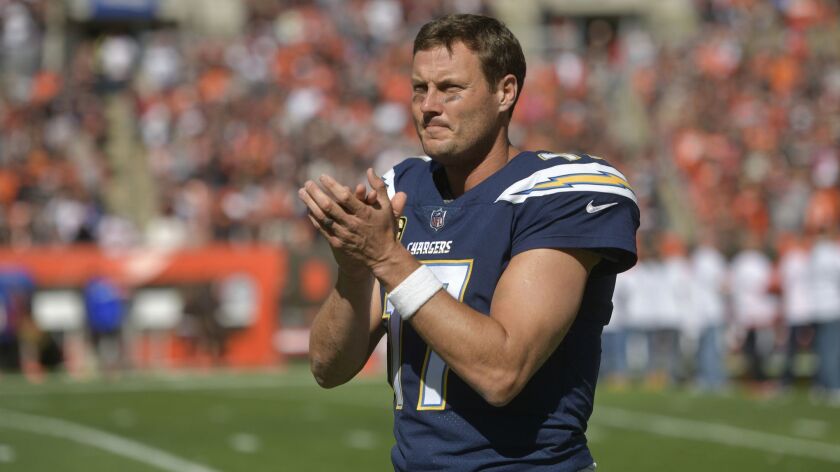 "We had 10 or 11 sacks on defense, so we didn't need to throw it very often," Rivers said. "I remember telling Gates that was the first touchdown of many, and he was frustrated because we only threw 11 times. You look up later, he has close to 90 touchdowns, he and I.
"It's crazy how time does fly. Everybody says your career, it will be over, goes just like that, and it really has."
Rivers has shown no signs of aging or slowing in his 15th season. He ranks third in the league with a career-best 117.8 passer rating, completing 152 of 220 attempts for 2,008 yards, 17 touchdowns with three interceptions.
The Chargers (5-2) have won four straight entering Sunday's game against the surging Seahawks, who have won four of five and Rivers has his team, positioned for a playoff run. The Chargers have not reached the postseason since 2013.
"He's probably one of the most competitive people I've been around," Chargers offensive coordinator Ken Whisenhunt said. "That fire of play. He loves the game. He loves his teammates. I think the challenge of preparing and trying to be successful drives you as a player, and it never gets old.
"Sometimes as an older player, your body won't let you do it. He's gifted. He hasn't faced that problem. But his drive and competitiveness are second to none."
Rivers has had a few close calls — he played through chest and back injuries late in 2014 and suffered his first concussion last season — but he's never been so much as doubtful for an NFL start.
"If you're a quarterback in the NFL, you're going to play through pain plenty of times, because there are a lot of times when you don't see the hits after they've made the throw," Whisenhunt said.
"I don't know in the time I've been with Philip that I've ever said he wasn't going to play or thought he wasn't going to play because he's been so durable and works so hard, even when he's sore."
Rivers said NFL rules designed to protect quarterbacks have helped in the second half of his career, and no lengthy consecutive-games streak is possible without some good fortune. But Chargers coach Anthony Lynn downplayed the role luck has played in Rivers' longevity.
"I just think the harder you work," Lynn said, "the luckier you get."
Hip check
A potent Seattle running attack — the Seahawks are averaging 32 rushing attempts and 161 yards per game since Week 3, second-most in the NFL — has minimized the need for speedy and elusive quarterback Russell Wilson to scramble. But that doesn't eliminate the threat of Wilson making big plays with his legs.
"You have to keep your eyes on his hips," Chargers nose tackle Brandon Mebane said. "He's very shifty. He can try to shake you, juke you up top. When you have someone who shakes or jukes , it's mostly upper-body movement. You key on the hips and the bottom of the numbers, you have a better shot of tackling him."
Etc.
Running back Melvin Gordon, who sat out the Oct. 21 game against Tennessee at London because of a hamstring injury, was a full participant in Friday's light practice but was listed as "questionable" for Sunday's game. Defensive ends Joey Bosa (foot) and Chris Landrum (hip), and linebacker Kyzir White (knee) were ruled out.… Tyrell Williams, who caught a 75-yard touchdown pass on the first play of the 20-19 win over the Titans, has six scoring catches of 50 yards or more since Week 17 of 2015, second only to Kansas City speedster Tyreek Hill (seven). … Seahawks linebacker K.J. Wright (knee) was limited in Friday's practice and listed as questionable for the game.
Follow Mike DiGiovanna on Twitter @MikeDiGiovanna
---
Get the latest on L.A.'s teams in the daily Sports Report newsletter.
You may occasionally receive promotional content from the Los Angeles Times.