Derwin James continues to make big plays for Chargers defense as L.A. improves to 2-2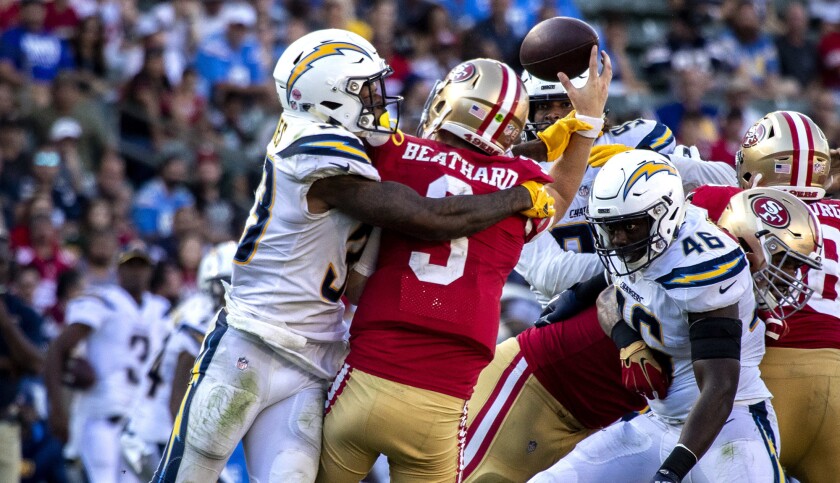 Free Derwin! That was the rallying cry for fans of Chargers rookie Derwin James, the Swiss Army knife of a defensive back who was confined to a free safety role in a Week 3 loss to the Rams but was unleashed again in Sunday's 29-27 victory over the San Francisco 49ers in StubHub Center.
Roaming from free safety to strong safety to linebacker to defensive end as he did in a Week 2 win at Buffalo, and blitzing far more often than he did against the Rams, James made the biggest play of a fourth quarter filled with key defensive stops.
With 2½ minutes left and San Francisco looking to mount a game-winning drive, James burst off the right edge on a second-down play from the 49ers 31-yard line "with a purpose, like your hair is on fire," he said.
James' blindside hit on San Francisco quarterback C.J. Beathard jarred the ball loose and into the hands of defensive end Isaac Rochell, who was credited with an interception. The Chargers took over and ran out the clock to even their record at 2-2.
"It almost feels like a dream right when it's happening," said Rochell, who is filling in for the injured Joey Bosa. "When it's in your hands, now it's time to go find the end zone. I've never had an interception in my career, so it's really cool."
The play would not have been possible without the speed, instincts and athletic ability of James, the former Florida State star and first-round pick who had seven tackles, a sack for a loss of 10 yards in the third quarter, two pass breakups and three quarterback hits.
"He's just a ballplayer, man," slot corner Desmond King said. "He's all over the field. He's covering people, pressuring the quarterback, getting sacks. We move him around a lot. We want to kind of play with the quarterback's head, and he got to the quarterback a couple of times today."
A Chargers defense with a bend-but-don't-break reputation did a fair amount of bending and breaking Sunday.
The 49ers held the ball for 10 minutes and 44 seconds of a 21-play, 72-yard drive in the second quarter, converting five third-down plays. But Beathard couldn't connect with tight end George Kittle on third-and-goal from the three, and San Francisco settled for a field goal and a 17-6 lead.
"We gotta get off the field on third down," James said. "Two of those were my fault. ... I was too deep on the tight end on a couple of big third downs. We have to tighten up the coverage."
The Chargers rebounded to tie the score 17-17 at halftime. James forced a punt on San Francisco's first possession of the second half with his third-down sack.
King's 22-yard punt return and Tyrell Williams' leaping catch of a 24-yard pass from Philip Rivers set up a six-yard touchdown pass to Melvin Gordon for a 23-17 Chargers lead.
San Francisco needed four plays and a pair of roughing-the-passer, tack-on penalties to march from its 10-yard line to the Chargers eight on its next possession.
But Beathard's pass to tight end Garrett Celek was deflected into the hands of cornerback Trevor Williams, who returned the interception 86 yards down the right sideline to set up a Caleb Sturgis 25-yard field goal that gave the Chargers a 26-17 lead with 7:44 left in the third quarter.
"Trevor's interception was huge because it took seven points away from them and put [three] on the board for us — that's a [10-point] swing," cornerback Casey Hayward said. "The ball was tipped, and Trevor was in right spot at right time."
Williams was burned on several long pass plays before his interception, describing his play to that point as "a little sloppy for me." Resilience was a strength, though.
"I try to be long on confidence and short on memory," Williams said. "They had a long drive, but I kept encouraging guys, 'Let's get a turnover.' I was trying to speak it into existence. Once the play presented itself, try to take advantage."
Beathard burned the Chargers with an 82-yard touchdown pass to Kittle late in the third quarter, and Robbie Gould's 33-yard field goal gave the 49ers a 27-26 lead with 12:39 left in the fourth.
But Hayward prevented a possible touchdown on the drive with a crushing third-down hit that stopped the scrambling Beathard at the 15-yard line, one yard short of a first down.
"I'm a cover guy, but you gotta put your hat on him," Hayward said. "He was close to getting a first down, they had to settle for a field goal, and we end up winning the game."
The Chargers regained the lead on Sturgis' 21-yard field goal with 7:41 left. The defense took over from there. James raced to the sideline and leaped to tip away a second-down pass intended for Kittle, and Hayward tipped a third-down pass intended for Pierre Garçon to force a punt with 6:58 left.
James then snuffed out the 49ers' comeback hopes with his big hit on Beathard in the final minutes.
"He's been great," Rivers said of James. "He's made the plays, obviously, but he has the demeanor of one of those double-digit-year safeties, with the passion and aggression he plays with. He was a heck of a pick. I'm glad he's on our side."
Follow Mike DiGiovanna on Twitter @MikeDiGiovanna
---
Get the latest on L.A.'s teams in the daily Sports Report newsletter.
You may occasionally receive promotional content from the Los Angeles Times.