Chargers struggle mightily on special teams in 14-7 victory over the Jets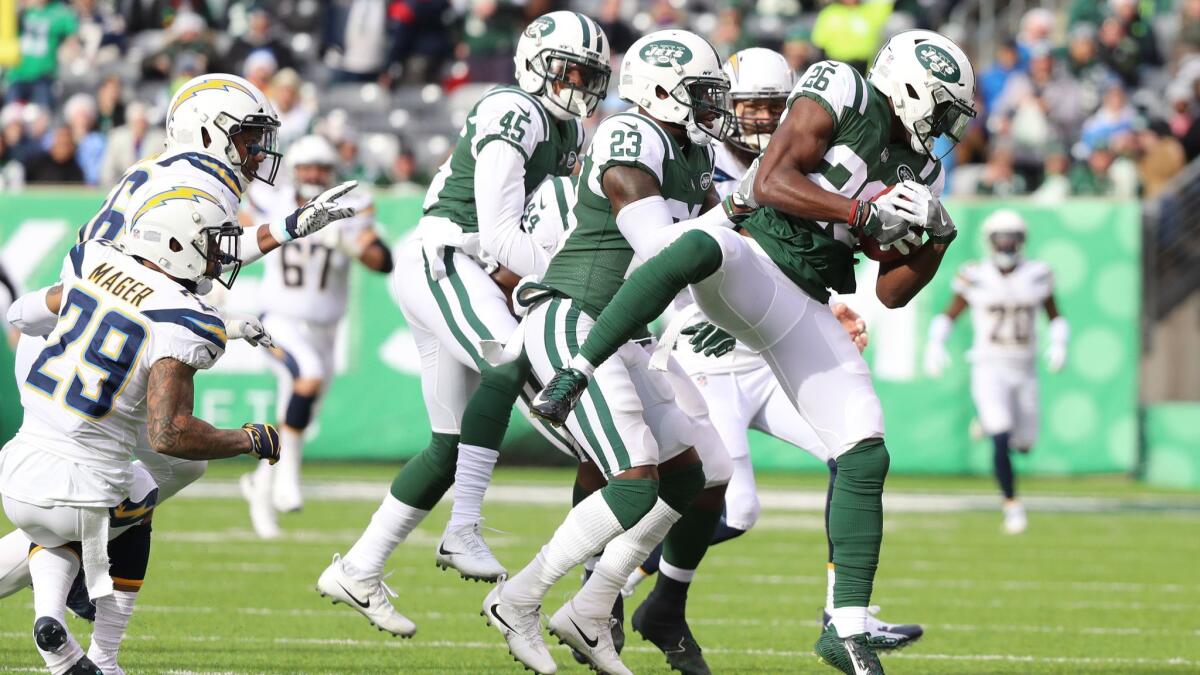 Reporting from EAST RUTHERFORD, N.J. —
Nick Dzubnar, a reserve linebacker and special-teams ace for the Chargers, doesn't get a lot of opportunities to speak to the press. So in the moments after Sunday's 14-7 win over the New York Jets, he was going to make sure he got one thing clear.
"There's no doubt in my mind," he said. "That was a bad call."
With his team up early in the fourth quarter, Dzubnar got flagged for a holding penalty while Chargers punt returner Travis Benjamin danced through and ran past the Jets. The penalty ended up wiping out a 91-yard return for a score.
Bad call or not — and Dzubnar said even the Chargers coaches told him it was a bad one — it was one of another handful of special-teams mistakes that continue to haunt the Chargers.
Sunday, they were flagged five times on special teams, affecting field position and taking points off the board.
"That will get you beat on the road," Chargers coach Anthony Lynn said. "Penalties and rush yards [allowed] on the road will get you beat. And so if we're fortunate enough to continue this season after next week, that's something that we have to get corrected."
Fixing the problem, clearly, hasn't been easy. And, Dzubnar said, in some ways, it's not really a problem at all.
"Some penalties are stupid. But, I think some of the penalties, it's because we're being really aggressive. I'd rather be a team that's aggressive than timid," he said. "I know Rayshawn [Jenkins] has a handful of penalties this year, but he's one of the most aggressive players on our team. I love the way he plays. It's hit and miss how badly the penalties hurt. I don't want to slow anyone down because they're afraid to get a penalty."
Lynn understands that these are sins born of aggression, but that doesn't make them the right plays.
"Guys don't try to make those penalties," Lynn said. "They're trying to make plays. They're trying to make blocks. They're trying to do a lot of things."
At a certain point, though, results matter.
The game opened with the Jets catching the Chargers' return unit on its heels, easily recovering an onside kick. The Jets were the first team to recover an onside kick in the first 30 seconds of a game since the Eagles did so in 2012.
"We were caught off guard," Lynn admitted. "We're always looking for onside kicks … and [Jets kicker Chandler Catanzaro] showed it. He actually gave it away that he was onside kicking it, and we didn't adjust very well."
The Chargers' new kicker, rookie Nick Rose, belted three touchbacks, which was good. He also badly missed a 47-yard field goal, which wasn't so good.
Rose is the fifth player to attempt a kick for the Chargers this season, joining Younghoe Koo, Nick Novak, Drew Kaser and Travis Coons. They're a combined 19 for 28 on field-goal tries and 32 for 36 on extra points.
"It's not easy. It goes back to again, me controlling what I can control, us controlling what we can control, being supportive of whoever is out there kicking it," Chargers quarterback Philip Rivers said. "Is it a game of emotion, do we all get fired up at times? Yeah. It's one of those things you can't control. Is it a little more on edge when you've dealt with a kicking situation that we've dealt with this year? No question. I don't know that I've been around anything like it. So, what can I do? Get more first downs."
While the kicking issues have persisted throughout the season and even cost them at least one win, the punt and kickoff coverage teams and, to a lesser extent, return units have shown improvement.
Still, the flags are too much for Lynn to accept.
"I think we just have to play smarter and have more awareness," Lynn said.
Twitter: @DanWoikeSports
Get the latest on L.A.'s teams in the daily Sports Report newsletter.
You may occasionally receive promotional content from the Los Angeles Times.