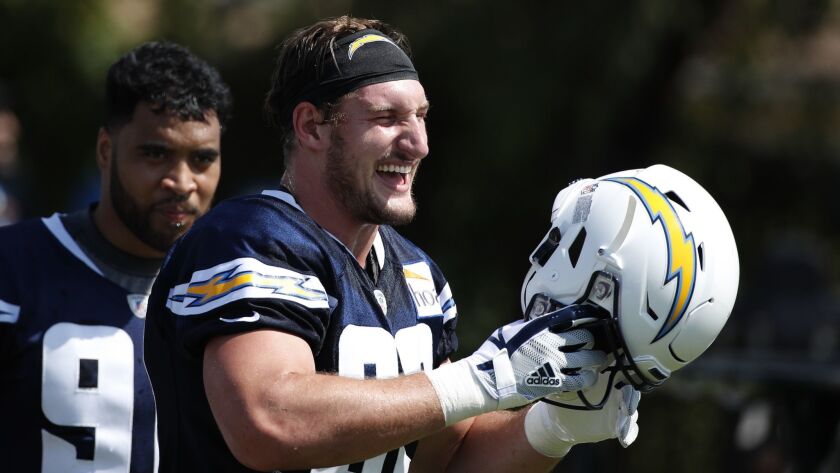 Joey Bosa most assuredly was there Monday at the Chargers' first official workout of organized team activities.
There remains uncertainty, however, regarding his appearance on "Game of Thrones."
"I still don't 100% know if it was me or not," Bosa explained. "I'm going to go with it. Of course, Aaron Rodgers gets a whole five seconds of him getting blown up."
Bosa, like the Green Bay Packers quarterback, was cast as an extra for an episode that aired this month. He described the filming taking place in "freezing cold" Belfast "in the middle of the night."
Unlike Rodgers, whose face appeared more clearly, Bosa's image was fuzzy, shadowy and on screen so briefly that he's still not sure if it was, in fact, his image.
"Maybe if it just timed up differently," he said, "not with the darkest episode ever made in TV history, you could have seen me a little better."
The Chargers anticipate Bosa being much tougher to miss this season. The defensive end joined the team's offseason program looking leaner and having avoided surgery on his left foot.
Bosa was out for the first nine games last year because of an injury suffered in early August. His foot has continued to heal, although he said he still deals with occasional soreness.
He added that the discomfort isn't physically limiting before saying, "I'm as fast and strong as I've ever been in my life." Bosa finished last season with 23 combined tackles and 5.5 sacks in seven games.
"You can count on Joey," defensive coordinator Gus Bradley said. "He's going to come back in great shape. He looks awesome. He feels really good. To get him back on the field — just that brotherhood part where the guys are together again — I think that's important."
The two most prominent Chargers missing for the start of OTAs were Melvin Gordon and Melvin Ingram.
Nothing is mandatory for players during the offseason until minicamp, which the Chargers have set for June 11 to 13. Some NFL players prefer to work out on their own until mandatory camp.
Coach Anthony Lynn praised the Chargers who were present and made it clear he wished all the players showed up.
"I can only worry about the 98% that are here," he said. "I'm glad they're here. … I think this is a very important time of the season. This is when we build the team, right now.
"I just know in the two months that we have together, we're better off being with each other. That's my personal feeling. … They get three months — 3-1/2 months — to do their own thing."
Lynn said he had not reached out to any players regarding the offseason program. He had been in touch with Ingram to congratulate him on the recent birth of his child.
Sign up for our daily sports newsletter »
Bosa said he chose to rejoin his teammates Monday because this phase allows for 11-on-11 work without contact. Unlike individual drills, full-team situations are difficult to replicate.
"It's 10 practices and then a minicamp, so it's hardly that much work," Bosa said. "It's a good time to knock the rust off and get practicing with your hands and pass rush. If you miss all of this and you show up in camp, you're rusty then. You want to be rolling by that point."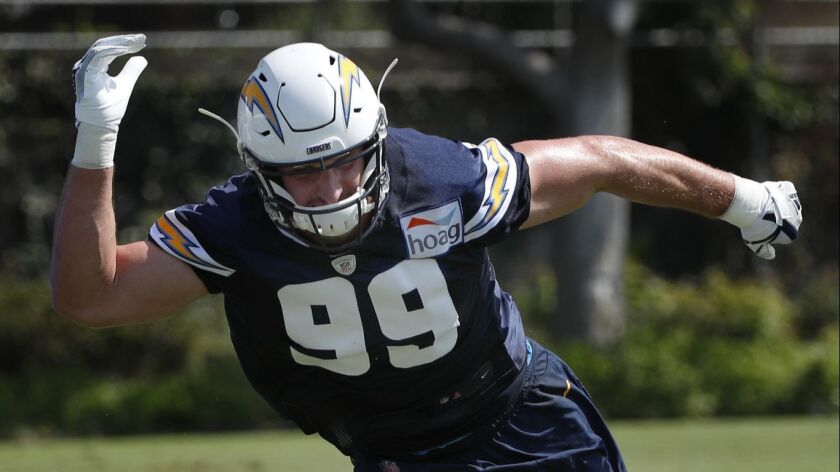 The Chargers are hoping for a full season of the Bosa from 2017 — 70 tackles, 12.5 sacks, Pro Bowl selection — though they'll be getting a Bosa who looks different in one respect.
After wearing No. 99 his first three seasons, he has switched to 97, which he wore in high school and at Ohio State.
His father, John, who played three seasons in the NFL, wore 97. Bosa's brother, Nick, the second overall pick in the draft in April, will wear 97 with San Francisco.
"My brother wore my exact jersey through high school. … It's just a cool tradition," Bosa said.
As for the early on-field work, Bradley said rookie linebacker Drue Tranquill has stood out in his short time with the Chargers. He was the team's fourth-round pick last month.
Rookie safety Nasir Adderley also has drawn attention, just not always for the best reasons. After one play Monday, the Chargers coaches had to urge him to scale back his aggression.
"He has to learn how to protect his teammates," Lynn said. "He can't be running through his guys like he did today. But that's part of the learning process."
Twitter: @JeffMillerLAT
---