Chargers tag Henry, restructure Perryman deal, release Davis and Mebane
The Chargers already were forecast to be one of the more active teams in free agency next week before a series of moves Friday confirmed that possibility.
They released a pair of veteran defensive leaders in linebacker Thomas Davis and tackle Brandon Mebane, and restructured the contract of linebacker Denzel Perryman.
All three moves opened precious cap space with the free-agent negotiating window set to open Monday. By cutting Davis and Mebane, the Chargers saved about $9.5 million toward the cap.
With salary and bonuses, Perryman was scheduled to have a cap hit close to $8.5 million, a figure that was lowered as his deal was bolstered with incentives.
The Chargers project to have $55 million to $60 million in cap room as they attempt to rebuild after a 5-11 season.
"Ultimately, you never know what the future will hold," general manager Tom Telesco said in a statement. "But making these moves right now gives us flexibility entering the new league year."
The NFL has banned all in-person visits involving draft-eligible players until further notice, the league informed teams Friday afternoon.
Also Friday, the Chargers placed a franchise tag on tight end Hunter Henry, a move that guarantees the veteran a 2020 base salary of about $11 million. Negotiations on a long-term contract are expected to continue.
In both free agency and the draft, the Chargers most notably will be shopping for a quarterback and help along the offensive line, interior defensive front and at linebacker. They also could use a cornerback to pair opposite Casey Hayward, and a wide receiver to fill the hole behind Keenan Allen and Mike Williams.
With Melvin Gordon about to become a free agent, running back is another area the Chargers will be exploring.
In other words, by the time they make their debut in the new SoFi Stadium, the Chargers figure to look vastly different than they did in their 2019 finale at Dignity Health Sports Park.
Six-time Super Bowl winner Tom Brady is the headliner among the free-agent quarterbacks, the longtime New England Patriot expected to net at least $30 million per season.
This is a free-agent period in which offensive linemen are forecast to see a significant increase in pay, a circumstance for which the Chargers also appear to be readying.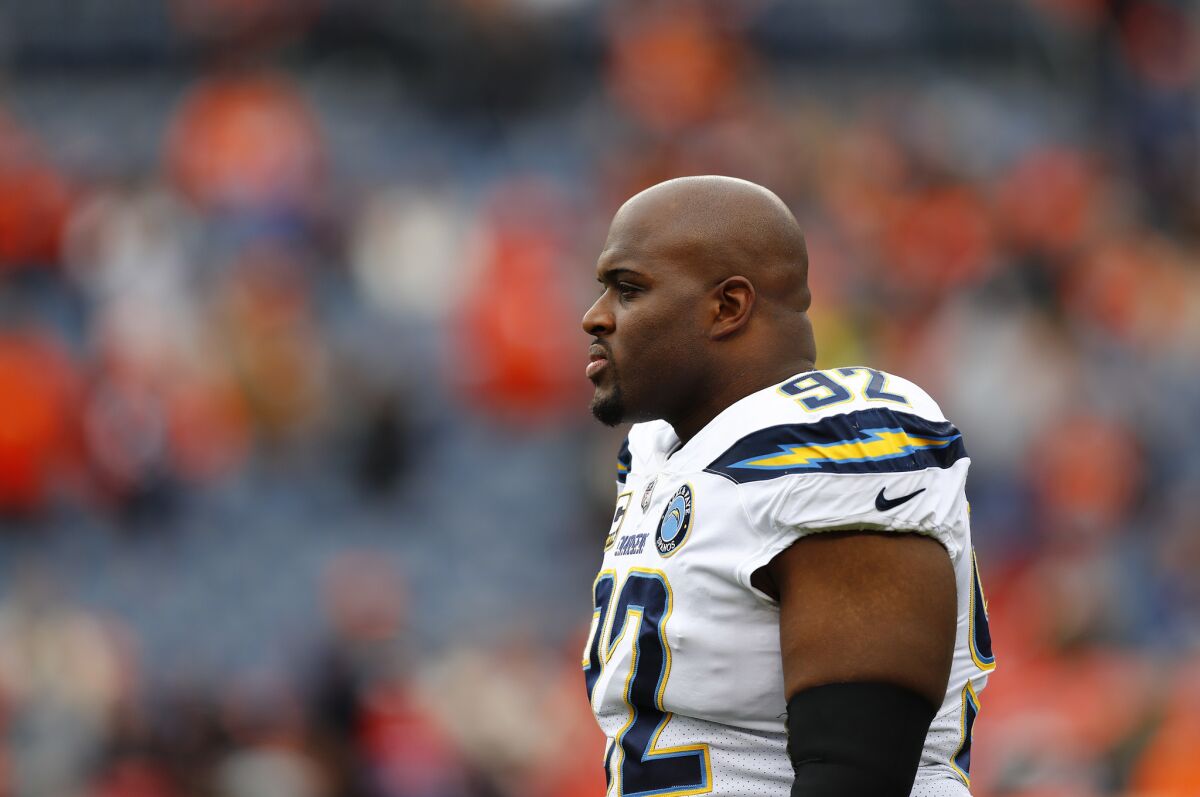 By releasing Davis and Mebane, the Chargers said goodbye to two of their 2019 captains and a pair that was popular in the locker room. The moves could allow the team to become younger and faster on defense.
"This is a difficult time of the year due to the tough decisions we are forced to make concerning the direction of our football team in 2020 and beyond," Telesco said. "Oftentimes, these decisions hurt on a personal level. This is certainly one of those times."
Davis was the team's top free-agent signing in 2019, agreeing to a two-year, $10.5-million contract that included $5.25 million guaranteed. He was scheduled to receive a $1-million roster bonus next week.
About to turn 37, Davis had spent his entire career with Carolina. He often was praised by teammates for his ability to still play fast and athletic, finishing with a team-high 112 tackles.
"Even though Thomas only spent one year with us, he left an indelible mark on our organization," Telesco said. "His passion, leadership, wisdom and toughness — I just can't thank Thomas enough for his contributions to the Chargers, both on and off the field."
Mebane, 35, joined the Chargers as a free agent in March 2016 after spending nine years with Seattle. He was a captain for all four of his seasons with the team and started in each of the 51 games he played.
"Brandon has been a rock of stability on our defense and a respected team leader," Telesco said. "I cannot overstate what he has meant to our locker room and organization, not to mention his hometown Crenshaw community. I want to thank Brandon for his consistency, on and off the field, and for always being a pro's pro. He and his family will always be part of our Chargers family."
Stories examining the impact the spread of the coronavirus has had on the NBA, NHL, MLB, the NCAA tournament and the rest of the sports world.
Perryman, 27, will be in his sixth season after the Chargers drafted him in the second round in 2015. He is considered one of the team's top defenders against the run.
After two seasons interrupted by injury, he matched a career-high in 2019 by appearing in 14 games, finishing with 68 combined tackles, including five for loss. Perryman also had his third career interception.
The move to franchise tag Henry makes him the NFL's highest-paid tight end. He's coming off his most productive season overall, catching 55 passes for 652 yards and five touchdowns. He missed four games because of a tibia plateau fracture in his left knee.
In three seasons — he sat out all but one game in 2018 because of a torn ACL in his right knee — Henry, 25, has scored 17 touchdowns.
The Chargers most recently used the franchise tag in 2017, when defensive end Melvin Ingram was tagged before agreeing to a four-year extension worth up to $66 million three-and-a-half months later.
---
Get the latest on L.A.'s teams in the daily Sports Report newsletter.
You may occasionally receive promotional content from the Los Angeles Times.