Chargers' good news on injuries: Mike Williams, Joey Bosa, Kenneth Murray Jr. seem OK
The Chargers received good news on Mike Williams' back Monday as tests revealed he has nothing more serious than a contusion.
After offering the update, coach Brandon Staley said "the indication" given to him was that Williams will be available Saturday night when the Chargers play at Jacksonville in the wild-card playoff round.
The team's top deep threat at wide receiver, Williams was injured in the second quarter of a 31-28 loss at Denver on Sunday.
Williams had to be carted to the locker room at halftime and needed assistance walking to the team bus after the game. Staley said Williams should be able to practice "at some point this week."
If the Chargers are going to make a postseason run, the presence of Williams would seem almost mandatory. He is the one option quarterback Justin Herbert has as a vertical weapon.
The Chargers' season finale was meaningless so why did coach Brandon Staley play starters? Mike Williams, Joey Bosa and Kenneth Murray Jr. were injured.
"He is just a special athlete, and he wants nothing but the best for this team," Herbert said earlier this season. "To have a guy like that — a competitor, an athlete, a teammate like that — we're better off because of him."
During their three seasons together, Herbert and Williams often have connected in crucial, game-deciding moments.
They hooked up for a 35-yard gain in the final 30 seconds of the Chargers' Week 15 victory over Tennessee. Two plays later, Cameron Dicker kicked a 43-yard field goal for a 17-14 win.
"I think every quarterback has to have that player — or players — that when it's tight, he can throw the football to," Staley said. "People aren't always open in the NFL. He's one of those guys, when he's closely guarded, you can feel good about putting him in a position to make a play.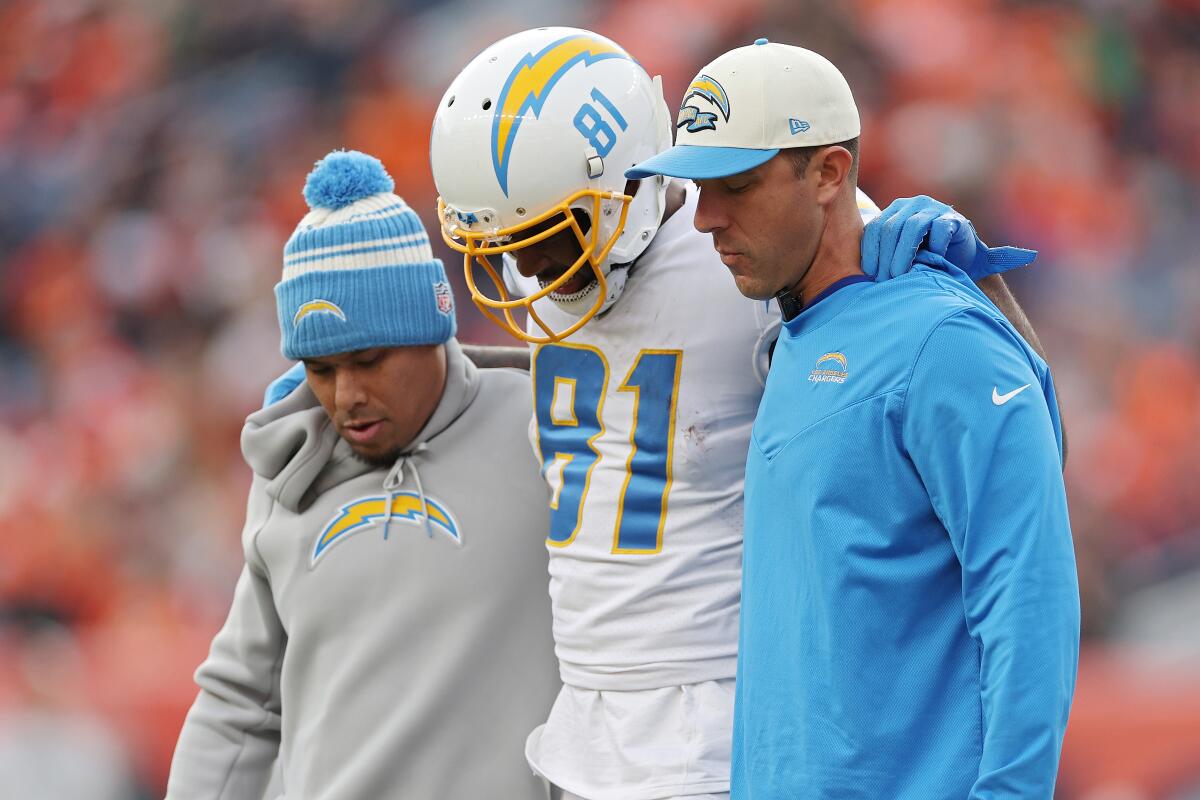 "The NFL demands a lot of precision from quarterbacks, and I think that the margin for error increases when you throw it to Mike Williams. That's always a big thing."
In order to beat the Jaguars, the Chargers will need a significant bounce-back performance from their defense, which crumbled against the Broncos after four consecutive solid efforts.
The Chargers surrendered three passes of at least 50 yards to Russell Wilson and nine plays that gained 20 yards or more. Denver entered as one of the league's worst offenses.
Staley blamed the breakdowns on poor secondary play. Asante Samuel Jr., Alohi Gilman and Ja'Sir Taylor each gave up a big pass play, according to Pro Football Focus.
Taylor, a rookie, filled in Sunday for veteran slot cornerback Bryce Callahan, who was held out of the game as a precaution. Callahan has been dealing with a core-muscle injury for weeks. Staley said he will return this week.
After a thrilling Week 18 of the NFL season, the playoffs are set. Here's a breakdown of what happened Sunday and what's ahead on NFL wild-card weekend.
Staley also indicated that edge rusher Joey Bosa remains on pace in his return from a core-muscle injury that cost him 12 games. Bosa played 23 snaps against Denver after playing 24 in his first game back in Week 17.
"We felt like he got enough snaps, both run game and pass game, and playing in altitude," Staley said on Bosa. "We felt like he got a good day's work and was able to take another step toward building for this week."
After dealing with food poisoning in his return game, Bosa said in advance of facing the Broncos that he hoped to get a better sense of his condition following his long layoff.
Staley said Bosa remains on track there, as well.
"The more that he continues to practice, the more that he is going to develop that wind — that motor, that gas tank — to play like he is used to playing," Staley said. "Having played two games, he is going to be closer to being himself, but he is still working his way through it."
The Chargers also lost inside linebacker Kenneth Murray Jr. against Denver in the second quarter because of a stinger. Staley said Murray will be able to practice this week.
Etc.
The Chargers' 2023 opponents are set, with the dates and times to be determined later. Their home schedule: Denver, Kansas City, Las Vegas, Baltimore, Buffalo, Chicago, Dallas, Detroit and Miami. Their road schedule: Denver, Kansas City, Las Vegas, Green Bay, Minnesota, New England, New York Jets and Tennessee.
Get the latest on L.A.'s teams in the daily Sports Report newsletter.
You may occasionally receive promotional content from the Los Angeles Times.