Austin Rivers' return to the Clippers appears imminent, much to Chris Paul's relief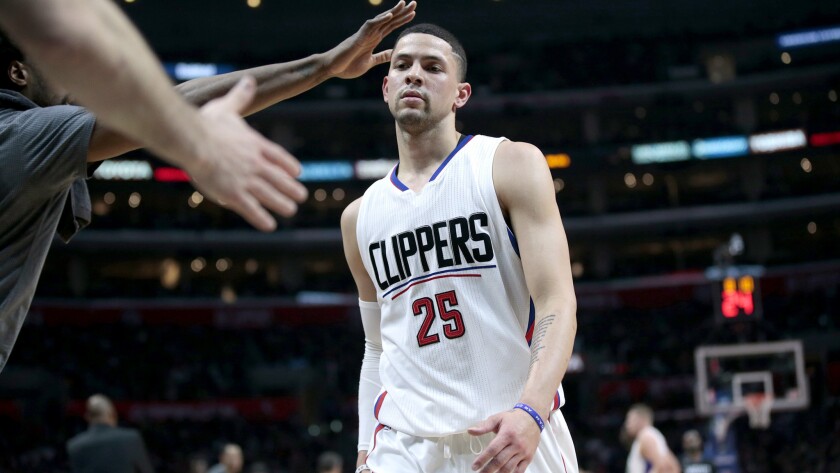 Chris Paul has been asking Austin Rivers the same question every day.
"He's like, 'Man, when are you coming back?'" Rivers said.
Rivers finally has a definitive answer. He's targeting the Clippers' game against the Oklahoma City Thunder on Wednesday for his return from the broken left hand that has sidelined him since Feb. 3.
Rivers apparently will be back on the early side of the four-to-six-week timetable given by the Clippers at the time of his injury. He completed a workout with coaches Saturday and went through his first full practice Sunday since sustaining a blow to the hand early this month against the Minnesota Timberwolves.
"My shot feels great, I feel like I have good wind, but I just want to get back with the team," said Rivers, who will sit out a 10th consecutive game Monday when the Clippers face the Brooklyn Nets at Staples Center.
The biggest challenge facing Rivers upon his return will be finding a rhythm, something Clippers Coach Doc Rivers said could take a handful of games.
"You start going too fast, you lose the ball, you miss layups," said Doc Rivers, who is Austin's father. "That's how it goes for most guards when you come back."
Austin Rivers will wear a protective wrapping with a gel pad for about a week, but he said he's not experiencing any discomfort beyond soreness. His return will be a major relief to Paul, whose playing time has soared in the backup point guard's absence.
Paul has averaged almost 36 minutes per game with Rivers out, nearly three minutes more than his season average. Paul's 40-point outburst against the Sacramento Kings on Friday was the latest in a string of standout performances since teammate Blake Griffin played his last game on Christmas before being sidelined by a quadriceps injury and a broken hand.
"MVP voting is done already, as far as I'm concerned," Doc Rivers said, referring to the widely held belief that Golden State's Stephen Curry is the runaway leader, "but if it was open, Chris Paul would be one of those guys you would have to say, especially since Christmas, there's no doubt he's one of the best players in the NBA if not the best other than Curry. Right now, it's Curry and everybody else."
What about Blake?
Austin Rivers and Griffin still saw quite a bit of each other while sidelined in recent weeks because they are in the care of the same hand specialist.
"After he's done, I go," Rivers said of office visits. "Or after I'm done, he comes."
Doc Rivers said Griffin has been shooting for at least a week but there remained no timetable for the return of a player who was expected to miss four to six weeks after breaking his right hand while punching team assistant equipment manager Matias Testi on Jan. 23. Griffin underwent the first of two procedures to repair the hand five weeks ago Monday.
He must also serve a four-game suspension for his role in the altercation after being cleared to play.
The final roster spot
Doc Rivers would not say whether the Clippers would re-sign forward Alex Stepheson after his first 10-day contract expires Monday. The team is also assessing the potential fit of other players who have been waived, including Kris Humphries and Marcus Thornton.
Players must be on a roster by Tuesday to be eligible for the playoffs, with the exception of additions from the Development League.
CLIPPERS NEXT UP
VS. BROOKLYN
When: 7:30 p.m, Monday.
Where: Staples Center.
On the air: TV: Prime; Radio: 980, 1330.
Records: Nets 17-42; Clippers 38-20.
Record vs. Nets: 1-0.
Update: The Nets' buyout of Joe Johnson leaves them with only Brook Lopez and Thaddeus Young averaging double figures in scoring, but they have won both games since Johnson's departure, beating the Phoenix Suns and Utah Jazz. Veteran forward Paul Pierce is expected to rejoin the Clippers after sitting out Friday against the Sacramento Kings because of a family matter.
Follow Ben Bolch on Twitter: @latbbolch
---
Get our high school sports newsletter
Prep Rally is devoted to the SoCal high school sports experience, bringing you scores, stories and a behind-the-scenes look at what makes prep sports so popular.
You may occasionally receive promotional content from the Los Angeles Times.