Clippers assistant Mike Woodson might get another head coaching job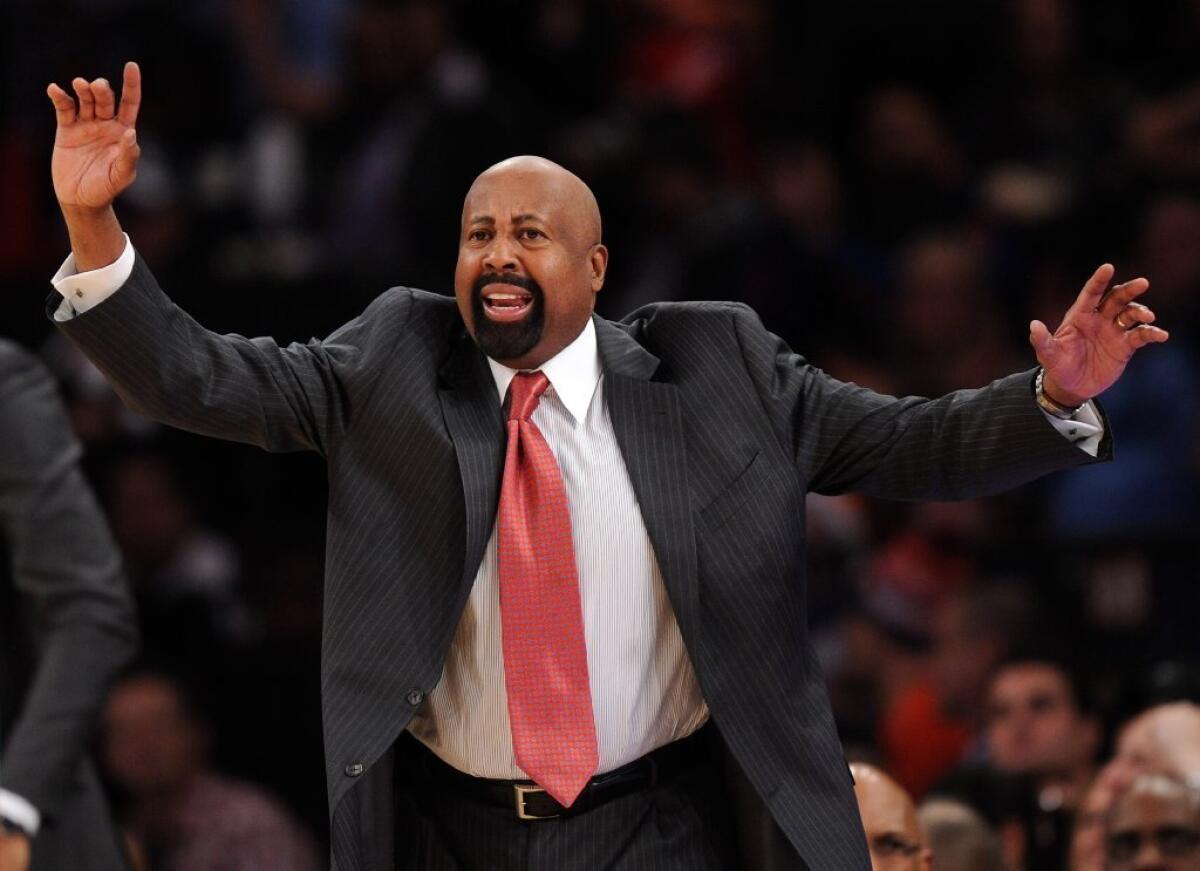 It's the time of year when the Clippers expect and even condone a few losses.
Some of their assistant coaches could be on the move once again.
The Clippers recently granted the Sacramento Kings permission to speak with Mike Woodson about the coaching vacancy created last week when the Kings fired George Karl.
Sacramento reportedly has a lengthy list of candidates that also includes former Clippers head coach Vinny Del Negro, Mark Jackson, Sam Mitchell, Kevin McHale, Brian Shaw and Nate McMillan.
Clippers Coach Doc Rivers said he would not have a problem with one of his assistants interviewing during the playoffs, noting that Tom Thibodeau got the Chicago Bulls job during the Finals in 2010 while working for Rivers when he coached the Boston Celtics.
"My coaches are going to do their jobs, they're going to do their work," Rivers said Wednesday before the Clippers played the Portland Trail Blazers in Game 2 of their first-round playoff series. "They have off time and they can spend it talking to other teams."
Woodson, 58, is an attractive candidate because of his success in Atlanta and New York. He took the Hawks to the Eastern Conference semifinals twice and guided the Knicks to their first playoff series victory in 13 years during the 2012-13 season.
Rivers has already lost two assistants since joining the Clippers in the summer of 2013. Alvin Gentry was hired as an assistant by the Golden State Warriors prior to last season and recently completed his first season as head coach of the New Orleans Pelicans. Tyronn Lue was lured away in the summer of 2014 by the Cleveland Cavaliers, who promoted him to head coach in January after firing David Blatt.
Rivers said he doesn't mind sacrificing continuity in his staff if it means his assistants find better jobs.
"Two years ago when we lost our entire staff, that was not good," Rivers said. "But at the end of the day, it was all good for them and so we're in a business and coaches work so hard and you want them to do well."
Rivers said he also expected Clippers assistant Sam Cassell to eventually become a head coach in the NBA.
Lost cause
Blake Griffin got used to hearing the same whirring sound earlier this season whenever he arrived at the Clippers' training facility. It was Cole Aldrich on the treadmill, getting in a workout before practice.
Rivers challenged Aldrich to get in better shape and the backup center complied, shedding about 25 pounds. Once Rivers finally played Aldrich more than a few minutes in late December, he gained a foothold in the rotation.
"When Cole started playing," Griffin said, "our defense went through the roof with the second unit."
Aldrich said he stopped drinking soda and tweaked his eating habits.
"I loved a good Mountain Dew," Aldrich said, "but no more Mountain Dew for me."
Aldrich said he weighs 250 pounds, which allows him to handle the Clippers' fast pace of play.
"When you're not used to it, it can be tough," he said. "Being in New York and being in the triangle, it's a slower offense and more methodical. When you come here, it's freelance and you go out and set screens and roll and do this and do that. I've felt a lot better."
Twitter: @latbbolch
Get our high school sports newsletter
Prep Rally is devoted to the SoCal high school sports experience, bringing you scores, stories and a behind-the-scenes look at what makes prep sports so popular.
You may occasionally receive promotional content from the Los Angeles Times.